Waterfalls of Iceland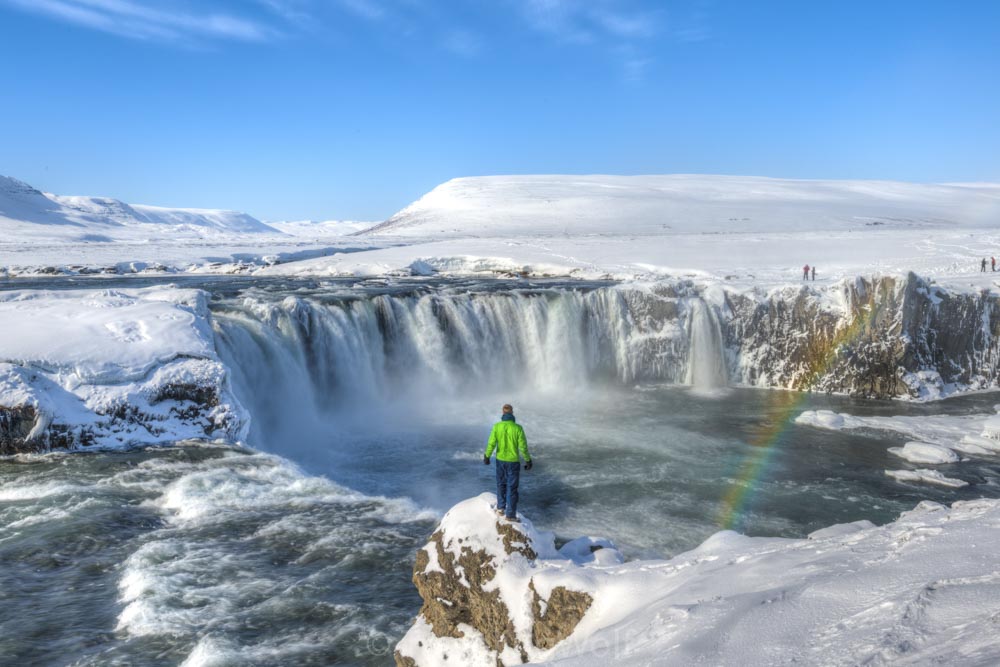 I have never seen as many and different waterfalls as in Iceland. They go from fairy like streams to roaring monsters. Each of them has something wonderful in it. We will show you a few that we were visiting on our two weeks round trip in March. I sorted them by location starting from Rekjavik with the Golden Triangle and going around Iceland first to the South, than to the east and north and back to the West.
Watch our drone video from Iceland!
---
Öxararfoss
This one was our first waterfall and it is really beautiful. It is a 5 min walk from the parking lots of Thingvellir. The river is making a loop directly after the waterfall and is flowing next to a cliff with cool stones. If you walk along the short path that leads to the panorama point you pass another nice little waterfall.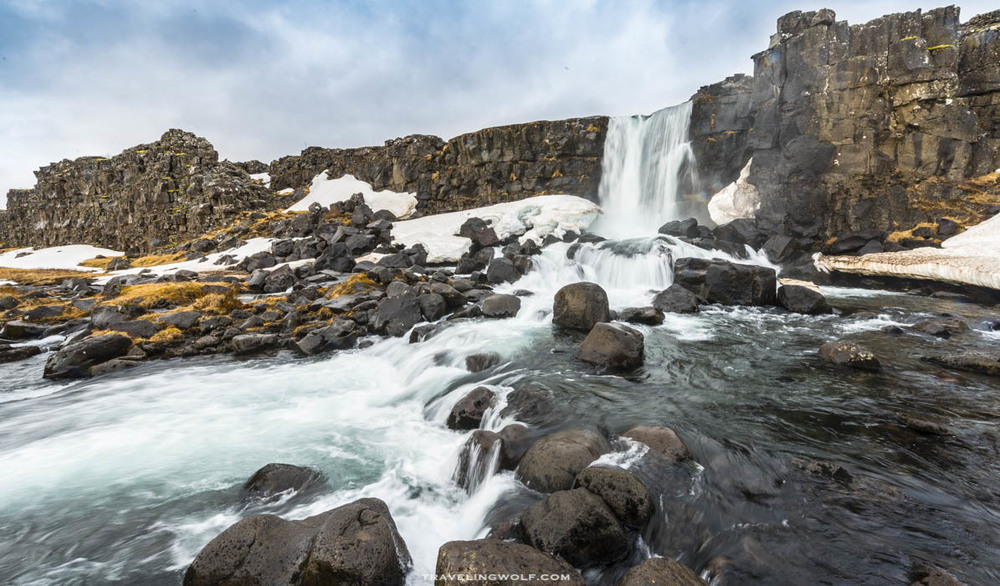 Bruarfoss
This waterfall is in my opinion one of the most beautiful waterfalls we saw in Iceland and it was nontouristic! It looks like it has come from some fairy world with its fine streams and its blue water. To get there just park somewhere beside the road (there is no parking lot or anything), then walk in the direction of the river where you get to a hiking path that leads along the river (it was really muddy when we were there, so bring good shoes !). When you reach a wooden bridge that crosses the river you will already see the waterfall. There is also another waterfall there called Hlauptungfoss which is nice too (Midfoss is not very spectacular).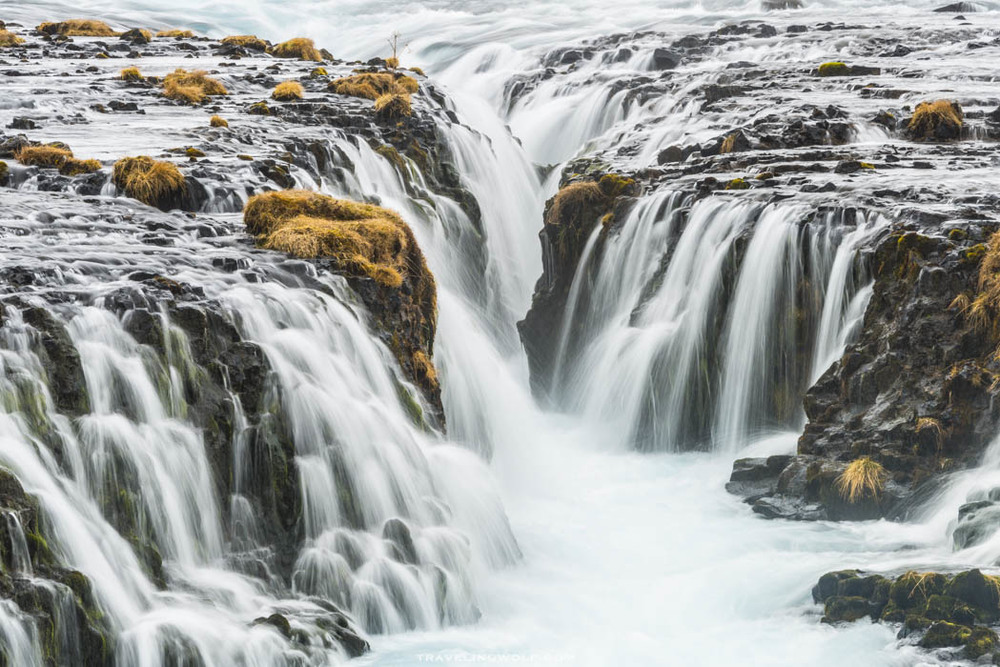 Gullfoss
This is one of the big monster waterfalls I wrote about earlier. It is really impressive and looks even cooler seen from the air (Look at our drone video of Iceland's waterfalls for more!!!!). In summer there is a path leading directly to the waterfall (closed in winter) but the views from the upper viewpoints are stunning too.
Seljalandsfoss
I think Seljandsfoss is one of the most popular waterfalls in Iceland. You can go behind it and catch beautiful photos at sunset. But be prepared to get wet because of all the splashing water. The best photo point is on the right, half behind the waterfall (go up the hill from the walkway to get better and drier views). Don't forget to visit Gljúfrabúi (I know its unpronounceable :D). It is another waterfall there but you have to walk in where the river comes out to get the best view (And attention again: Here you will get even more wet than before).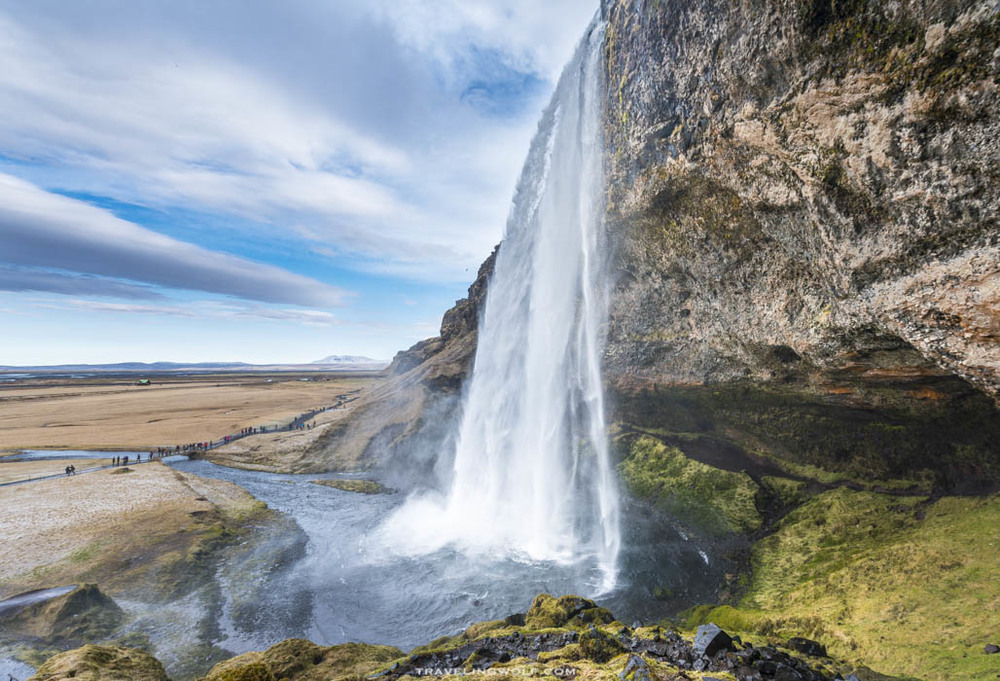 Skogafoss
We call Skogafoss the rainbow waterfall because there is often a rainbow when its sunny. It looks incredible when you catch the whole rainbow with the waterfall (bring a wide-angle lens!!!). There is a stairway up to the viewpoint at the top of the waterfall, but in my opinion, the view isn't necessarily worth the walk up. You can go to Skogasafn outdoor museum afterward and see some Icelandic turf houses.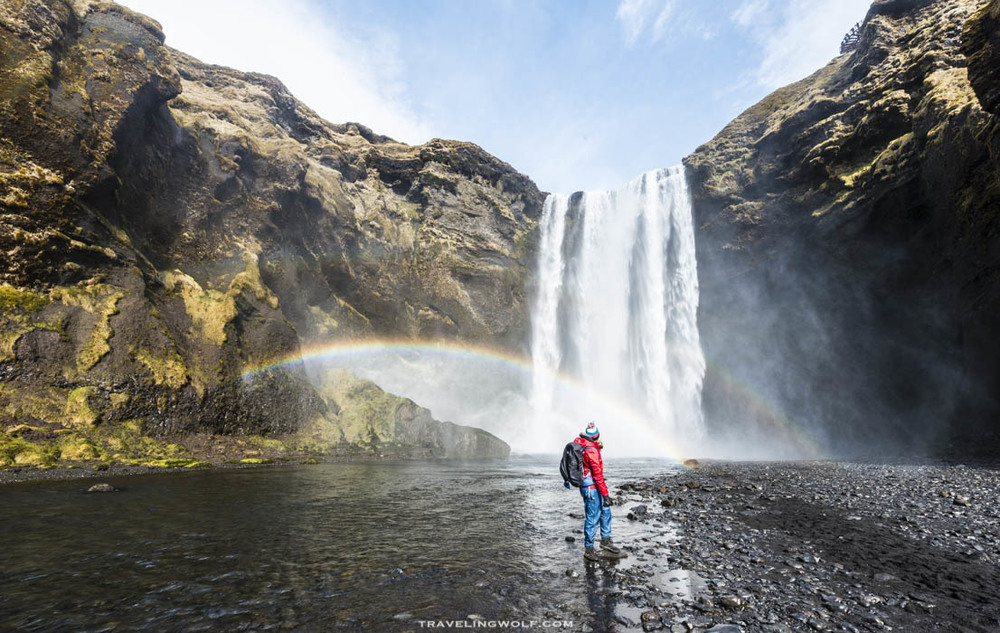 Svartifoss
The basalt rocks are the distinctive feature of this waterfall. They look like something right out of a fantasy movie (like many things in Iceland). The walk to Svartifoss is a little bit longer then to the other waterfalls but is totally worth it. If you like to make a longer hike you can take the trail to Sjornanirpa. This is a viewpoint with stunning sight over Skaftafellsjökull glacier or make it to a day trip by walking up to Kristinartindar, another viewpoint.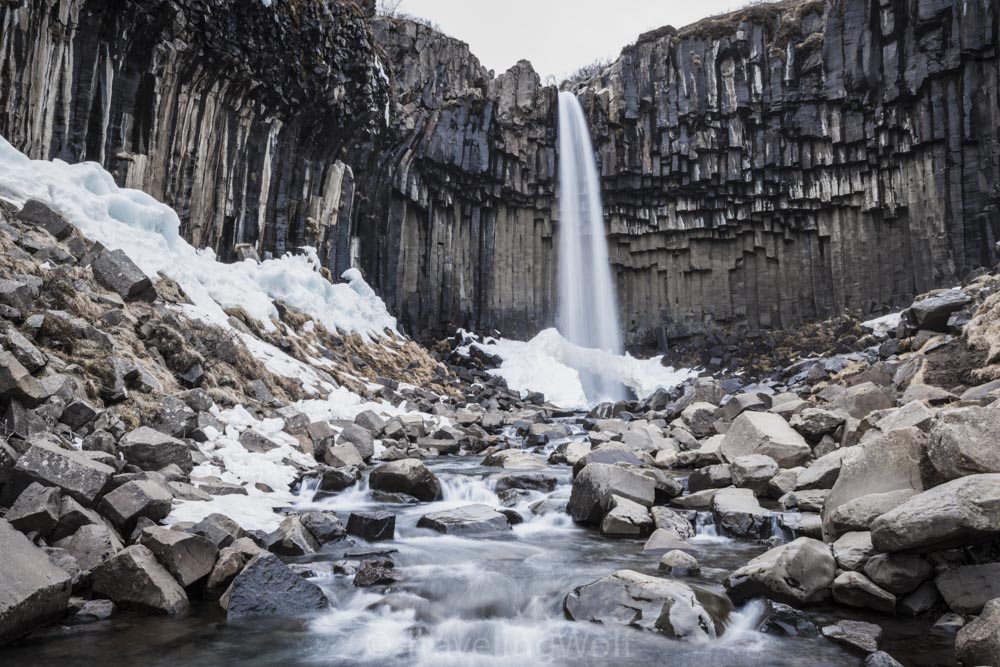 Hengifoss and Litlanesfoss
These two are located near the village Egilsstadir in the east of Iceland. There is a short hike where you see both waterfalls which start at the end of lake Lagarfljot. Hengifoss with its red-striped rocks is the third tallest waterfall in Iceland.  Litlanesfoss has some basalt rocks like Svartifoss and is also nice.
Dettifoss and Selfoss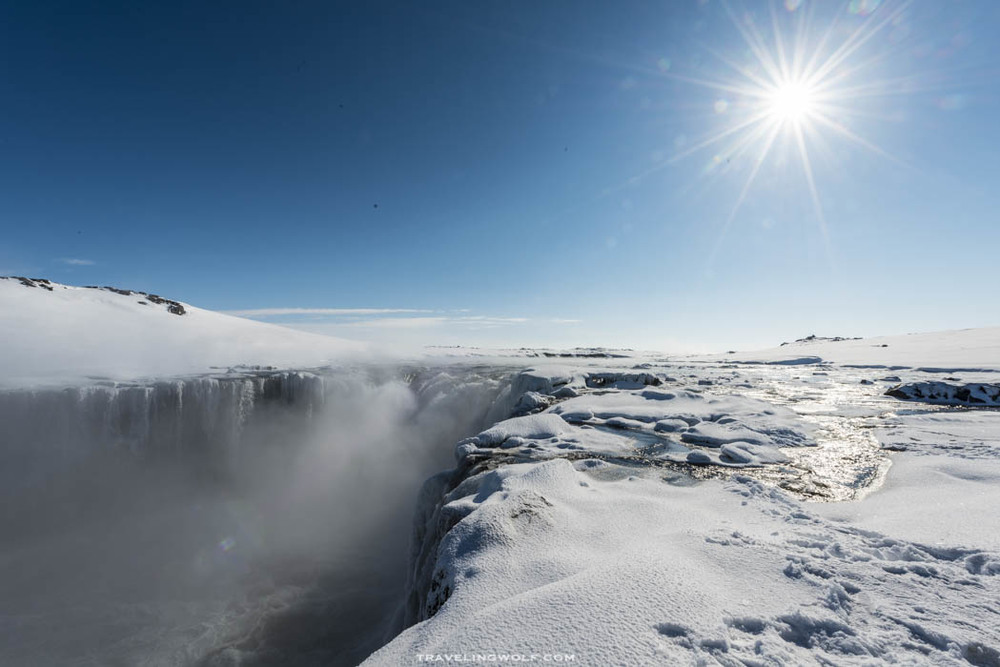 Dettifoss is the most powerful waterfall in Europe because of the combination of water volume and drop height (physics :)) but for me, it wasn't as impressive as I thought it would be. Selfoss is just a short walk from Dettifoss and looks really nice. We had a lot of snow there and a clear sunny day which transformed the scenery into winter wonderland.
Godafoss
Godafoss also called the waterfall of the gods reminded me a little bit of Selfoss. There is a story that says Godafoss has its name from an Icelandic king who threw the statues of the old gods into the fall when he decided to become Christian.  Temperatures were 15 degrees below zero when we were there, so we had wonderful icicles and ice floes everywhere. I recommend going on both sides of the waterfall. There is also a little path on the left side that directly leads down to the water and as near as possible to the waterfall. Getting there is easy as it is directly next to the road.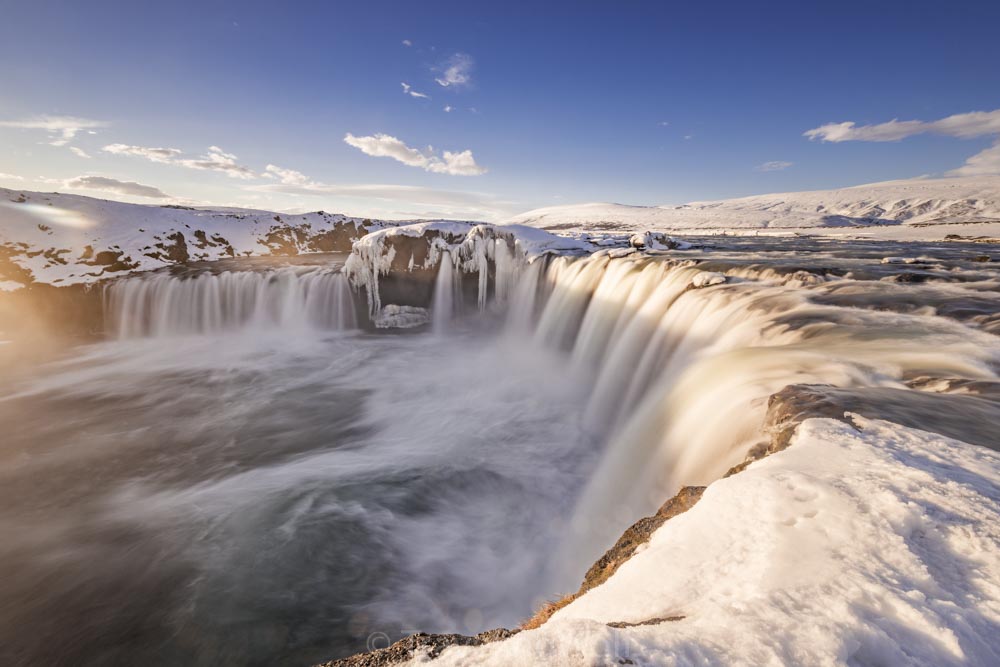 Kolugljúfur
This waterfall is not very well known and can be reached by car over a dirt road (easy passable with a normal car without four-wheel drive). We had a wonderful sunset there. It flows in a canyon and is worth a visit.  
Kirkjufellsfoss
Kirkjufellsfoss would possibly be a little bit boring without the Kirkjufell mountain in the back. You can get a fantastic sunset here particularly in summer when the sun sets further in the northwest. Snaefelsnes (the peninsular northwest from Reykjavik) is a must-see in Iceland not only for the lovely Kirkjufellsfoss. You can visit a lava cave, tremendous beaches, the cliffy coast of Arnarstapi with its natural stone bridges and blow holes and a lot more !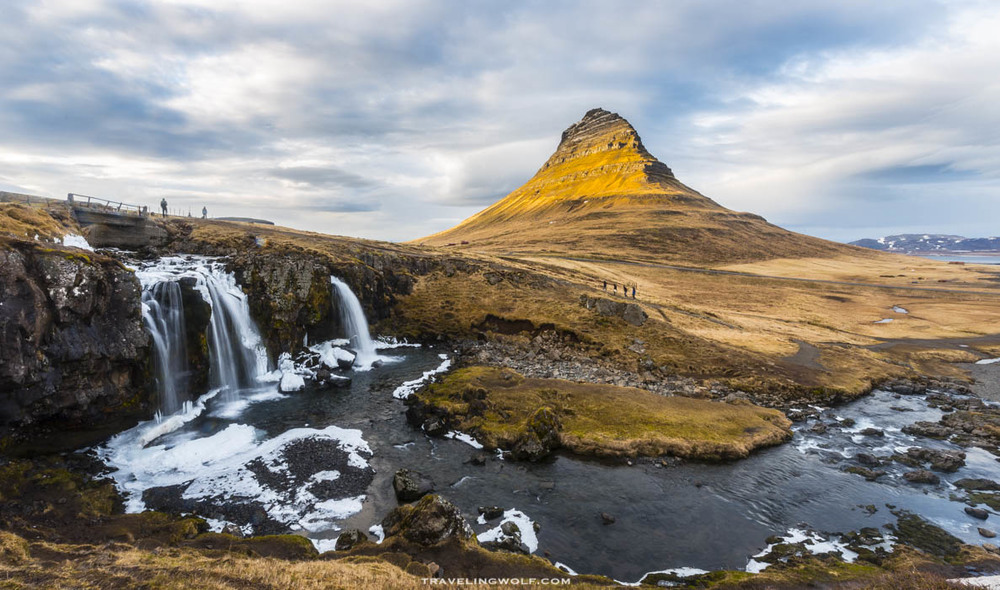 Hraunfossar
This waterfall is formally seen not a real waterfall. The many little waterfall streams are formed by water that is flowing under the upper lava stone layer before it is coming out and streaming into the magical blue water of the river. Besides Bruarfoss this was one of my favorite waterfalls so don't miss it on your trip ;) . Come here in the afternoon for the best light !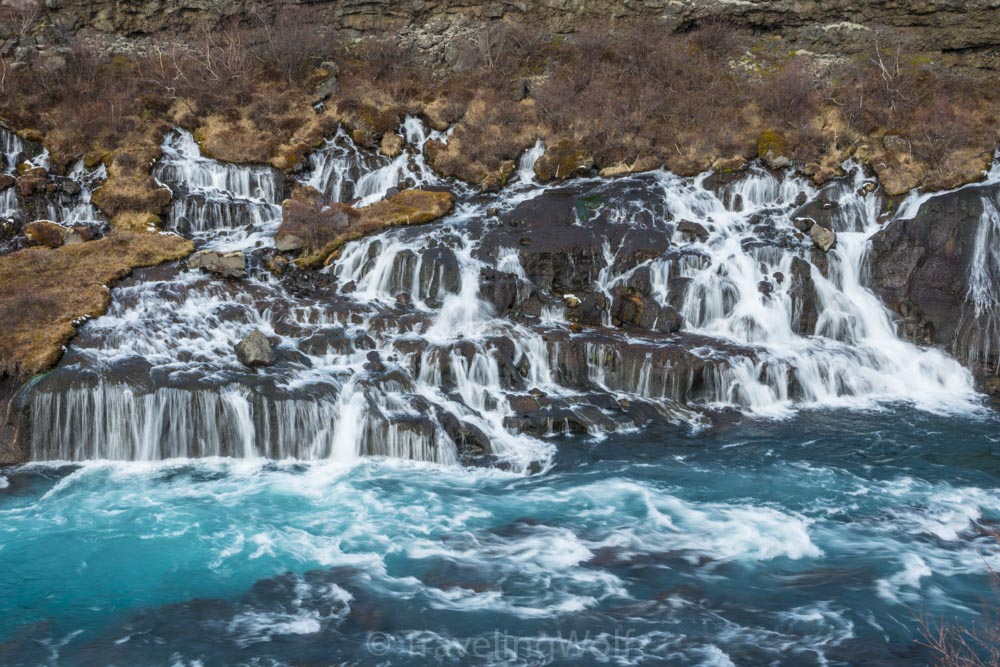 Glymur
Glymur is with its 196 meters height Iceland's highest waterfall. To get a good look you have to do a little hiking but its worth the stunning views. Especially because the trail leads along the cliff with the creek nearly 200 meters below. In some parts the trail is a little bit rough because of loose stones and steep trails, so be careful ! When you plan to go in the winter season (until mid/end of May) you have to cross the river with a steel rope that reaches from one side to the other (or take off your shoes and trousers and walk through the river like I did ;) ).