11 Best Photo Spots around Mount Fuji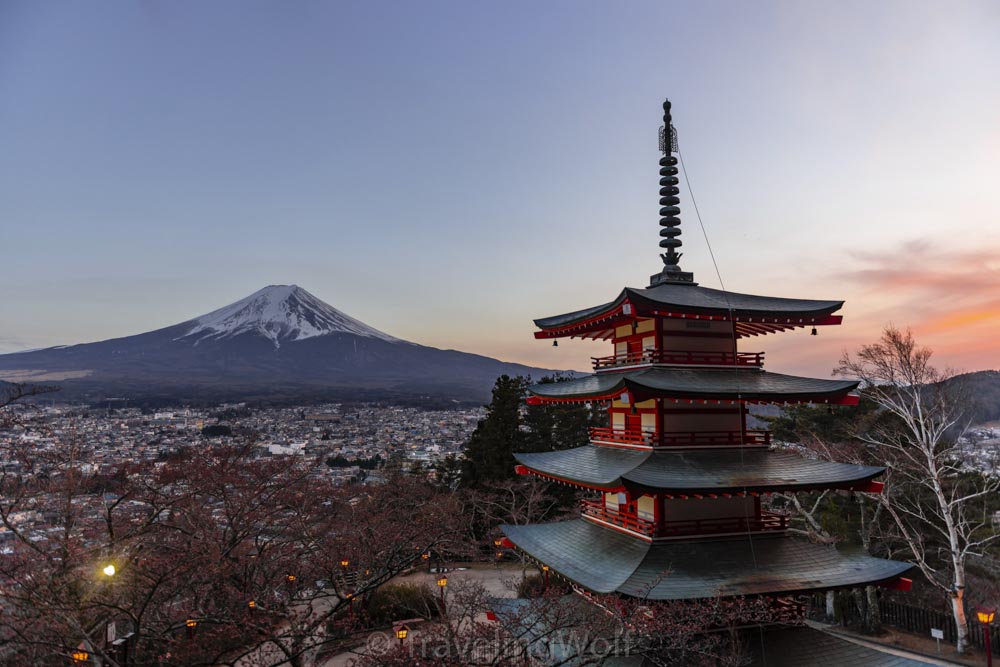 If you are planning to go to Japan, Mount Fuji is certainly already on your To-Do List. If not you should add at least one day in the area. Else you might miss the number one photo spot in Japan. This post shows you where to get the best views!
---
When to go?
Mount Fuji often hides between big clouds and fog. The best chances to see Mount Fuji are in the Spring and Fall. In Summer the warm and humid air often forms clouds and fog around Fuji. If you want to ascend Mount Fuji the month from June to August are the best and in that time the trails are officially open.
How to get there ?
The two biggest towns close to Mount Fuji are Fujiyoshida and Fujikawaguchiko. They are directly next to each other. In both towns there are train stops (Mt. Fuji station and Kawaguchiko). Many bus operators drive from Tokyo to Fuji and on to Kyoto. We recommend taking a Willer night bus if you want to continue to Kyoto from Mount Fuji.
Fuji Best Photo Spots
Mount Fuji forms a dramatic backdrop for many lakes in the Fuji area and there is more to discover! Follow us on our guide to all the photo spots around Mount Fuji.
1. Streets of Fujiyoshida
For a visit to Mount Fuji, Fujiyoshida is a good place to stay. Along the main street you can take cool photos of the street and houses aligned with Mount Fuji in the background. Along the main road at the crossing with Misaka-Michi (Road number 137) near Hostel Fujisan YOU, you can find a stone Tori which allows you to frame Mount Fuji nicely in it. From here you can walk along the main road in the direction of Mount Fuji for the best photos. Besides the views of Mount Fuji, you get all around town you can visit Kitaguchi-Hongu Fuji Sengen Shrine located at the edge of the town and surrounded by a small forest with big trees. The walkway features stone torches and is surrounded by big trees to the entrance Tori. It is a lovely place to visit when you are in the area.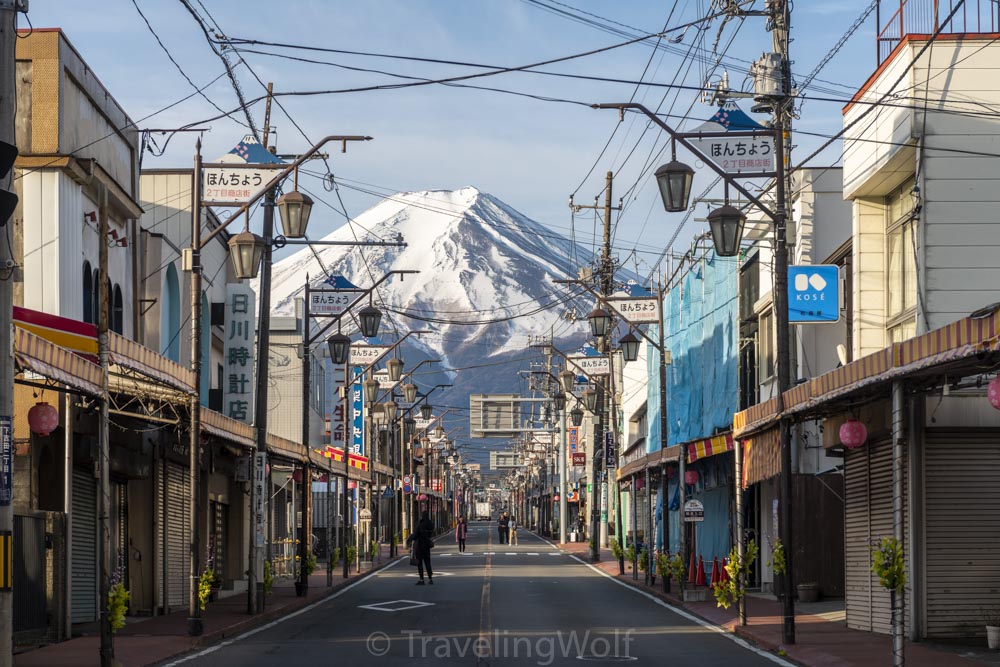 2. Chureito Pagoda
Another reason to stay in Fujiyoshida is the Chureito Pagoda at Arakura Fuji Sengen Jinja Shrine. It is located on a hillside at the North-East end of Fujoyoshida. It is probably one of the most famous photos of Mount Fuji. To get to the pagoda you need to climb up stairs. You will pass a Tori (in which you can also frame Mount Fuji) until you reach the square with the famous pagoda. Slightly above that square, there is a viewing platform from where you get the famous Fuji Pagoda View. At sunrise, the pagoda gets the best light so be there in the morning for the best pictures. At sunset, the pagoda doesn't get any light but you could get nice sunset skies. This spot is not only famous for its pagoda but also because in spring the cherry trees around the pagoda are blooming. But be aware that the area around Mount Fuji lays higher than Tokyo or Kyoto and thus the cherries start blossoming about 2 weeks later here. Also, keep in mind that there will be a lot of photographers there at this time of the year so come early to catch a good spot.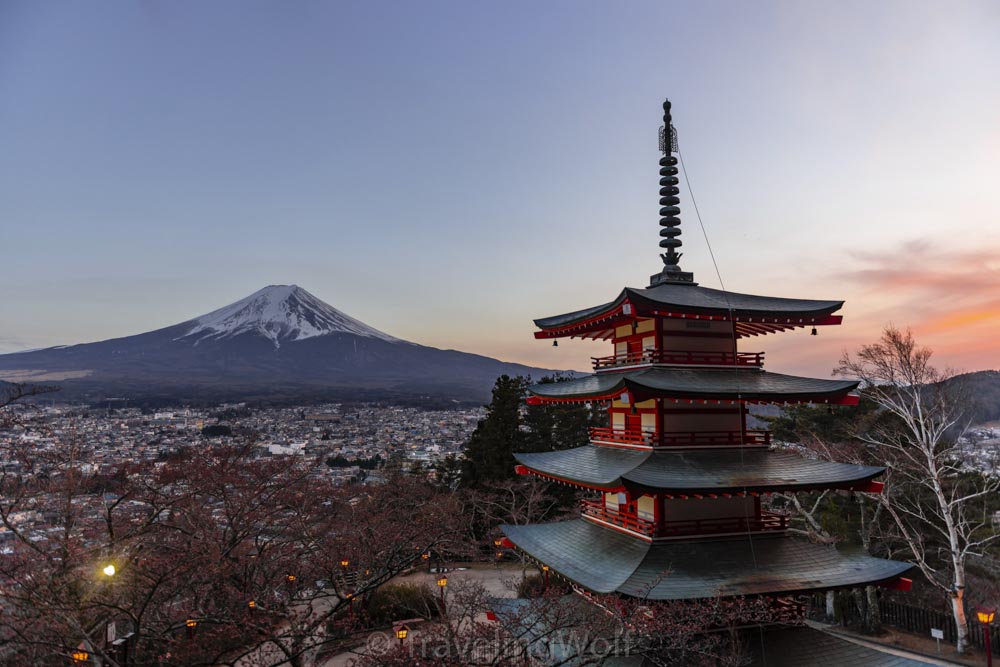 3. Lake Kawaguchiko
Next to the town of Fujiyoshida, you will find Fujikawaguchiko, known for Lake Kawaguchiko. In Fujigawaguchiko there are also a lot of hotels and nice places to stay at the lakeshore. Come here for sunrise or in the morning. If you're lucky you can catch a mirroring of Mount Fuji in the lake. The best place for viewing Mount Fuji is the walkway along the lakeshoree near Ubuyagasaki Shrine and Hotel Kozantei Ubuya. This is also a good spot for watching the sunset. If you drive on along the lakeshore you will of course find some more spots like Nagasaki Park for viewing Mount Fuji. You can explore them by yourself best on a bike or car.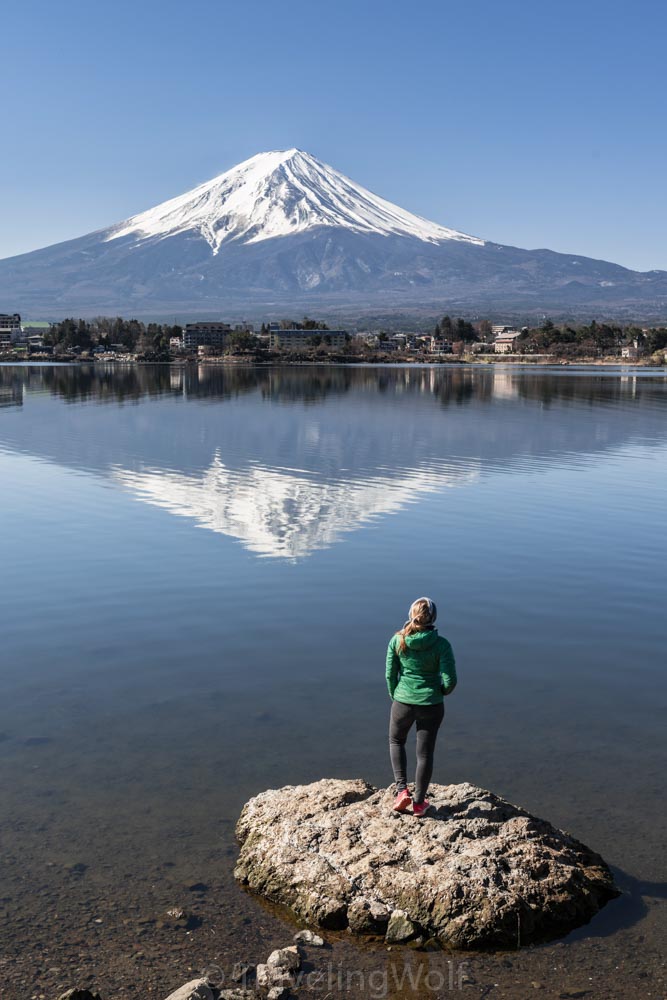 4. Lake Saiko
The next Lake on the road around Mount Fuji after the Fuji Five Lakes is Lake Saiko. It is a smaller Lake from which you can also mirror Mount Fuji. There are a few beaches along the lakeshore offering views of Mount Fuji. Sometimes you can find some anglers in their boats for a more interesting photo.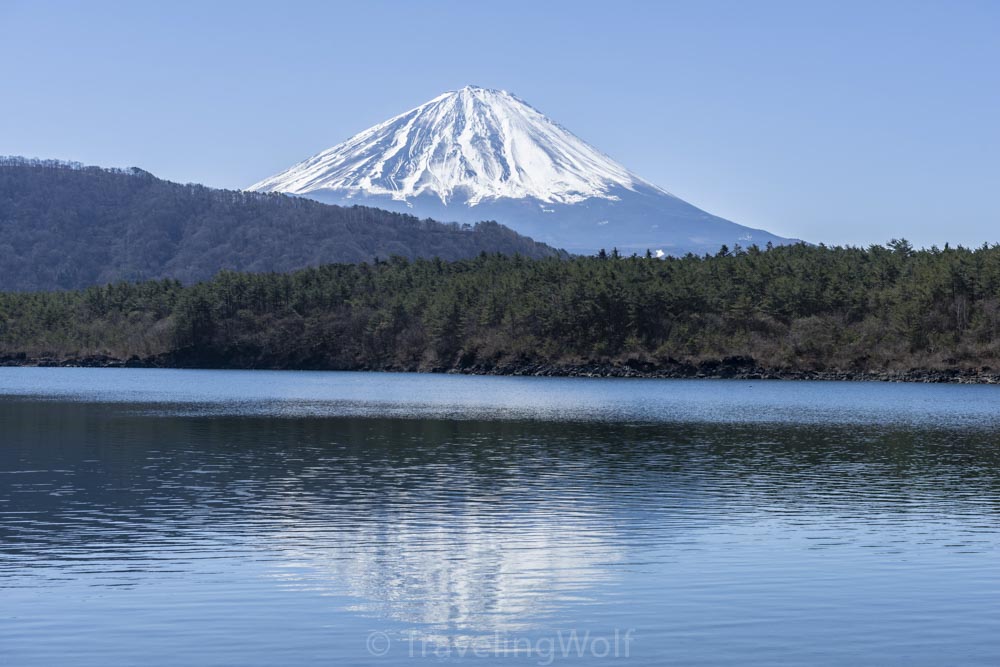 5. Iyashinosato historic Village
At the end of Lake Saiko, you will find the Iyashinosato historic village. It is a village of rebuilt traditional historic Japanese houses. The village has a view of Mount Fuji and in some houses, it is possible to go to the upper floors and catch a view from above the village with Mount Fuji. The village itself is full of souvenir stores offering hand-crafted stuff. You can also rent Kimonos there and take some photos of yourself in traditional Japanese clothing. You can find info on pricing and opening hours in English here. Be aware that it is closed on Wednesdays.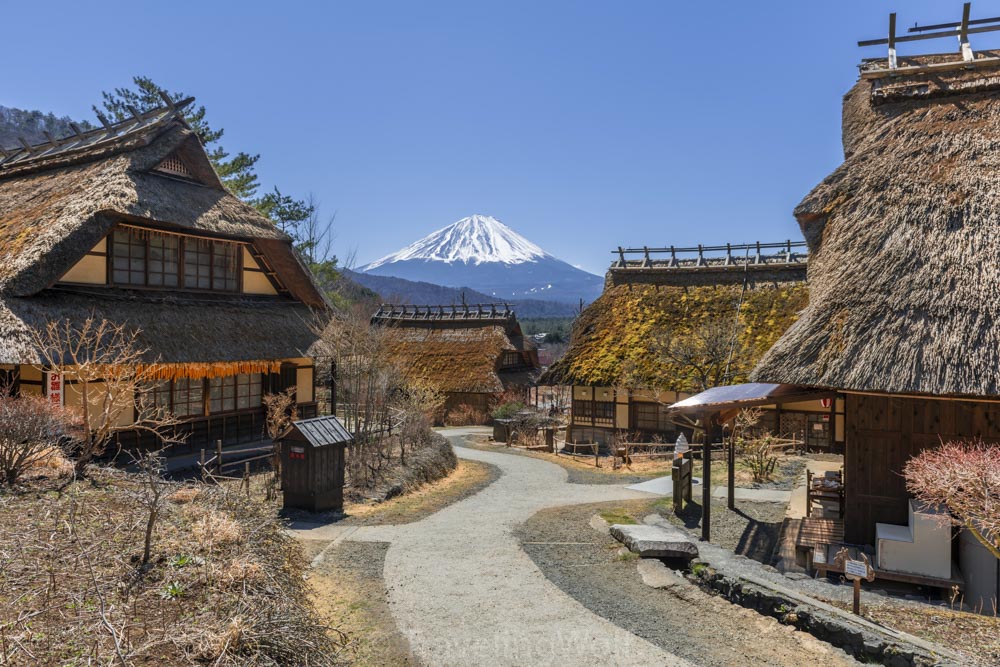 6. Lake Shoji
The next Lake in the Fuji Five Lakes area to come is Lake Shoji. If you want to go camping you can find nice Campgrounds around the lake. This lake is smaller than the ones and offers nice views from Tatego-Hama Beach. We found some nice rowing boats on the shore that fit perfectly as a foreground for the photos.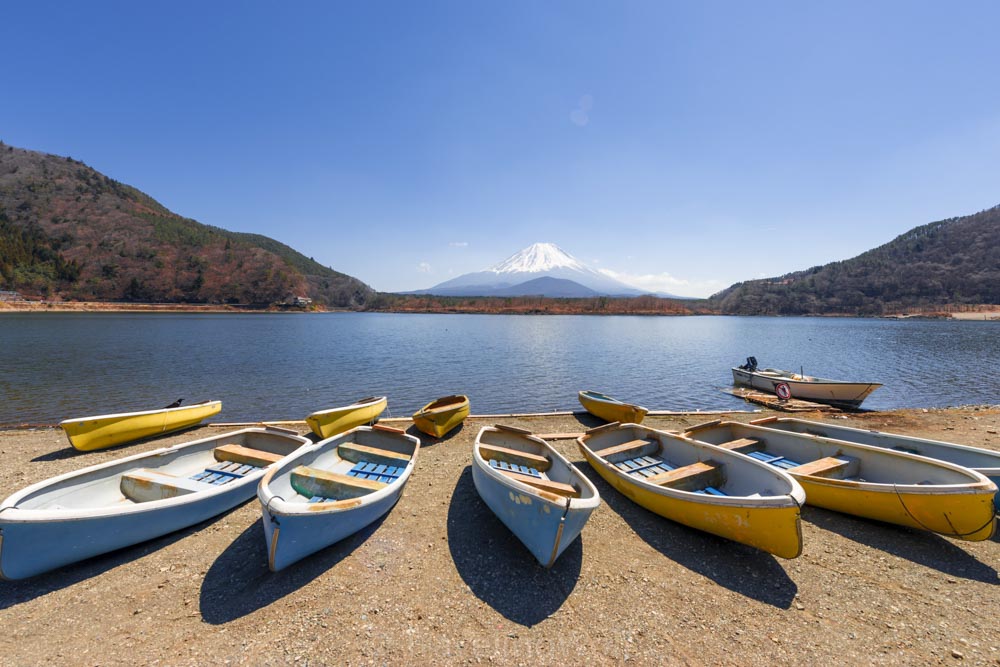 7. Lake Motosu
We continued our drive on to Lake Motosu. Here you get the best views from the Motosumichi Parking lot. The lake often offers Mount Fuji Mirroring on a clear and still day. If you want to get a sun star with Mount Fuji, Lake Motosu is the best spot. As the lake lies in the west of Mount Fuji you get beautiful pictures of Mount Fuji glowing "like a diamond" at sunrise. Besides that, there are a lot of campgrounds with tenting spaces directly on the shore of the lake. It's also perfect for water activities.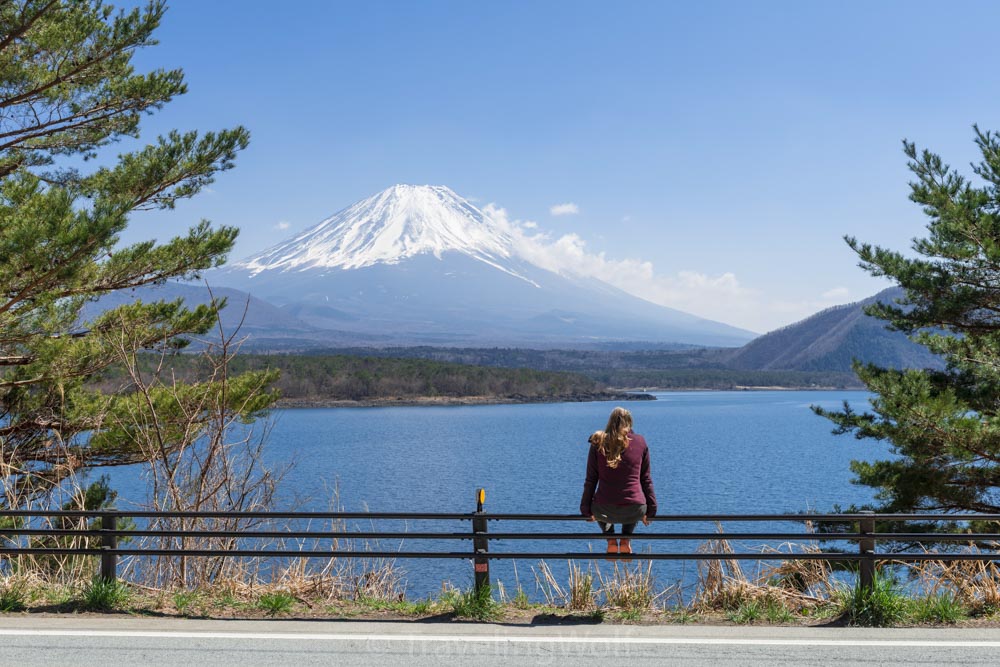 8. Lake at Fumotoppara Campground
Another little lake, perfect to view the diamond glow of Mount Fuji. You will most certainly get a perfect mirroring at sunrise on the little lake at Fumotoppara Campground. The Lake is surrounded by a few trees and in spring and late autumn when there are no leaves on the trees, but they make up for an even more interesting picture of Mount Fuji.
9. Lake Tanuki
If you still have time you can drive on to Lake Tanuki. This is a very small lake. At its end is a big hotel and a viewing platform. From here you can see Mount Fuji and as the lake is quite small a mirroring is more likely to be seen here. If you like you can take a walk along the shore around the lake. Another good photo spot is the street that leads to the end of the lake. You can take nice pictures of the street with Mount Fuji as it is winding directly in its direction.
10. Shiraito Falls
Not far from Lake Tanuki, you will find the Shiraito Waterfalls at the beginning of Fujinomiya town. To get to the waterfall you need to walk along a short walkway down to a canyon-like landscape. Here you can marvel at the waterfall that streams down along all sides quite fairy-like. Don't forget to bring your ND filter to capture the beauty of this waterfall at its best.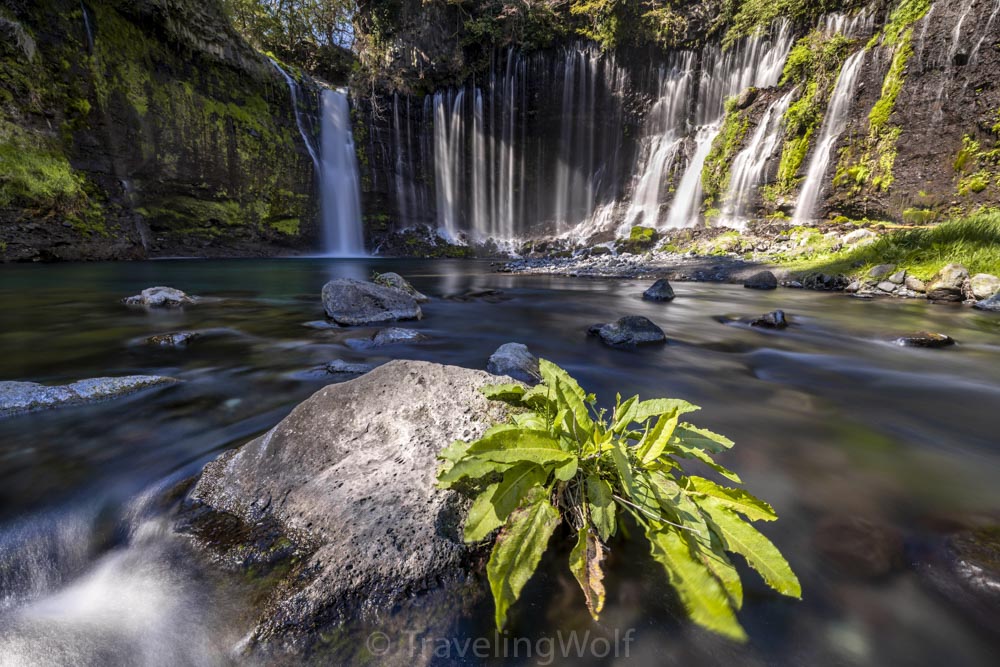 11. Hakone
Hakone is a village a little bit further away from Mount Fuji. You can take a train or bus from Tokyo to get to Hakone and there are also lots of hotels available there. We decided to drive there by car, while we stayed in Fujoyoshida. If you go by car you have to be aware that the parking fees are quite high in Hakone.
Hakone lies on the shore of Lake Ashinoko. It is famous for the postcard view of the lake, the red Tori of Hakone Shrine, and the views of Mount Fuji. You get those views from the lakeshore in Hakone. Often there are photogenic sailing ships on the lake in summer which are an interesting add-on to your photo. Another famous Instagram spot is the Hakone Red Tori on the lakeshore, under which you can pose (after waiting for some time in line…). The Hakone Shrine itself is also nice. If you like you can walk up to Onshi Hakone Park where you can get a good overview of the lake with Mount Fuji.