Chefchaouen - A Photographer's Guide to the Blue City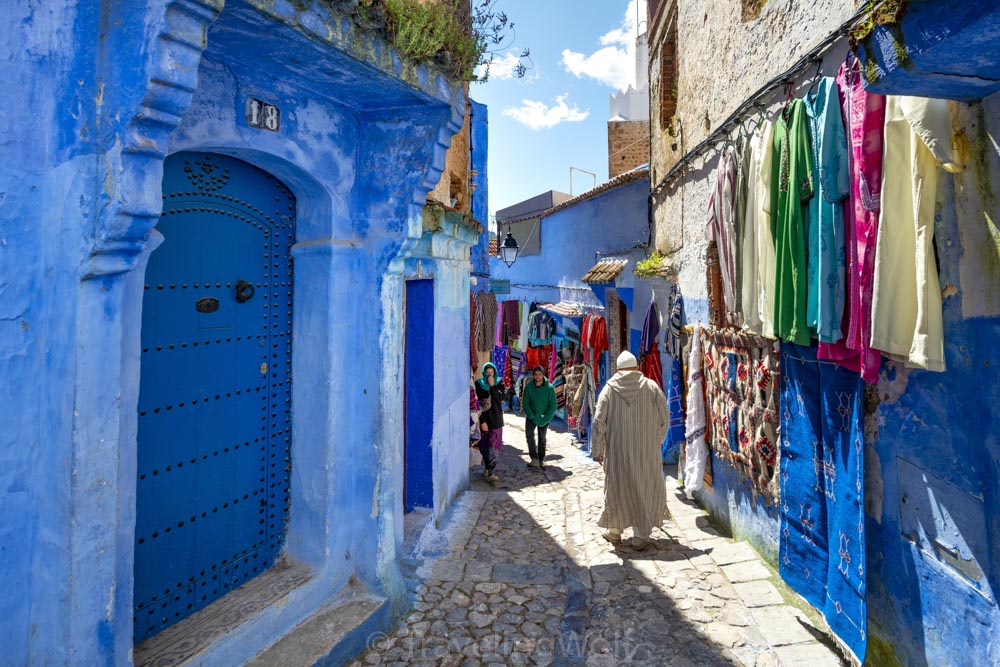 Chefchaouen is the Blue City of Morocco. I have never seen a city like this before. All buildings are colored in different shades of blue and there are wonderful photo spots on every corner. Beautiful doors, little stairs and nice alleys are everywhere! The best way to enjoy its beauty is to walk around and explore the little alleys on your own. But of course, here are a few recommendations so you don't miss the best things on your trip to Chefchaouen!
---
Map
The map shows all the photo spots we have mentioned in the post below to make it easy for you to find them while you're there. Despite that, you will realize that it isn't easy to not lose your orientation when strolling around because of all the little alleys. Many of them are not marked in Google Maps. That's why I recommend using the Mobile App maps.me. On maps.me you will find every little street and square a bit better. Also, the GPS connection is not the best in the narrow streets.
Viewpoint Spanish Mosque
This viewpoint is just a short walk from the city. A trail starts on the right end of the city where you cross the river Ras el Maa. In about 15 to 20 minutes you reach the so-called Spanish Mosque from where you get a view over the whole city. This is also a popular place to watch the sunset.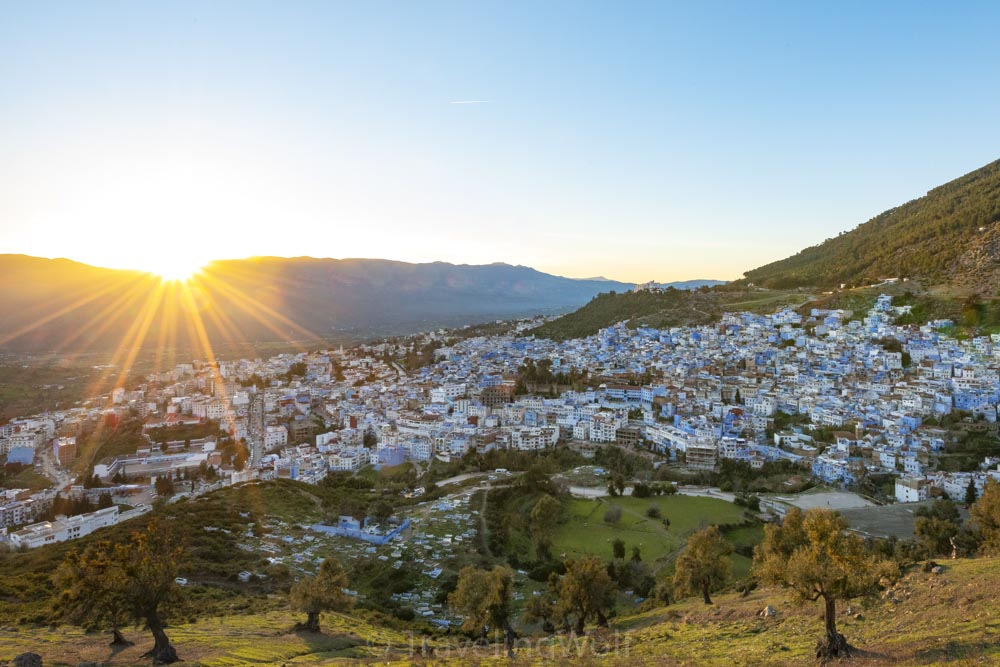 Alcazaba
The Alcazaba of Chefchaouen is really small. If you're interested in history, the region it is worth a visit. Also, the tower offers you a view over the garden and part of the city. If you have just a short amount of time in the city this is not a necessary visit but it is a nice little place to get an overview.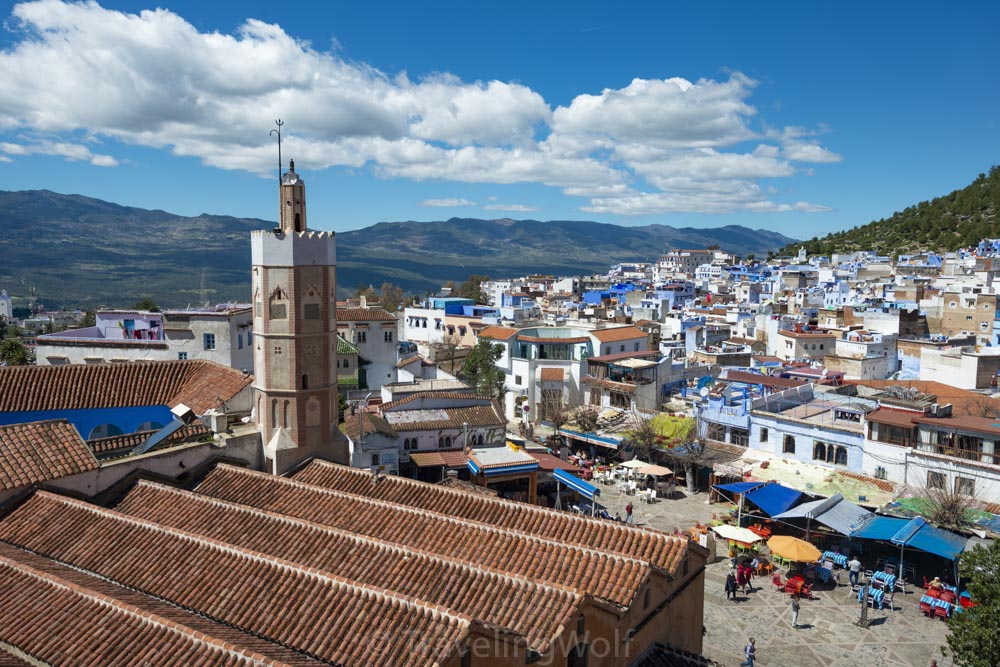 Market at Place Bab Souk
If you would like to feel more like a local, the market at Place Bab Souk is the perfect place to be. Here you can buy fresh fruits and vegetables and watch bargaining Morrocons. Taking pictures of the-all-day life in Morocco is ok, but be respectful when taking photos. Some people might not like to be photographed.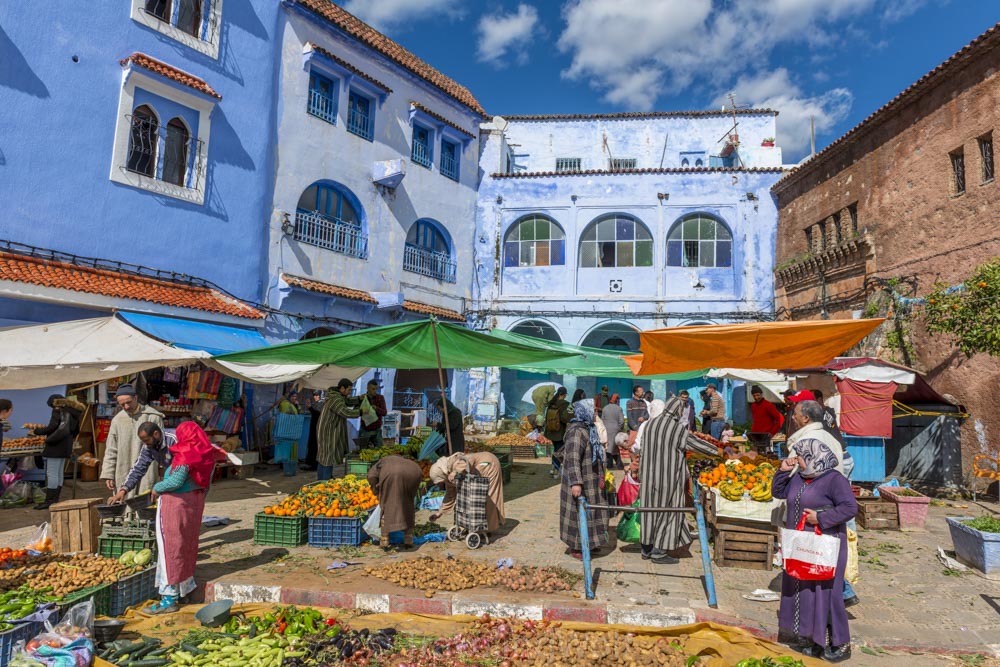 Most photogenic Streets
Chefchaouen is a typical Moroccan city. The Medina, the old town of Chefchaouen, is made up of hundreds of small winding alleys. All of them painted in different shades of blue. To get to know the city just wander around and let yourself drift through the town by following the streets that look nice to you. In that way, you will find your own favorite places, like beautiful doors, alleys, and stairs to photograph. Despite that, we will show you a few places we think you shouldn't miss!
Callejon El Asri
This might be the most well-known street in Chefchaouen. With its small winding blue stairs and the little flower pots hanging on the walls, it is a perfect photo spot. But as you will see you're not going to be the only one taking a photo there. Best you come early in the morning or in the evening if you want to have the place for yourself.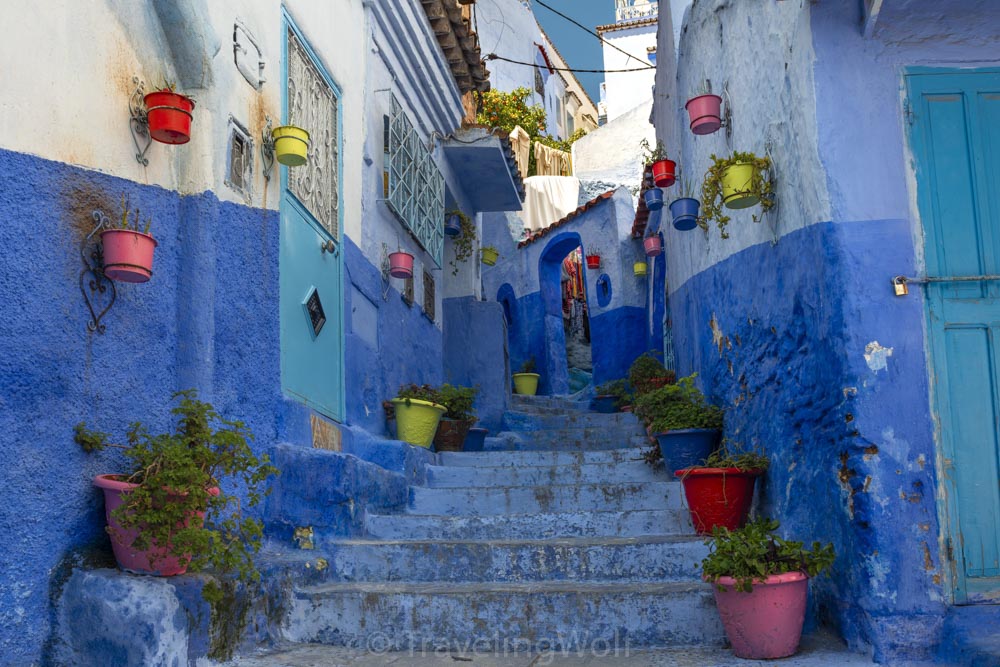 Little Blue Street
This little blue street is a well-known Instagram spot. It sums up what Chefchaouen is all about - BLUE. It is a nice photo spot for a quick photo shoot. The streets around and the Bab Souk mosque are also really photogenic.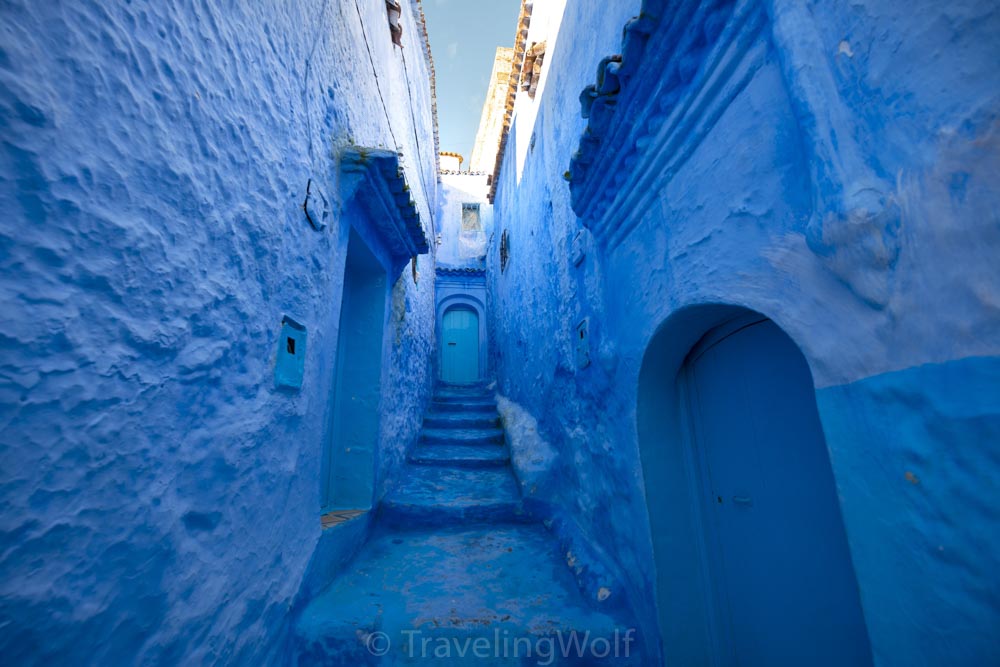 Square at Riad Dar Laman
This little square is also a wonderful location for photos. We discovered it while wandering through the streets. The square has some nice wall paintings and a beautiful colorful mosaic stair, which is a great spot for some photos. One of the wall paintings shows the Berber letter writings (the Berbers are a Moroccan tribe. They have their own language and also their own alphabet).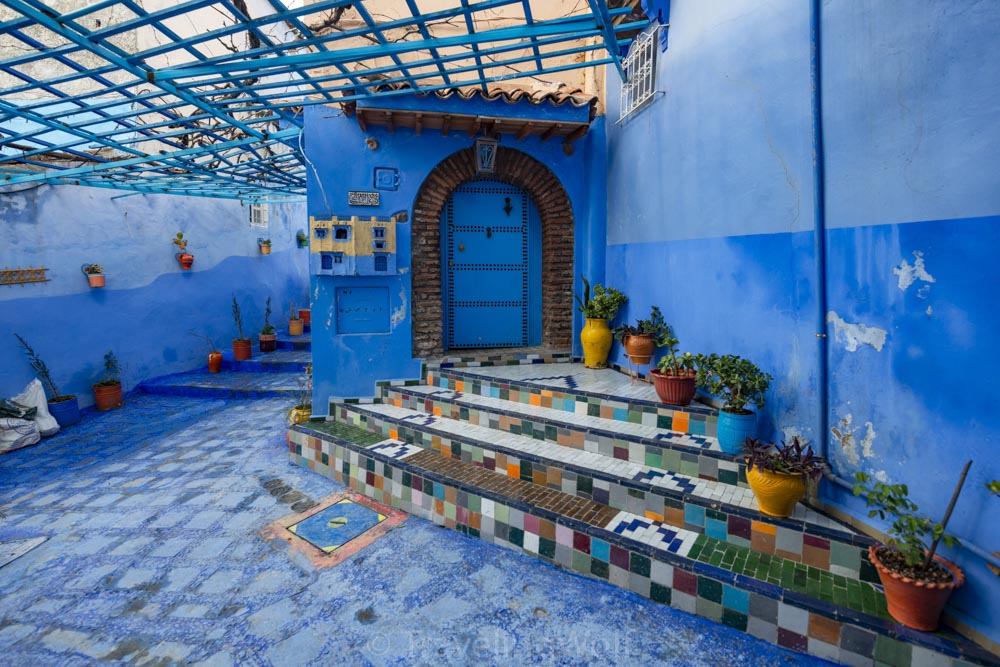 Place El Haouta
This is a lovely traditional square with a beautiful water fountain in the middle. It is also a nice place to take a rest on a bench and whatch the children and the locals of Chefchaouen.
Around Chefchaouen: God's Bridge and Cascade d'Akchour
The mountains around Chefchaouen have some nice landscapes to offer. To get to the hiking trail for God's Bridge and Cascade d'Akchour you need a car or join a tour. We didn't visit the two places, but we have been told by others that they are worth to go. You can reach the God's Bridge in about 2 hours round trip, and the Cascade d'Akchour with a 5-hour hike. God's Bridge is a stunning rock formation. A natural bridge high above a lovely turquoise stream. If you like to see more of the Rif Mountains you can hike to the Cascades d'Akchour which is longer but you get stunning views walking along the river.