The Ultimate Iceland Travel and Photography Guide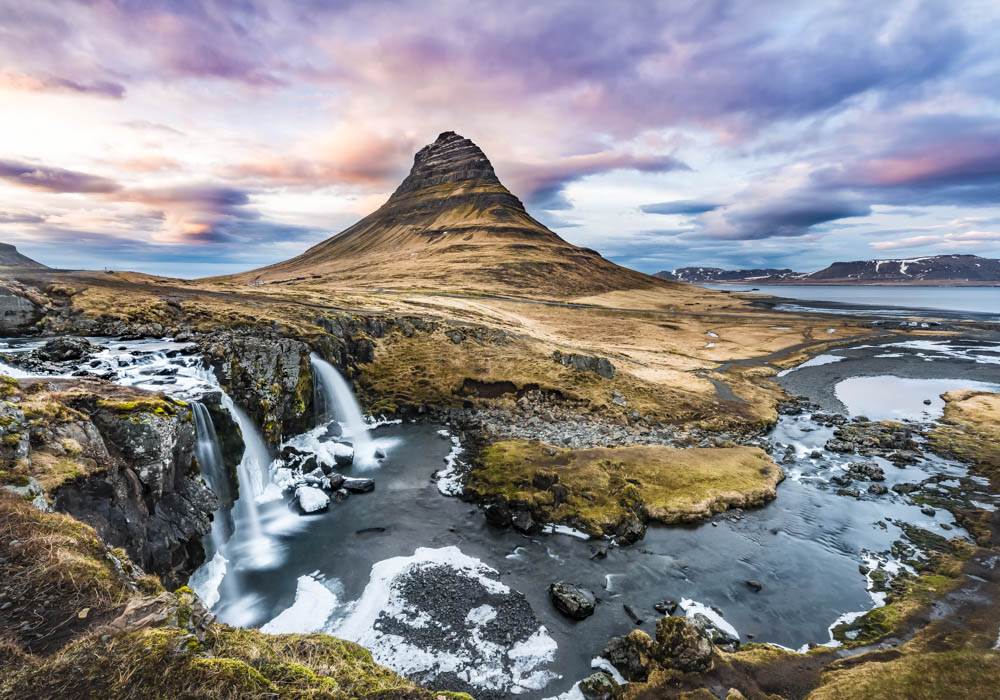 This blogpost follows our 2 week Iceland trip! In case you have not seen our drone video about Icelands waterfalls check it out now.
When to go ?
Main season is from June until the end of September

Warmer temperatures (mean 10°C)
You can access the highlands
Puffin season!
A lot of tourists
No northern-lights (because there is no real dark night)
Midsommar, extreme long days, short nights

Winter season from late November until the end of February
Spring from March until May

Fewer tourists
Not that cold (mean 0°C)
Still good chances to see the aurora
Still heaps of snow
How to get around ?
The best way to explore Iceland is by car. The cheapest and most flexible way is by camping. You can either rent a camping-van or bring your tent. Nearly all campgrounds are open only from April or May to September. If you want to explore the inland (highlands) you need a 4W drive car (including Landmannalauga!). These F-roads (=inland roads) are mostly closed until the end/middle of June due to snow or water and are not that easy to drive. You can also take a scenic-flight over Iceland's inland. We rented a small camper van and were able to most places we wanted to go. 
For road conditions check the website of the Icelandic road service here
What to do in Iceland?
So there are a lot of waterfalls in Iceland and we have written a separate blog post here so you don't miss all the best waterfalls. The landscape is fascinating and it features geothermal areas that are worth visiting as well. On our map you can see the main sights around Iceland.
Geothermal Areas
Haukadalur
The geothermal area is located in the golden circle and is known for its Geysir, called Strokkur. It erupts about every 4 to 8 minutes, so you don't have to wait long if you didn't catch a photo the first time it spewed water into the sky. Everything there looks pretty otherworldly with all the steam everywhere and the fuming earth (and be prepared for the smell of rotten eggs).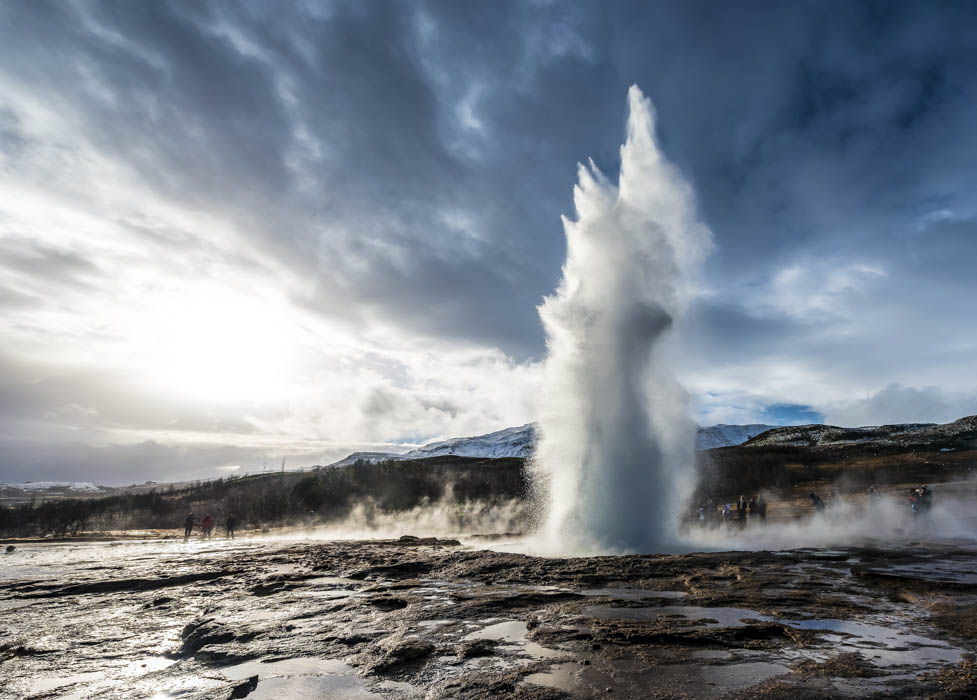 Hverarönd
This geothermal area was my favorite. But it also had the worst smell. Typical for the geothermal field are its fumaroles which are steam blowing holes, that look like the nostrils of dragons. The area near Lake Myvatn is the most volcanic in Iceland. That's why you find many thermal springs here, too. The ground has a great variety of colors which can be seen better in summer when there is less snow.
Seltún
The geothermal area is not big and does not offer Geysirs or steam blowing holes but the ground is beautifully colored. From red to yellow to blue-grey and white. You will smell the typical sulphuric scent here, too. It's close to the blue lagoon and the airport in the south of Reykjavik.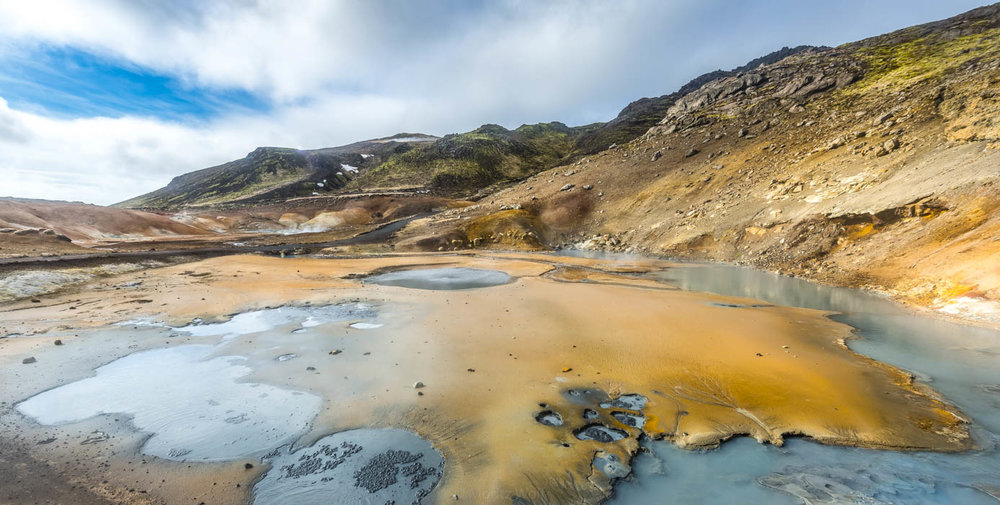 Hot Springs
There are many little and big hot springs all over Iceland. Some of them are more like swimming pools and you need to pay to enter. Others can be found in the landscape around Iceland. We show you four of them.
Blue Lagoon
The blue lagoon is the biggest and most touristic one. We didn't go inside because it is very expensive. But you can take a look at some blue water pools outside and take some photos.
Secret Lagoon
This might be a cheaper alternative to the Blue Lagoon and is also not far from Reykjavik in the golden circle. We didn't catch this one so if you can tell us about your experience just write a comment or an e-mail!
Lake Myvatn Nature Baths
We were here at sunset and it was really romantic with the red and orange sky in contrast to the blue steaming water. It was also really crazy because temperatures were dropping to -20°C in the evening and when we were in the water our wet hair froze in little droplets. It was a wonderful experience.

Landbrotalaug Hot Spring
This little hot spring lays north from Eldborg where a small dirt road leads to it. From where you can park your car its only a few minutes to walk but bring good shoes. The road was really muddy when we were there. The hot spring is just big enough for two people to fit in and has about 44°C. This was by far one of the coolest experiences of the trip. There was no one else around and you have an incredible panorama of the snowy mountains while bathing.
Turf Houses
These houses with the roofs covered in gras are typical for Iceland and Norway. There are two places you can find them The first one is Skogasafn outdoor museum next to Skogafoss waterfall. They have some cute and photogenic turf houses there. THe second place is a church the Hofskirkja. This little church is really cute with its grass roof and the grass-covered hilly graves around. It looks like out of Hobbit world. The church lays in a village called Hof a few kilometers from Skaftafell.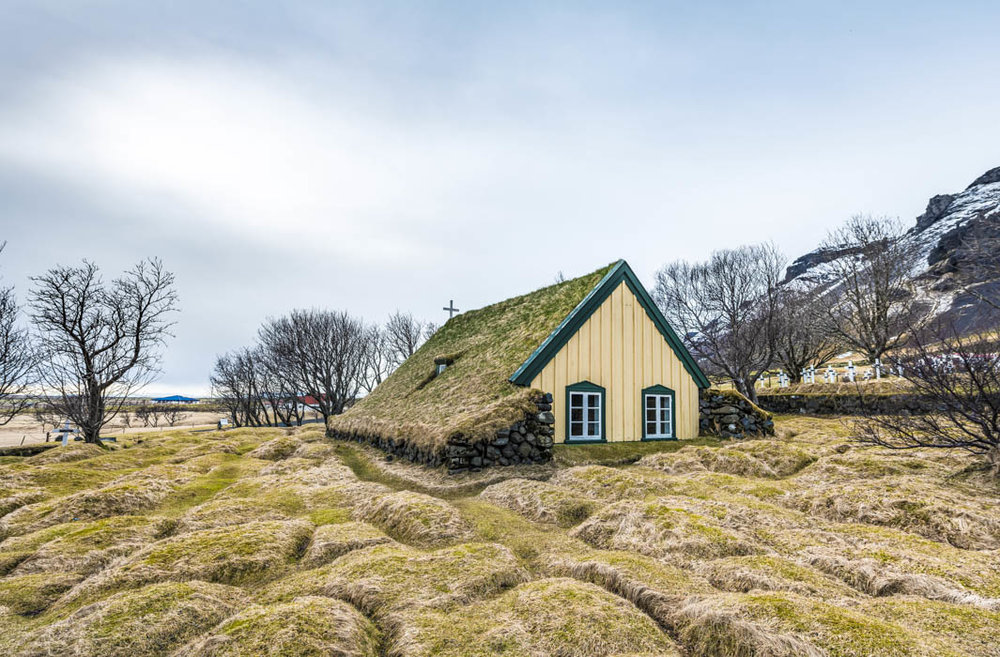 The Fjords
There are three major fjords in the eastern part of Iceland. Seydisfjördur is said to be the most beautiful of them. We were only abled to visit this one because of the snow situation on the roads. But we have to agree that it is a really nice town with sweet colorful houses. The second one is Borgarfjördur, where you can see puffins in summer if you are lucky. At the last one, Mjoifjördur, the main attraction is a rusty shipwreck which is a great photo motive. We weren't able to go there but I was told that the road is a bit rough so be careful!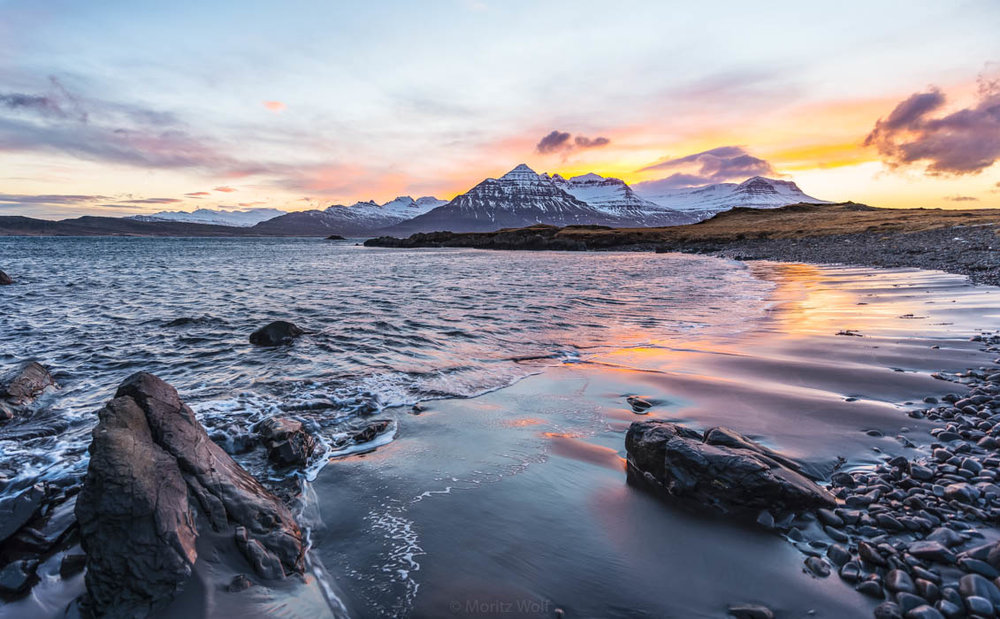 Other sights
Stora Dimon
From this viewpoint you have a nice look over the river of Markarfljót which looks really surreal from above. We didn't have time to go up but I've seen plenty of nice photos.
Vik and Reynisfjara
These two black-sand beaches are next to each other just divided by a basaltic stone cliff. From each of them, you can see the Reynisdrangar rocks formations in the water. At Reynisfjara beach you can also see the stone formation Dyrhólaey in the East and a basalt cave. The weather can be stormy on the coast, we had a little snowstorm and the waves were high. Although it is worth a stopover.
Vatnajökull glacier 
This is the biggest glacier in Europe! You can see the glacier arms when you drive along the south coast. If you want to take a walk or take a snowmobile tour - there are plenty of opportunities. I recommend booking a trip before your visit. We were lucky to get two spare places at a tour because some people didn´t show up (visited in low season). If you have enough time and average fitness I would recommend doing a full-day tour where you get a better experience of the glacier. It's a bit expensive but worth it. Don't walk on the glacier by yourself (except you are experienced) as there can be crevasses and falling ice rocks.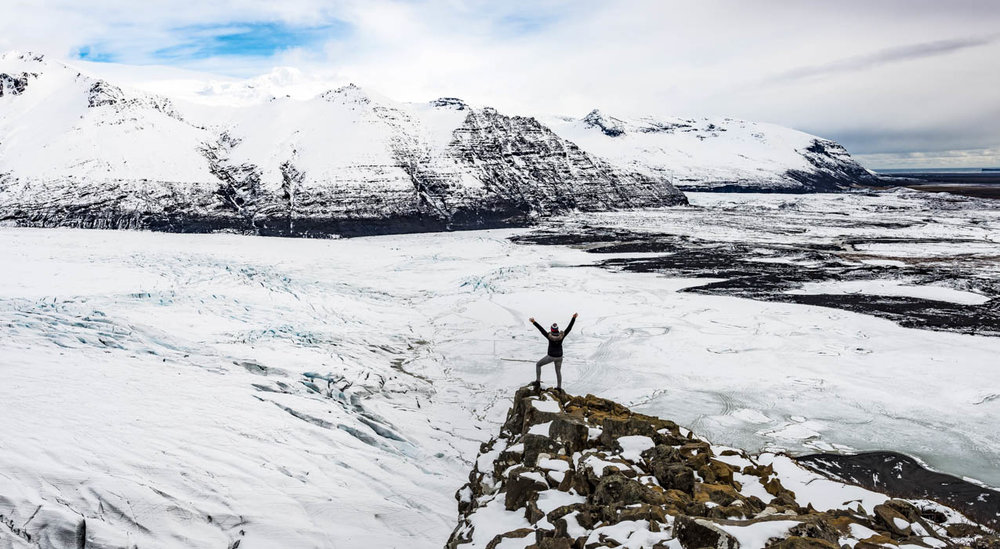 Jökulsarlon - Glacier Lagoon
Most of you have probably already heard about the glacier lagoon or at least seen some photos of swimming ice rocks in the magical sunset light. The best daytime to come here is indeed sunset when the red light of the fading daylight sets the whole scenery in its magical atmosphere. This is truly a photographers paradise, as some of the ice rocks look like giant diamonds. You get the most swimming icebergs at the parking lot on the right side of the lagoon river. This is also the best spot for sunset (so there will be many other people, too) . When you take a walk to the beach near Jökullsarlon you will find many icebergs there, which make a great photo spot, too.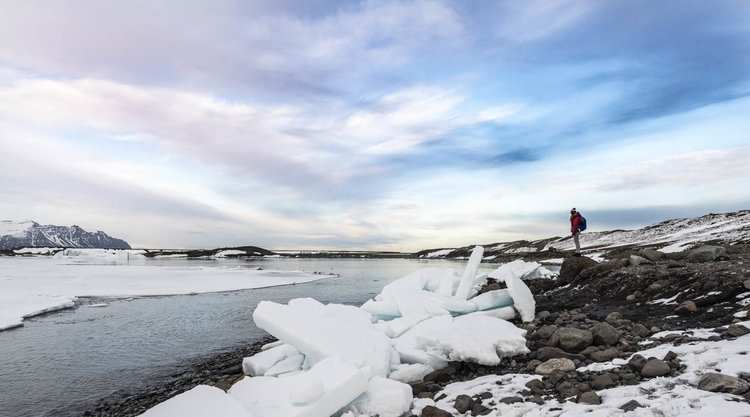 Stokksnes
In my opinion, Stokksnes was one of the most beautiful landscapes on the whole Island. The mirroring of the surreal peaky mountains is epic. And we were nearly alone there, too! You have to pay an entry fee as the area is private property. The guy will follow you in his car to get his money but he is actually nice. You can drive down to the end of the road where you get to wonderful black sand dunes with the great background of the Stokksnes mountains. You can also visit the little Viking village he built (but it looked pretty demolished when we were there). We had a wonderful time walking along the beach and through the sand dunes. After that, you can enjoy hot chocolate if the small restaurant.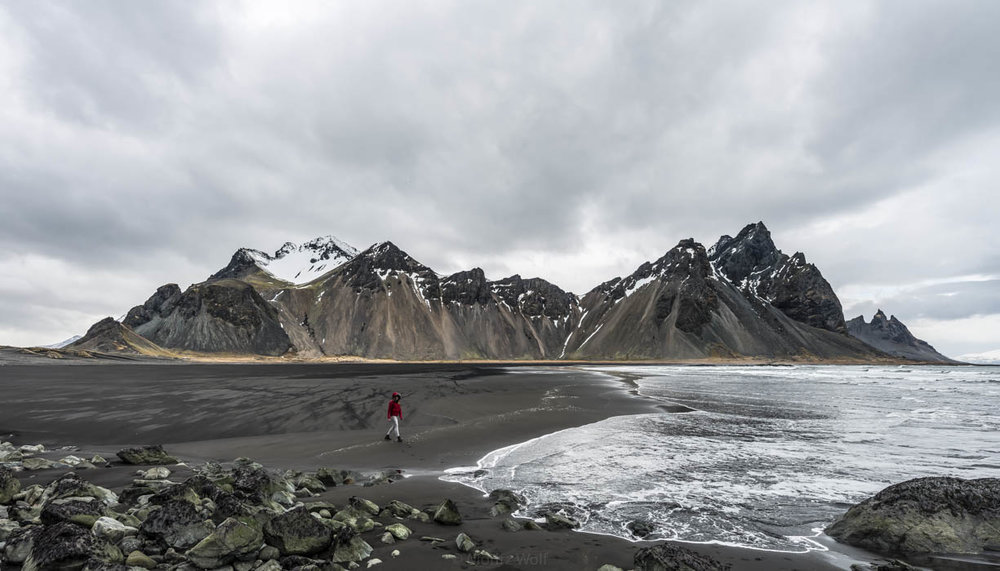 Dimmuborgir lava fields
As we had about -15°C and lots of snow when we visited Myvatn lake (where you find the lava fields) we weren't sure if we would see much of the lava formations or if they would be covered in snow. We arrived there early in the morning and we were the first ones on this day. It was a total winter wonderland. The back lava formations looked even cooler covered in half a meter of snow! The branches of the bushes were covered in snow as well which made them sparkling in the morning sun. The real attraction is Dimmuborgir a tunnel rock formation.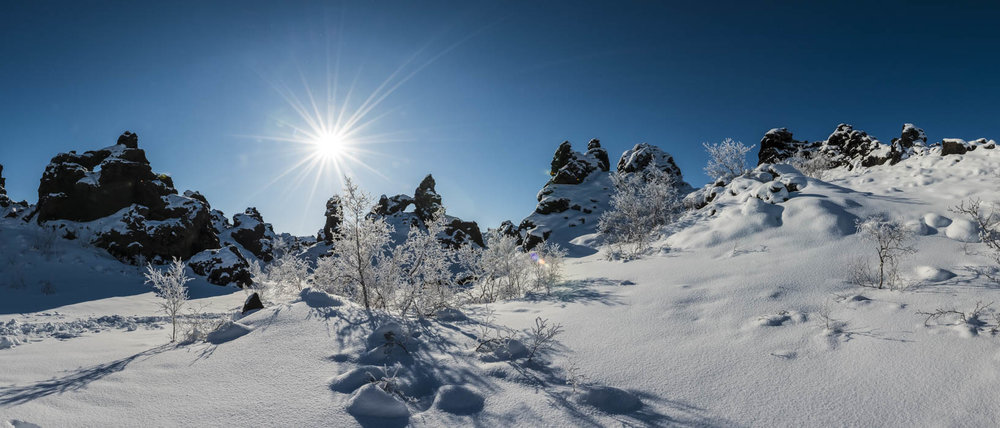 Waterfalls
There are so many waterfalls, we have written a separate post about the best waterfalls of Iceland.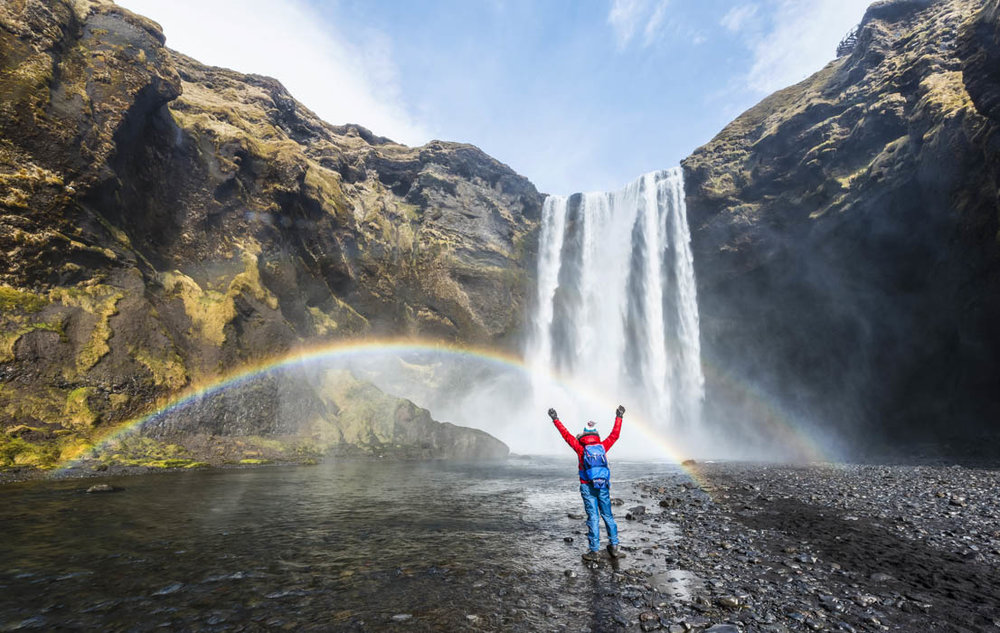 We Hope we could help you planning your trip to Iceland!
📌 Pin it on Pinterest: