Best of Andalusia - Travel guide for Feria de Abril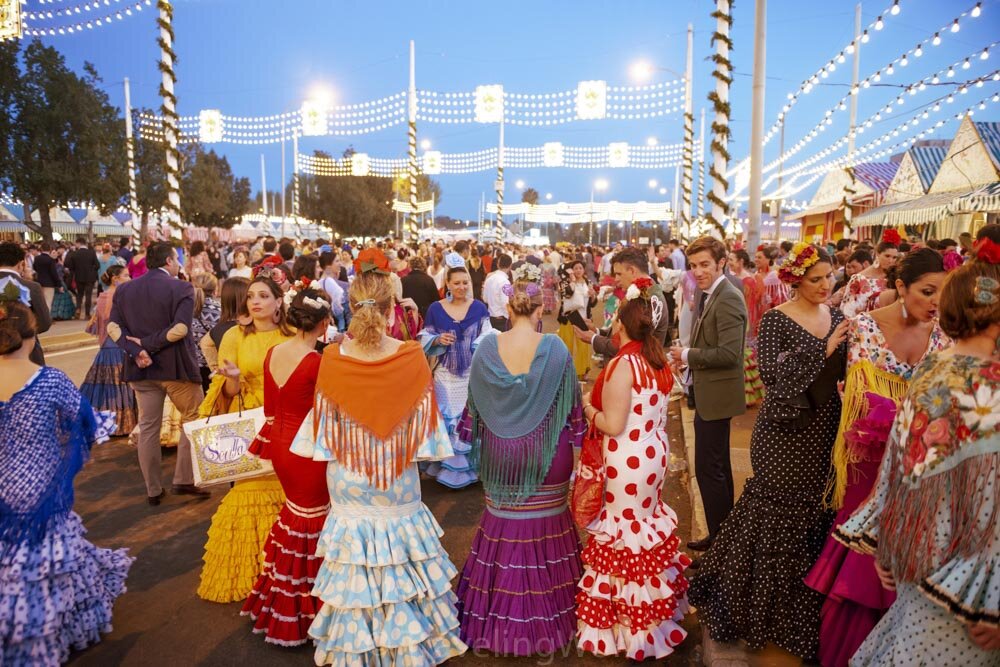 The Feria is another part of the spring festivals of Sevilla. Summed up it is a traditional festival and a funfair. The Feria takes place in April (as its name already says) and lasts for one week. In Sevilla it is opened at 12pm with the "alumbrao" where all the lights are turned on for the first time. And it is closed with fireworks on the last day at 12 p.m.. Every year the Feria gets a new "Portada", the entry gate to the Feria, which is really beautiful at night when it glows with thousands of light bulbs. Here I will explain a few things you need to know about the Feria de Abril in Sevilla.
---
Traditional Dresses
What I liked most about the Feria was, that all the people are beautifully dressed up. The girls wear colorful flamenco dresses and a flower in the hair. The guys wear suits. But don't worry you don't have to buy a Flamenco dress to go to the Feria, a blouse and some black trousers will do it, too. For good pictures just walk around the streets in the afternoon and you will probably get some pictures of people dancing Sevillana on the streets.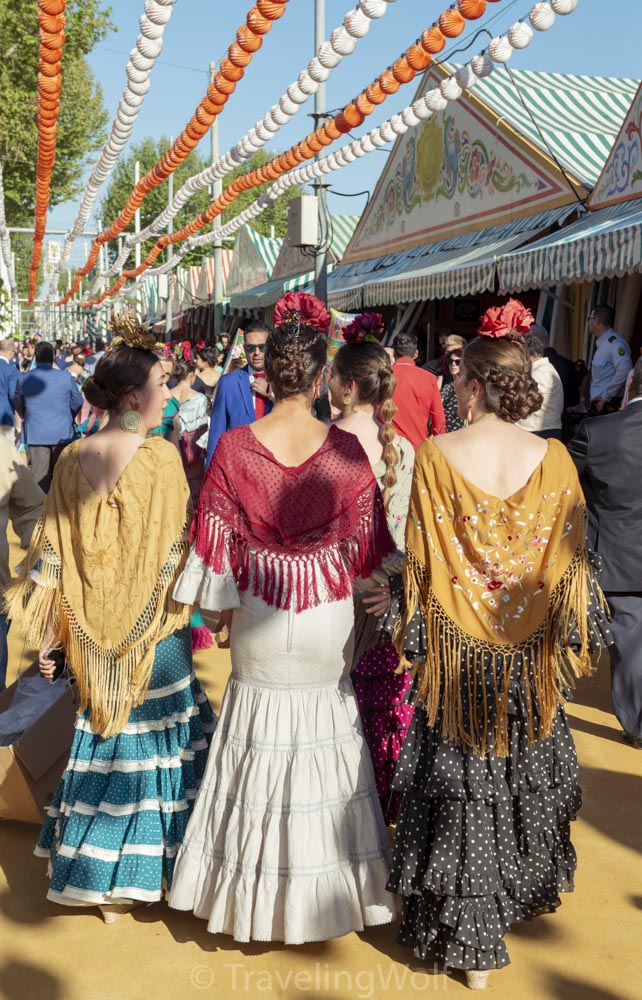 Horses and coaches
There are coaches all around Sevilla's monuments all the time but during the Feria they are decorated with flowers and other things and all the coachmen wear traditional uniforms. Adding to that the people riding the coaches are wearing traditional Andalusian dresses. On the Feria there are so many coaches and horses that they have traffic jams all the time. The horses and coaches are a fixed part of traditional Feria, too.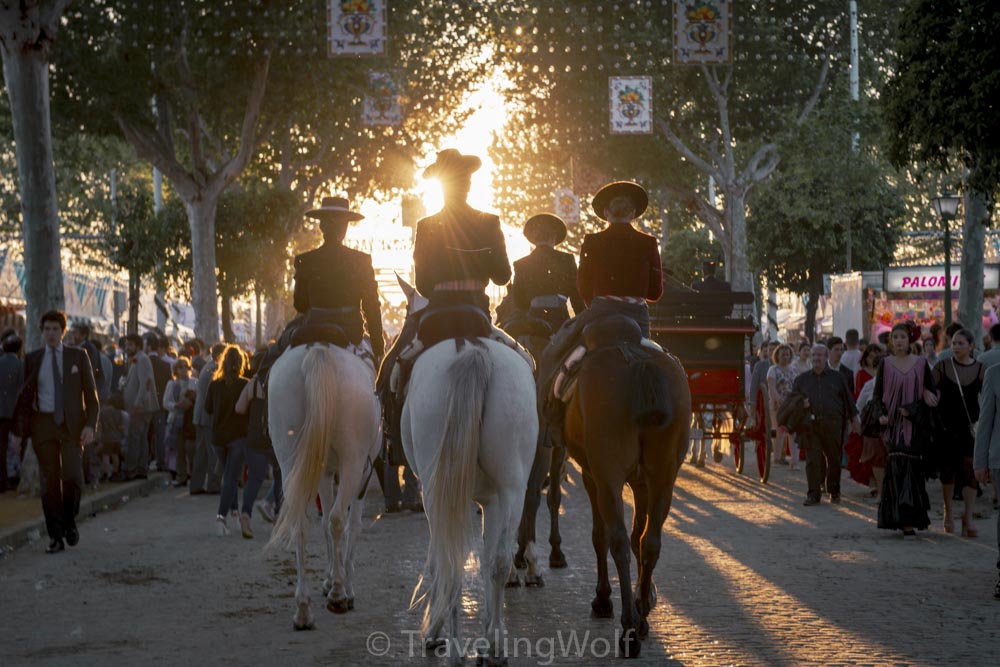 Casetas
The Casetas are the main part of the Feria. There everyone drinks, eats and of course dances. The traditional drink of the Feria is Rebujito. This is a mix of Sherry and lemonade and is the best drink for a hot spring day in Sevilla. As everywhere in Sevilla you can get fish and other tapas to eat. The traditional dance of the Feria is Sevillana. This dance is quite easy to learn and if you spend a night at the Feria you will soon be as good as everyone else. Most of the casetas are private and you can only enter on invitation. If you´re a tourist you might probably not have an invitation but there are also some public Casetas where you can get something to drink and dance Sevillana with the locals.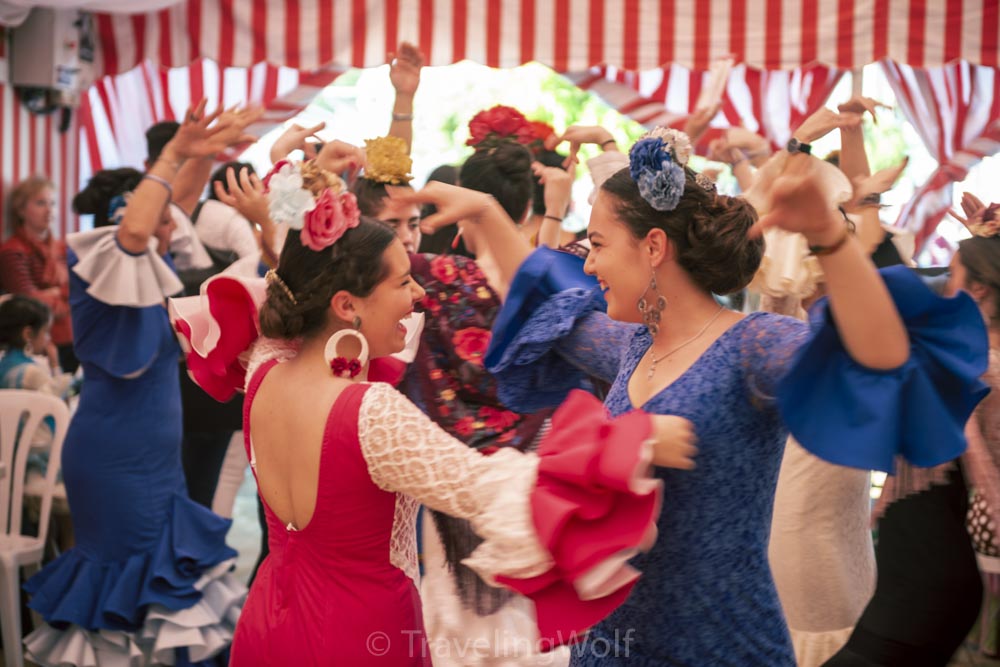 📌 Pin it on Pinterest: