Ultimate 14-day Morocco Roadtrip (by car from Spain)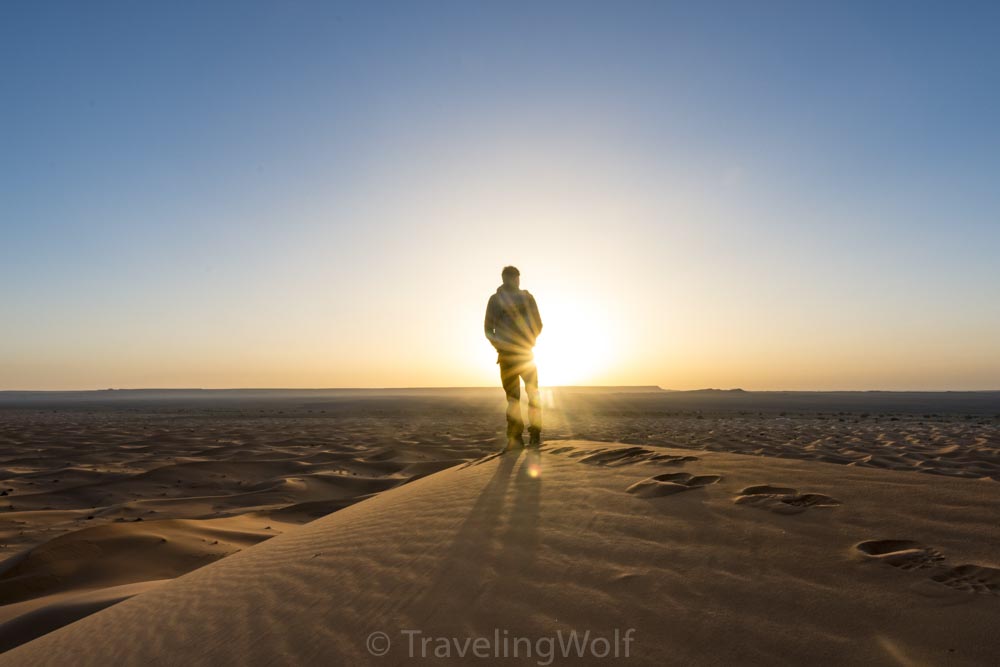 For everyone not familiar with traveling in Arabic countries check our General Information first.
Morocco was on our Bucket List for a long time and as we are staying in Southern Spain for half a year we had the best opportunity to visit Morocco with our car. We did a two-week trip starting and ending in Sevilla. The following blog post gives an overview of the stops of our trip.
---
The Trip
Day 1- Day 2: Chefchauen
🛌 Hôtel Casa Miguel
🍽 Dar Bab Sour, Casa Hassan
🚗 The parking lot at Bab El Mahrouk
📍 The lookout point at the Spanish Mosque (Mosquée Bouzâafar), Medina (Ruelle El Asri, Rue Elkiklana and more)
In the morning we started in Sevilla and drove down to Algeciras from where we took the ferry to Tanger Med. After customs duty we continued our journey to Chefchauen through the beautiful and green landscape of the Rif mountains. We parked our car at a parking lot above the town near the Medina (20 dirhams per day). As all the driving took quite a long time (we had strong sea and customs took their time) we arrived at about 6 pm in Chefchauen. We just got something to eat and strolled around the Medina a little bit. On our second day, we visited the viewing point by the Spanish mosque from where you get a view all over the town. The rest of the day we walked around town on the hunt for the most beautiful and photogenic streets.
Day 3 - Day 5: Fes
🛌 Riad Dar Assia
🍽 Hand food near the butcheries in Rue Talaa Kebira, Restaurants at the beginning of Rue Talaa Sghira
🚗 The parking lot at Bab Boujloud (40 dirhams per day)
📍 Bab Boujloud, The tanneries, Kairouine Mosque and University, Souks, Medersa Attarine, Nejjarine Museum of Wooden Arts and Crafts, Viewpoint at Borj Nord,
The next morning we drove to Fes. We arrived there in the early afternoon and parked at the big parking lot in front of Bab Bujloud. We strolled through the Souks and small alleys and of course immediately got lost. We decided to view the tanneries and tried about every roof terrace from where you can see them (you have to go into the stores to get to see the tanneries). Of course,we didn't get out of there without buying something (and you should not try to). We also took a look at Kairouine Mosque and watched the craftsmen on Seffarine Square. In the even,ing we had dinner in a cafe near Bab Boujloud. On the next day we walked all along Rue Talaa Kebira to see the butchers sell camel meat and other craftsmen along the road. In the morning we first visited the tanneries again but this time to see their work from below (just ask the guys at the stores and they will show you). It was impressive to walk around the basins and watch them working.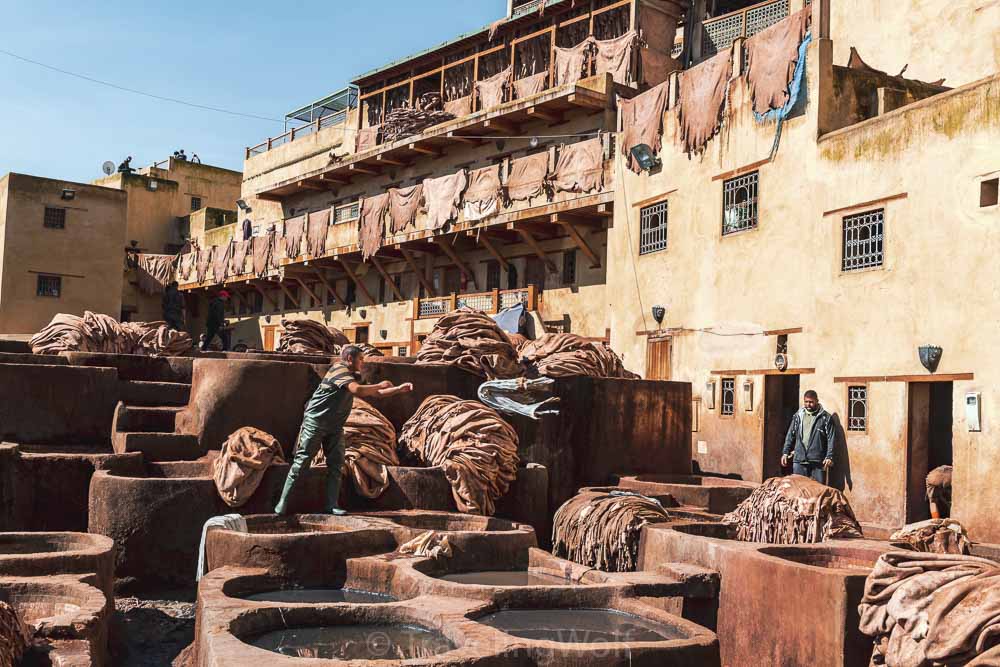 After that, we visited the Nejjarine Museum which is an old fondouq, also called caravanserai (a house for traveling merchants who stored and sold their goods below and took lodgings on the floors above). It is quite beautiful as well as the old wood art they exhibit there. In the evening we walked up to the Viewpoint at Borj Nord to get an overview of the chaotic Medina.
Day 6 - Day 7: Merzouga
🛌(Camping and desert tours) Camping Bleu, Camping Chez Zaid, Riad Nezha, Ksar Bicha
📍 Dunes of Erg Chebbi, Camel Tour and sleeping in the Dunes, 4WD Tour, Quad Tour
The Drive from Fes to Merzouga took us about 8 hours in total but we decided to make a stop and stood the night in a little village (Madkhal Meski) at an oasis called Source Bleu. You can visit the old Kasbah there and swim in the pool in the spring of the oasis river. We stood at Zaid's Campground there, and had a charming evening with him. The dinner his wife cooked was really good and in the evening we talked with him about culture in Morocco and played some Berber music.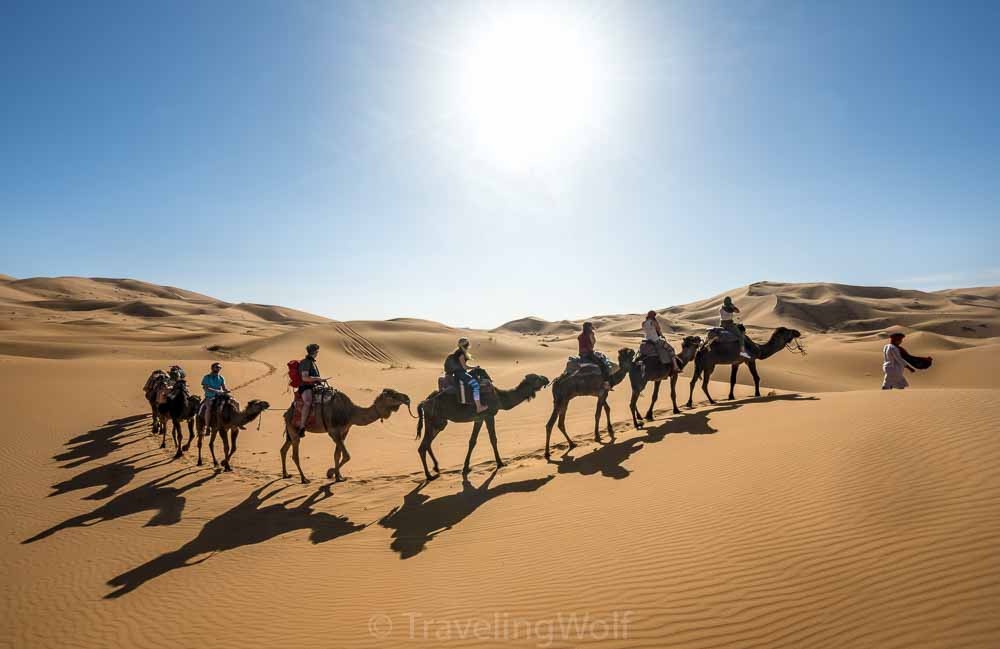 The next day we continued our drip to Merzouga. On the way we stopped at the Fossile store and manufactury in Erfoud, Zaid told us about. When we arrived in Merzouga we drove to Ksar Bicha to book a camel tour. Until 4pm when the tour would start we relaxed and took a swim in the pool. As there were no more camels left we were walking besides the camels (which allowed us to get some good photos). After approximately 2 hours we arrived at the camp. Then we walked up the big dune to watch the sunset, which was really cool. Dinner was very good and after that we had some more Berber music with the guides from the camp. On the next morning Moritz and I walked up the dune again to see the sunrise - it was even better then sunset and we were able to get some beautiful desert dune shots.
Day 8 - Day 9: Todra Gorge, Dades Gorge and Ait Benhaddou
🛌 (Camping) Parking lots at the end of Todra gorge, Dades: Hotel Tamlalte and Camping Pattes de Singe, Ait Benhaddou: Kasbah du Jardin
The next stop after Merzouga was Todra Gorge. You can park in or at the big parking lots at the end of the Gorge and walk around from there. It is not that long so it won't take a long time. The drive up to Todra Gorge is also really nice with beautiful views of the small villages around. It is also possible to see how people make handmade carpets and other things around there. And of course, you can buy a lot of handmade crafts.
After Todra we drove to Dades Gorge were we stood the Night at Hotel Tamalalte and Camping with a view of the Pattes Des Singes Rocks. They are best to photograph in the afternoon and we were lucky to capture some last light upon arrival. The next day we explored a little canyon where we walked in between the rock formations. This was a really cool short trip. After that, we drove up to Dades Gorge which wasn't as impressive as I thought it would be.
The next stop on our journey was Ait Benhaddou, where we arrived on same day in the afternoon. We explored the Kasbah a little bit and visited an old Berber house. For sunset we found a beautiful spot by the river were you can get a perfect mirroring of the town in the red evening light. We had perfect clouds and a truly beautiful sunset. The next morning we climbed the hill opposite the city and took a few pictures of the city, as there is better light from that angle in the morning.
Day 9 - Day 10: Marrakesh
🛌 Riad Mahjouba
🍽 Atay Cafe Food, Grand Balcon du Cafe Glacier
🚗 Parking near Bab Yacout and Gare Routier
📍 Medersa Ben Youssef, Medersa Bou Inania, Palais Bahia, Jemaa el-Fna, Saadian Tombs, Jewish Quarter Mellha with Synagog and Cemetry, Bab Er Robb, Koutoubia Mosque, Museum Maison de la Photographie, Museum Dar Si Said, Jardin Majorelle
In Marrakesh there's a lot of things to do. On the first day we walked through the city and wanted to visit the Medersa Ben Youssef which unfortunately is under renovation until 2021. So we walked around the city and explored the Souks as well as visiting the Jemaa el-Fna (be aware of scammers when you want to eat there!!!). We also watched the snake charmers there.
The next day when we had more time we visited the Palais Bahia which was bigger than we thought and really lovely and the El Badi Palace. On the way we also found another Medersa the Medersa Bou Inania which was beautiful, too. We also walked through the Jewish quarter where we visited the Synagogue and Cemetery which was nice as there were fewer tourists around.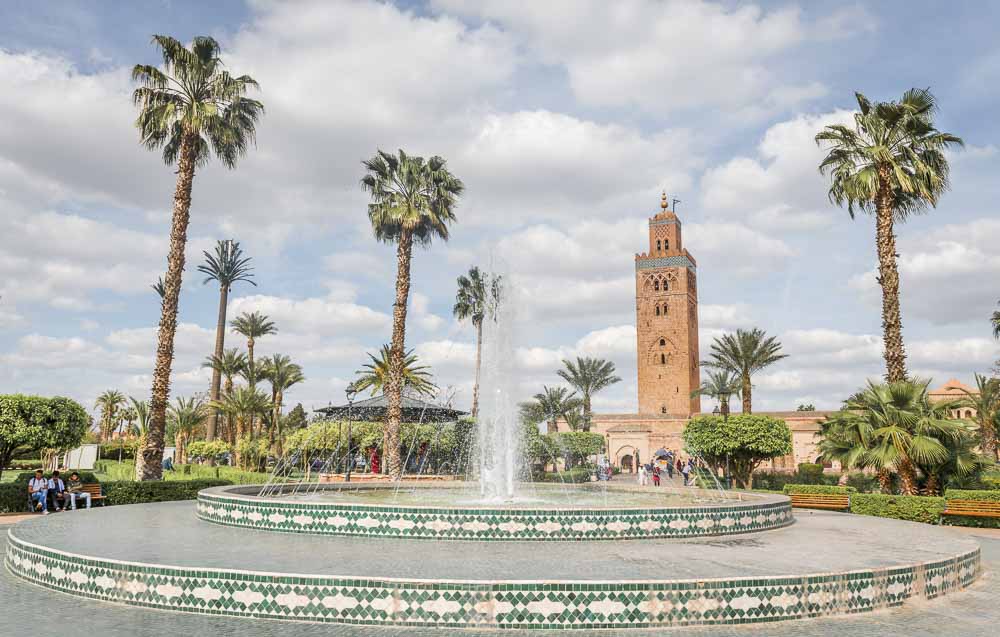 In the afternoon we walked to the Saadian Tombs which are really cool and are definitely worth waiting (there was a long line to see them). Over the Bab Agnaou gate we went back to the Koutoubia mosque and relaxed a bit in the park. For sunset, we went up the Grand Balcon du Cafe Glacier and had some tea there.
The next day we visited the Jardin Majorelle which was quite nice and interesting although we had to wait in line for some time to enter. After that, we left Marrakech and headed out to Ouzoud Falls.
Day 11: Ouzoud Falls
🛌 (Camping) parking lot near Cascades d'Ouzoud
🍽 Restaurant near Camping Imouzzer (at Viewpoint of the Falls), Cafe of Mohammed the Berber
📍 The short trail to all Viewpoints of the Ouzoud Falls
The drive to Ouzoud Falls lead us through some beautiful green landscape which was covered in meadows full of yellow and orange flowers. On arrival, we parked the car on a parking and camping spot. We did a little round trail which will lead you to the main viewpoints of the Ouzoud Falls which is shown in the map above. At the first viewpoint near Camping Immouzzer you can get really good and cheap food with a good view. We stood there and took photos from all angles until the sun was gone. The Falls get the best light in the afternoon.
Day 12 - Day 13: Casablanca
📍 Hassan II Mosque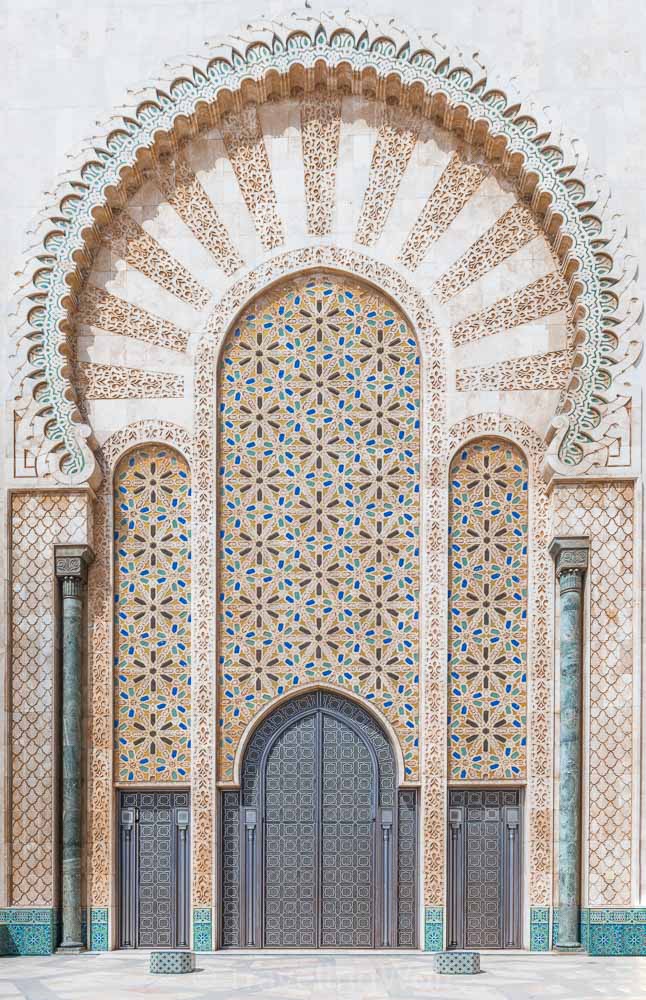 Casablanca is another hell of a city for driving. I was really happy when we arrived at the parking lot opposite of the Hassan II Mosque. It is possible to visit the mosque in between praying hours. Tickets are available in the museum building. We did the visit and it was really interesting. Adding to that the mosque is quite impressive from the inside and you are able to also see the washing rooms and take photos everywhere.
From Casablanca we drove up until Mulai Bouselham where we camped for the night. The next day we took a ferry from Tanger to Tarifa. From there we drove back to Sevilla with a little stop in Cadiz.
---
General information
Security: As everywhere where there are tourists you can find scammers and pickpockets that try to get your money. But as we experienced Morocco, it is quite safe to travel there. Often people try to be you "guide" and then ask for some money (which you should give them if they helped you). You need to be especially careful in Marrakesh because its the place in Morocco with the most tourists. We had a not so nice experience when eating at Jemaa el Fnaa as they were serving us food, we didn't actually order and then wanted us to pay a far too high price. We've also heard about places where they exchanged the menus when you have to pay and the prices are much higher on the second menu. If someone tries to scam you always stay calm and just say no. Just pay a fair price and leave. They will scream at you but that's normal for Arabic people ;).
Driving: As you will read in every tourist guide there is no problem driving in Morocco. Only the bigger cities like Marrakesh or Casablanca are chaotic with lots of traffic. Not only cars but donkeys and motorbikes and scooters are all around. But generally, you can also handle this by driving attentively and careful. (We drove through Fes, Marrakesch and Casablanca and managed it pretty good.) I just wouldn't recommend driving in darkness, as there are often people, animals and slow unlit vehicles on the streets.
Camping: Camping is generally no problem in Morocco. We always felt save anywhere we camped but we chose to stay on campgrounds most of the time. Wild camping is officially prohibited. Also the population is extremely curious by default so it might be hard to find a private spot. We recommend to sleep on campgrounds.
📌 Pin it on Pinterest: