Japan - The Ultimate Four Week Round Trip for Photographers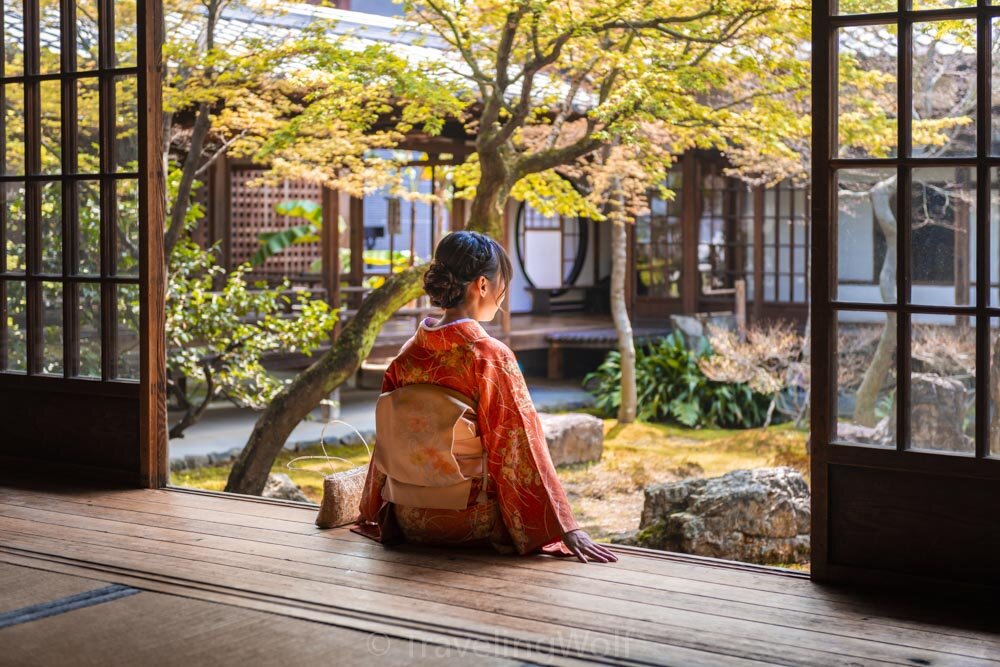 See the classics of Japan and more following our four week trip through Japan's main island Honshu. Explore modern Japan in Tokyo and Osaka, find your inner Zen in the many temples in Kyoto, dig into japanese culture and history and explore the beauty of Japanes Alps and scenic landscapes. We will show you when and where to go to make it THE trip of your lifetime!
---
When to go?
Japan is beautiful in every season always depending on your prefered activities. Below you can see what is the best for every time in the year.
Spring: spring time, especially from end of March until mid April is one of the main travelling seasons because it is the time of cherry blossom. Thats when we visited Japan (from end of March until end of April). And we had beautiful cherry blossom almost everywhere! I would definitely recommend to visit in Spring! Also the temperatures are moderate. Attention: when travelling to the north and in mountain regions there can be still lot of snow!

Summer: Summer can be very hot in many parts of Japan. But this is the best season for hiking and trekking in the Japanese Alps. Especially if you want to ascend Mt. Fuji you have to come in summer as the trail is officially only open from June to August.

Autumn: This is probably the most beautiful time to visit besides spring. In autumn all the maple leaves and other trees turn into a sea of red and yellow and make up for the ultimate Japan experience.

Winter: winter can also be really charming and if you like skiing Japan is known for its perfect powder snow: Japow! Also this is the best time to see the snow monkeys bathing in their onsen.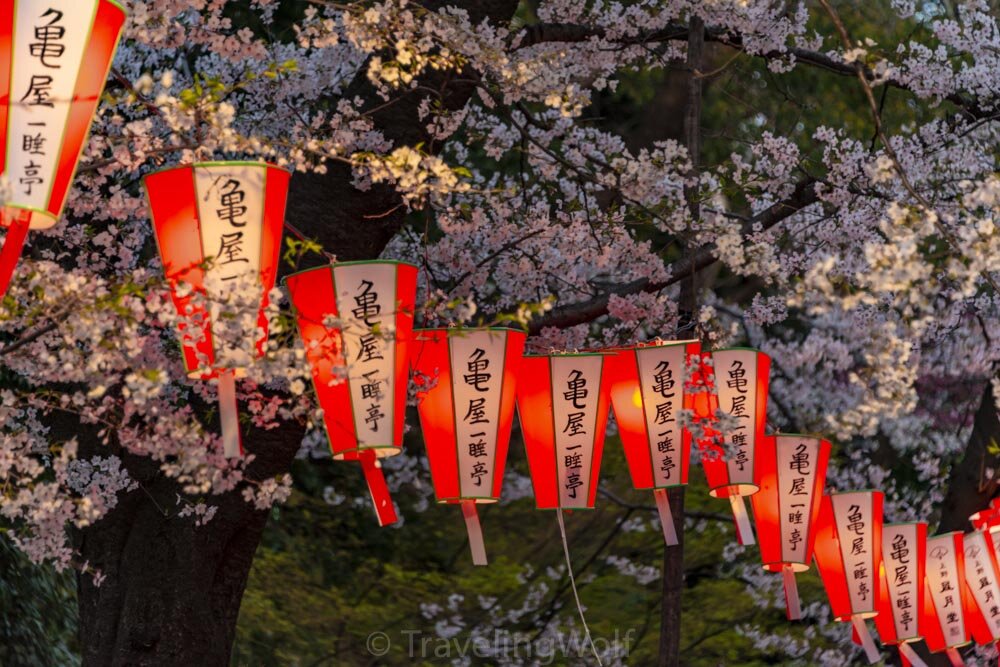 How to get around?
Getting around in Japan is really easy and comfortable. The basic two options are Railway and Bus. With these you will get almost everywhere. We also rented a car at a few occasions for some local sightseeing.
Railway: Japan has an incredible railway network that will mostly bring you everywhere and when you use the Shinkansen (bullet train) it is also incredibly fast (but can be expensive). Sometimes it is a good option to buy the JR pass which is a railway pass you can buy for a certain period and which allows you to take trains and Shinkansen operated by JR. (Attention! You have to buy the JR pass at home you can't buy it in Japan!)

Bus: There are many big bus operators that bring you from almost everywhere to everywhere else. The busses are the cheaper option compared to Shinkansen especially on long distance travels. And on most routes you can take an overnight bus and in that way also skip hotel costs. Thats how we traveled most of the time on the long routes. Local Busses normally also bring you everywhere on the local sphere.

Car: It is probably not the cheapest and also not the most comfortable option to rent a car for your whole trip. For long distance travelling you might need to use the Expressways which can be really expensive. Also picking up the car at one place and bringing it back at another is mostly really expensive. adding to that be aware that the parking fees in cities and near bigger sights can be imense. Besides that driving in the cities is really annoying because there is often a lot of traffic. But for a few days and trips on a local sphere car rental can be really comfortable and often doesn't cost you more then taking the local bus.

Our trip
Day 1 - Day 4: Tokyo
🚌 Subway and walking
📍 Shibuya Crossing, Akhiabara area, Senso-ji temple, Imperial park and palace, Rainbow bridge and Tokyo Skyline from Fuji-television headquarters, Roppongi Hills (this is just a brief outline Tokyo has so many great places to go!!!)
Tokyo is a must do when you visit Japan. We flew in to Tokyo and stayed our first 4 days exploring parts of the city. We especially visited all the Hanami spots as it was full bloom time when we arrived. You can learn more about Tokyos best photo spots and hanami spots as well as where to go in Tokyo for night fotography on our blog post about Tokyo here.
🚊 Bus from Shinjuku Bus Terminal to Fujiyoshida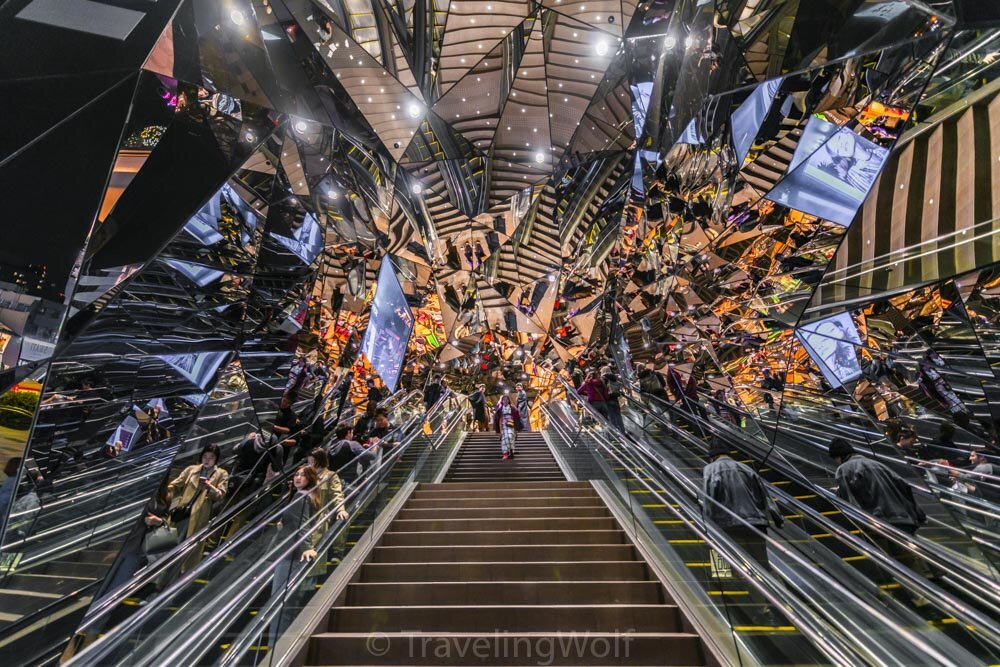 Day 5 - Day 7: Fuji
🚌 Bus, rental car, Bike
📍 Fuji Q Highland Park, Chureito Pagoda, Fujikawaguchi Lakeside, Iyashi no Sato Folk Village, Shoji Lake, Tanuki Lake, Shiraito Falls
Mount Fuji is a must see when visiting Japan. You can find most hotels in the Fujikawaguchi and Fujiyoshida area. The best photo spots can also be found around this area for example the Chureito Pagoda and the view of Mount Fuji from Fujikawaguchi Lakeside. If you want to see cherry blossom be aware that it comes about 2 weeks or more later than in Tokyo because of the higher elevation. (Unfortunatly we missed it, so maybe it would have been better to come to Fuji more at the end of our trip.) Read More about best Photo Spots of Mount Fuji in our blog entry here.
🚊 Night Bus from Fuji Station to Kyoto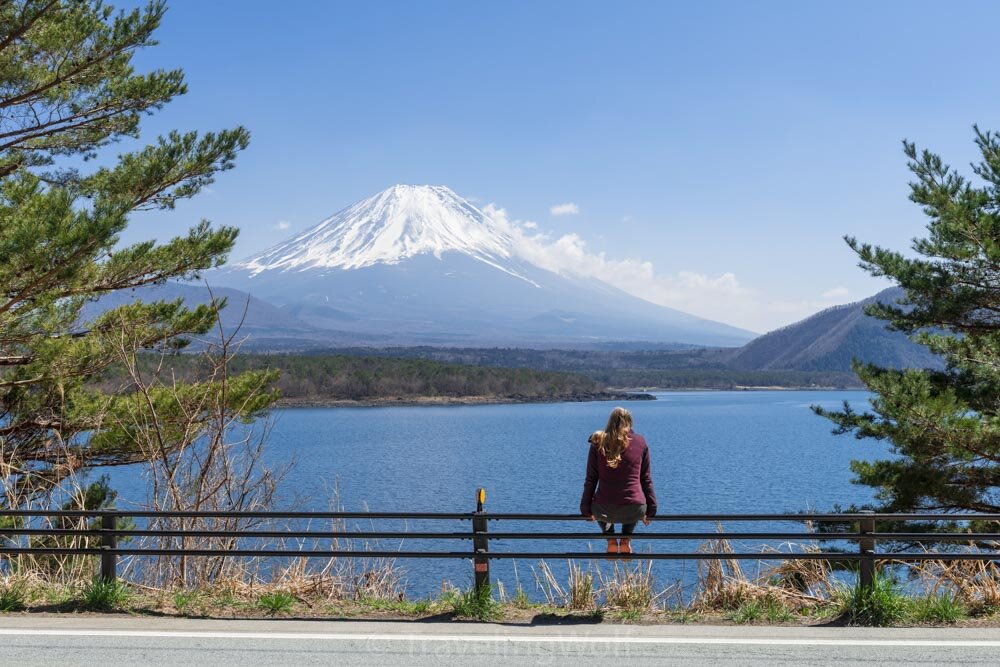 Day 8 - Day 11: Kyoto
🚌 Train, Bus, Bike, Walking
📍 Golden Pavillion Tempel, Arashiyama Bamboo Forest, Ninnenzaka - Sannenzaka streets, Yasaka Pagode, Kyomizu dera temple, Ginkakuji tempel, Imperial Palace, Nijo castle, Fushimi Inari Taisha Shrine (and more! )
You should definitely plan about four or five days in Kyoto if you want to see all of its beauty. Kyoto is probably one of the places with the most temples and many of them are also really different. I would definitely recommend to at least see the ones in the list above. Above all you will want to visit Fushimi-inari Taisha Shrine - the shrine of 1000 Torii, but you should be there early (about 6-7 am to avoid the crowds). The old streets of Gion are another main sight in Kyoto (and thus are really crowded), but in the evening when the crowds leave you can stroll around and take nice sunset pictures of Yasaka Pagoda (THE classic Kyoto photo spot). More on Kyoto in our seperate entry coming soon.
🚊 train to Osaka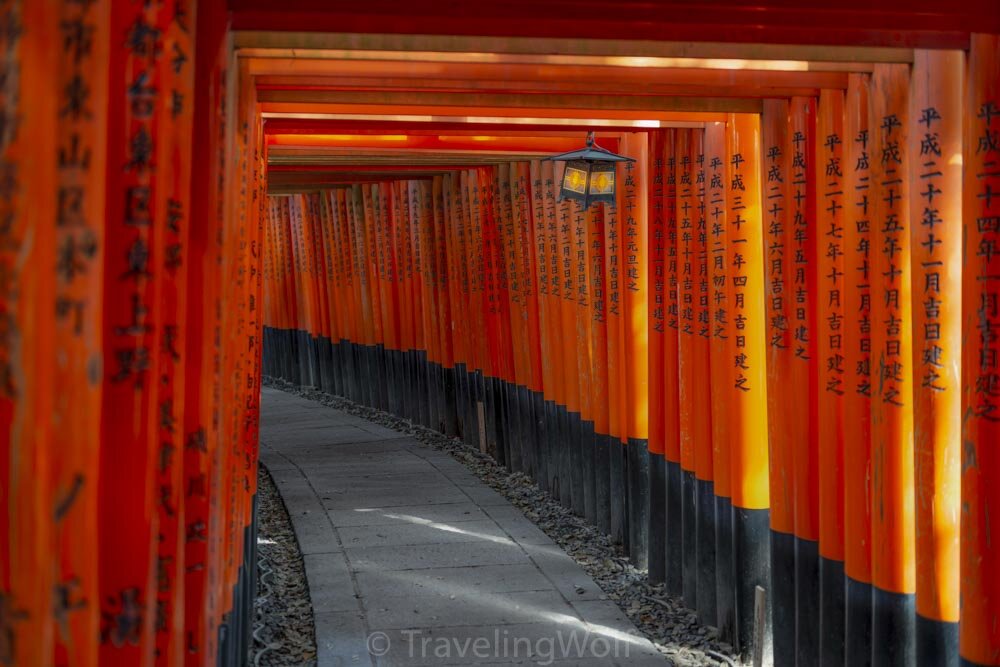 ---
---
Day 12 - Day 13: Osaka
🚌 Subway, Bike
📍 Osaka Castle, Dotonbori Street, Osaka Aquarium, Hitachi Tower and around
Osaka doesn't have an old city or much traditional tempels as it got completely destroyed during WW2 but it calls itself food capital of Japan. This is definitely a good place to eat Okonomiyaki (japanese pancake/omlette). The Osaka Castle is definitely worth a visit and you should also go to Dotonbori and Shinsekai area to see some more Shibuya-neon-atmosphere and by the way there are lots of food opportunities around. We would also recommend to visit the aquarium if you have a rainy day or have some spare time!
Day 14 - Day 15: The Kii-peninsula
🚌 rental car (train, bus)
📍 Koyasan tempels, Nachi Falls and Kumano Nachi Taisha Shrine, Kumano Hongu Taisha Shrine and Oyunohara Great Torii, Kumano Hayatama Taisha Shrine
The Kii peninsula is mostly famous for the Kumano Kodo pilgrimage path that leads over and around the peninsula in different trails and passes the main temples written above (and by the way is one of the few trails desiginated as world heritage). We did a 2 day road trip with our rental car to visit the tempels and over all to see famous Nachi Falls featuring the three storied pagoda. The coastline of Kii also has many beautiful features worth visiting but unfortunatily we didn't have time for that. See more on our seperate entry coming soon.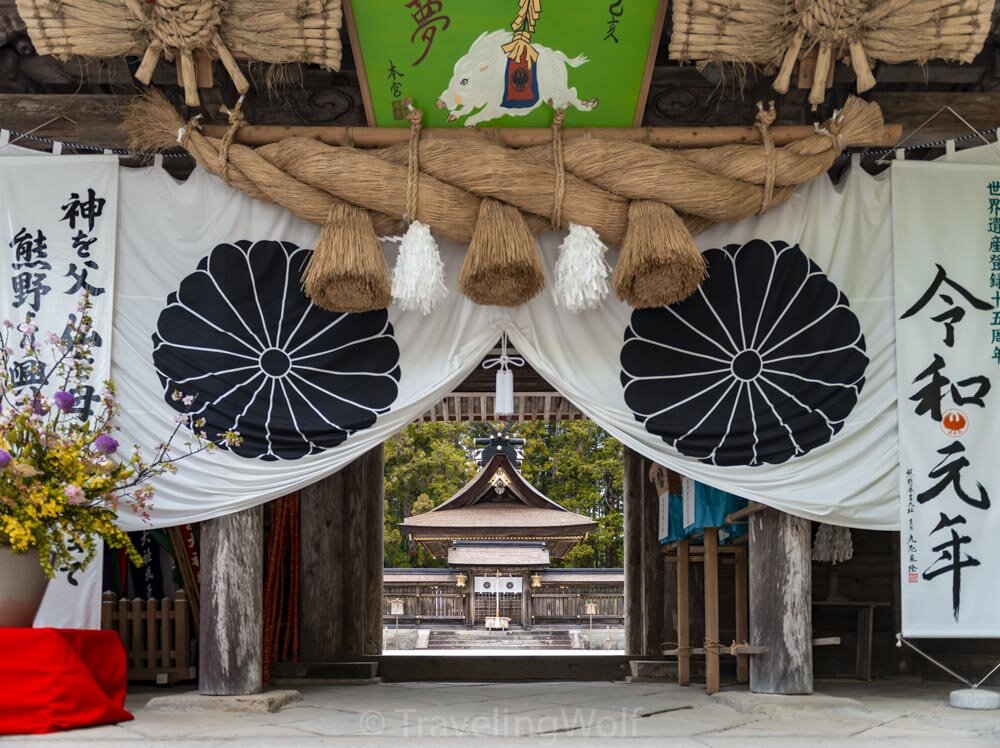 Day 16: Nara
🚌 Walking, Bike
📍 Deer Park, Kofuko-ji tempel, Isuien gardens, Todaiji tempel, Kasuga Taisha
We drove there still on rental car and only explored Nara for a few hours. Nara also has many tempels but is probably most famous for its deers, which are basicly everywhere. The Kofuko-ji tempel is worth a visit with its Pagoda and you shouldn't miss the giant buddha of Todai-ji tempel!
Day 17: Hiroshima
🚌 Bike, Tram
📍 Hiroshima Castle, Shukkeien Garden, Hiroshima Oriziru Tower Observation Deck, A-bomb Dome, Cenotaph and Flame of Peace, Peace Memorial Museum
We stood for two nights in Hiroshima, visited the cities sights and learned a lot about the A-bomb. We especially liked the Oriziru Observation deck from which you can overview the whole city as well as the surrounding mountains. Especially at sunset this is a nice place to take pictures of the A-bomb dome and the city. The second day we made a trip to Miyajiyama island.
🚊 night bus from Osaka to Hiroshima, train and ferry to Miyajiyama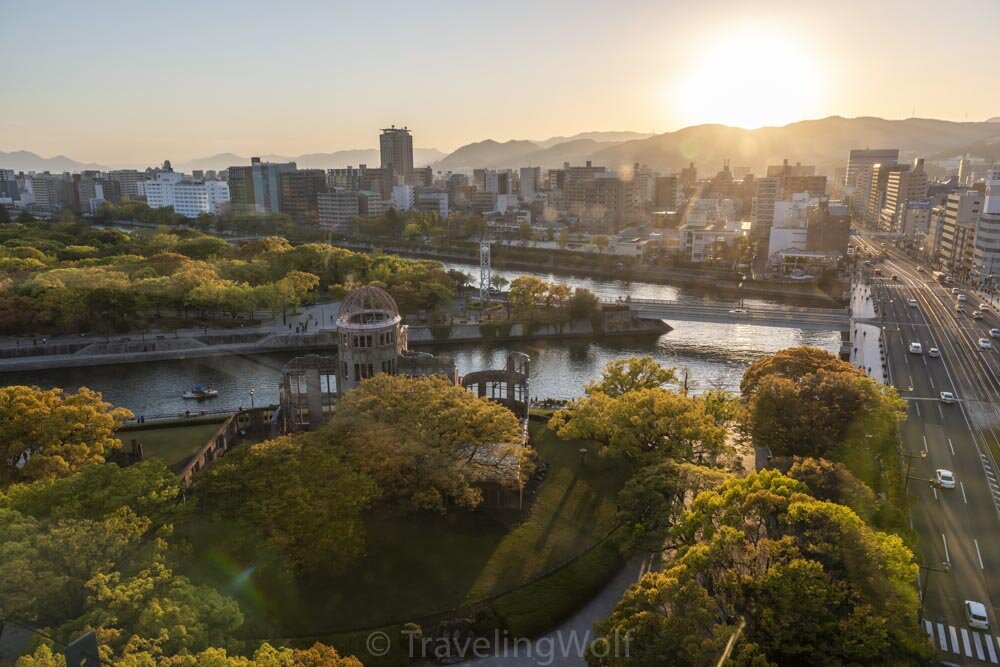 Day 18: Miyajiyama island
🚌 Walking
📍 Itsukushima shrine and Great Torii, Tahoto Pagoda bay viewpoint, Daishoin tempel, Mt. Misen, Mt. Komagabayashi
In the morning we took the train and ferry to the island. The great Torii has best light in the morning so you may want to first take some shots there. If you want to get a better view you can climb to some viewpoints over the city (more details in our seperate entry coming soon). Of course a climb up (thers also a ropeway) to Mt. Misen is a must do when you visit the island! If you like to have a more peacful experience go to the peak next to Mt. Misen, Mt. Komagabayashi, there are less tourists here. If you hike up you will probably pass the marvelous Daishoin temple with its little buddha statues and you will most probably see some deers on your way.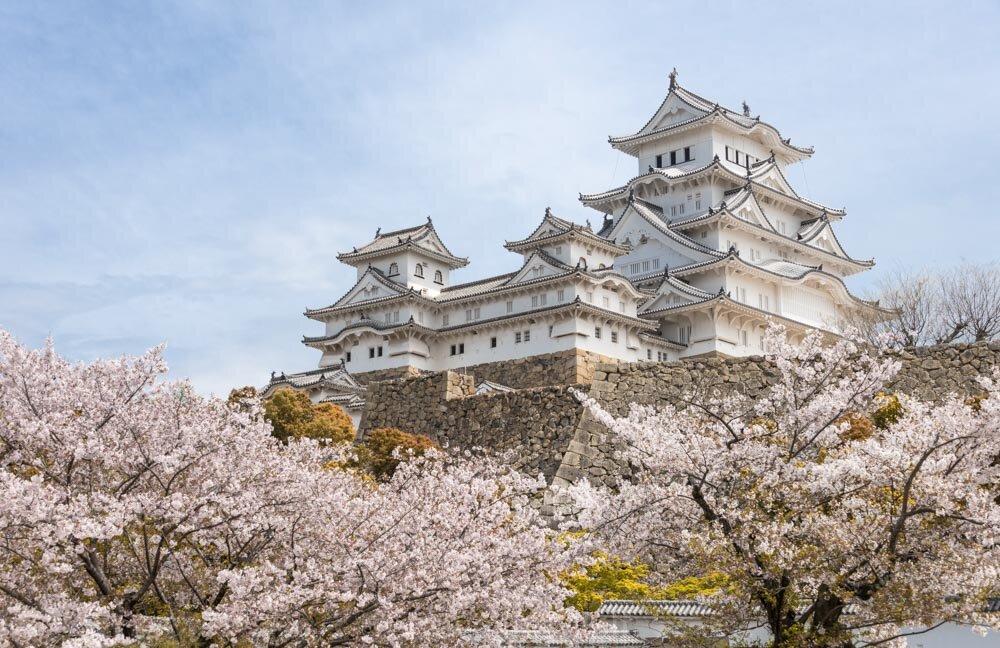 Day 19: Himeji Castle
That day we made our way back with destination Japanese Alps. We took the Shinkansen to Himeji. There we had a few hours to explore the castle. Himeji is definitely worth a stop! And you should definitely go inside the castle as you get even better views from the areas directly around the castle. After that we took the Shinkansen to Nagoya and then train and bus to our destination Magome.
🚊 Shinkansen from Hiroshima to Nagoya over Himeji
Day 20: Magome to Narai
🚌 Train, Bus, Hiking
📍 Magome post town, Odakimedaki Waterfall, Tsumagojuku post town, Mamosuke Bridge, Ontake Shrine, Narai post town
To see the Old post towns of Magome and Narai we followed some parts of the old post road that once was the only road connecting the post towns in the mountains. The trip we did is a combination of hiking, bus driving and railway. On the way you will see three beautiful old japanese post towns of whome Narai might be the most famous. From Narai we took the train to Matsumoto where we stayed for the night. For more details see our seperate blog entry.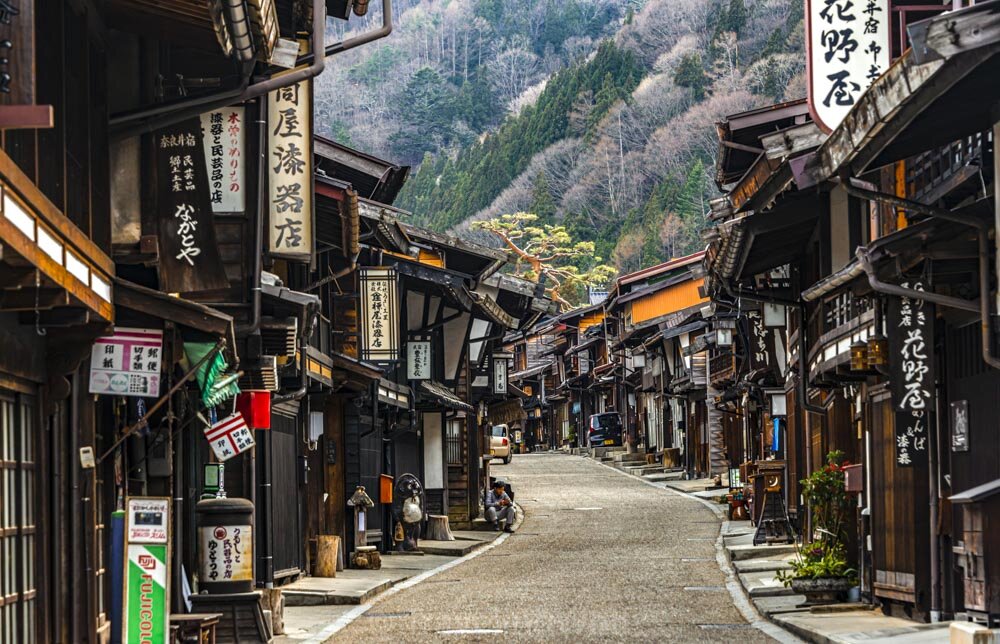 Day 21 - Day 24: Japanese Alps (Kamikochi, Takayama, Shirakawago)
🚌 Rental Car, Bus
📍 (for April -> !snow conditions!): Kamikochi National Park (Taisho Pond, Kappa Bashi Bridge, Myojin Pond), Takayama (San no machi Road, Sakurayama Hachimangu Shrine, Daioji Tempel, Hida Folk Village), Sanbondaki Waterfall, Zengoro Fall, Bandokorootaki fall, Shirahone hot springs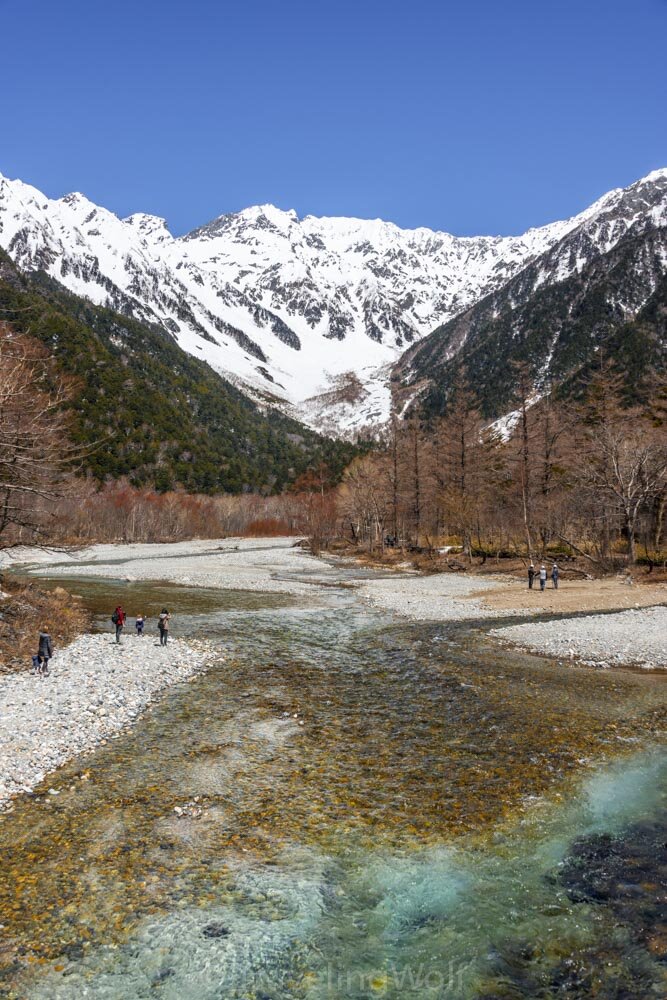 For the time in the alps we chose to get a rental car. We stood at Raicho guest house and made day tours from there. One to Kamikochi National Park, the next to Takayama (optionally include Shirakawago) and visited the sights around. Be aware that in April in the areas higher then 1800m (or less) there can be lots of snow and some pass roads and walking paths are still closed or not easily accesible without snow gear. Listed above are the sights we were able to visit in mid april (excluding Sanbondaki falls). Our detailed descriptions for Takayama can be found here, and for Kamikochi and around here soon.
The last day we drove out to Nagano. On the way we also visited some Wasabi fields that were quite cool and the Zenkoji tempel in Nagano.
Day 25: Snow Monkey Park
🚌 train, Bus, by foot
📍 Snow Monkey Park, Onsen (there is also an hotel with Onsen near the park where you can bath with the monkeys in winter!)
From Nagano we took a train to Yudanaka. From here its a short ride by bus up to the entry area of the Monkey Park. From the Parking lot starts a short hike through the forest. On the way you pass the hotel with the monkey Onsen and soon reach the entry building to the Monkeys. If you want to get some nice pictures and really explore how the monkeys life there I would recommend to stay a few hours.
In the evening you can go and visit Cyo Kun Izakaya, whose owner is a crazy japanese guy who will serve lots of food and drinks. We had a really funny evening there!
🚊 Train from Nagano to Yudanaka and back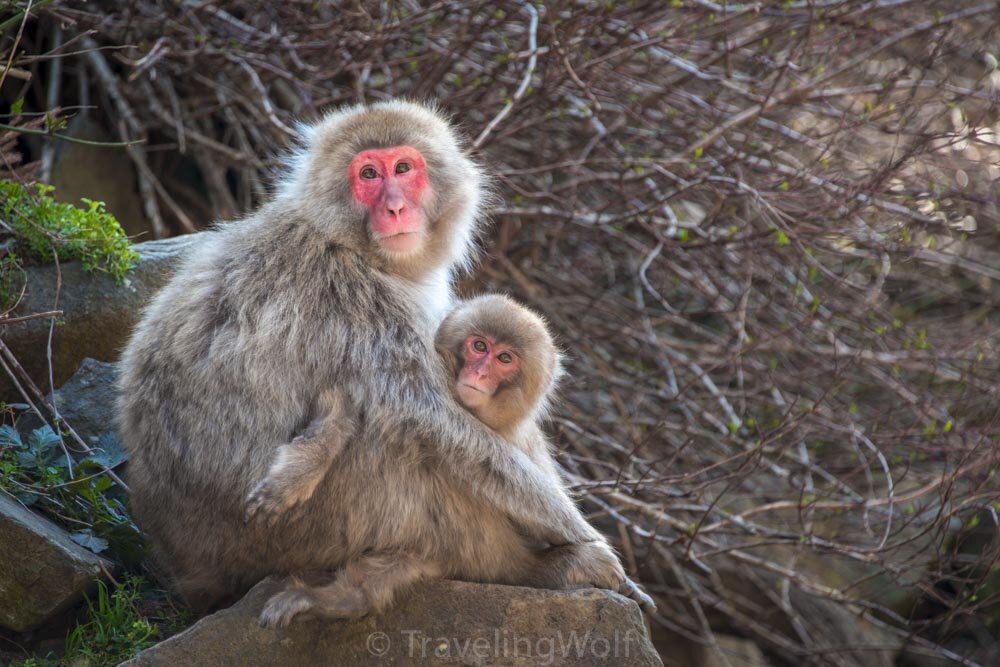 Day 26: Kurobe Tateyama Alpine Crossing
🚌 train, bus, cablecar, ropeway
📍 Snow Corridor (spring), Hiking Mount Tateyama (summer), Kurobe Dam
Booking: open from mid april until mid november, all tickets need to be booked several month in advance!
The Kurobe Tateyama Alpine Crossing leads you in a combination of bus driving, railway and cable cars over the Japanese Alps. In summer you are abled to explore the mountains and do some hiking. You can for example climb 3015m high Mount Tateyama. The major site on the Alpine Crossing is the up to 15m high Snow Corridor built there every spring. It can be visited from mid april until end of june.
We started the trip in Nagano where we set off by bus to the Ogizawa parking lot. From there the tunnel train took us to Kurobe dam. After crossing the dam the journey leads you further up by cablecar, ropeway and tunnel bus to the highest point Murodo. From here you can start hiking Mount Tateyama in summer and stroll along the snow corridor in winter. A combination of bus, cable car and train brings you to Toyama.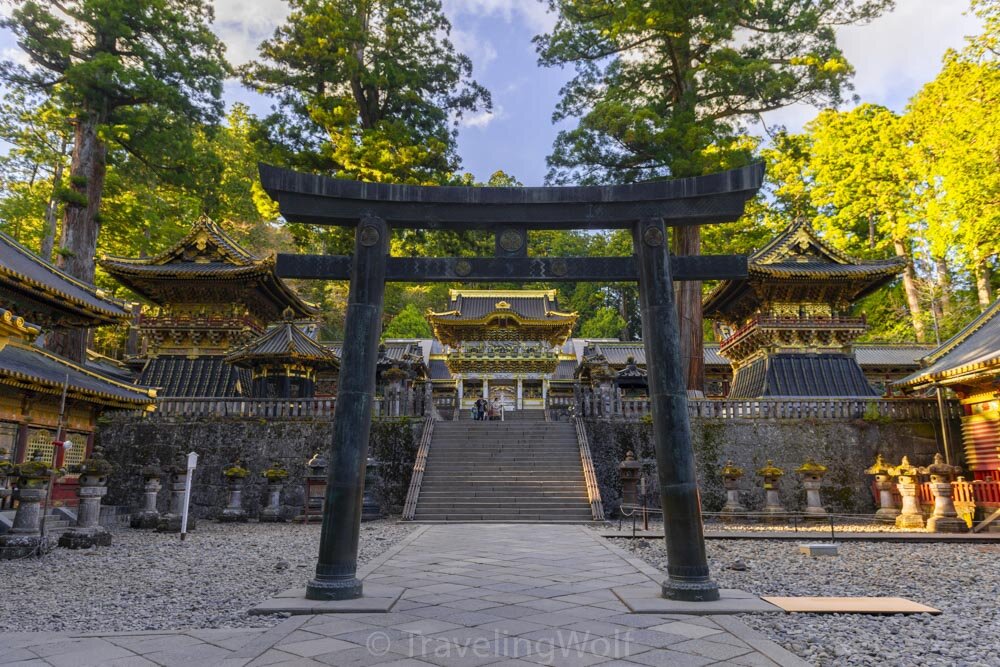 Day 27 - Day 29: Nikko
🚌 bus, by foot
📍 Shinkyo Bridge, Kanmangafuchi Abyss, Kegon Falls, Ryuzu Falls, Yutaki Falls, Hangetsu-san Viewpoint, Rinno-ji Tempel, Toshogu Tempel (sleeping cat carving, monkey carving) and Five Storied Pagoda, Futarasan Shrine
Upon arrival in the afternoon we had enough time left to visit the Rinno-ji and Toshogu temples, from which Toshogu was the most beautiful temple I have seen in Japan. It has lots of beautiful carvings and the gates are decorated in gold. We also got some nice sun stars with the five storied pagoda in the afternoon light.
The second day we did a round trip half way bus half way hiking to some nice waterfalls and hikes in the mountains around Nikko. The last day we visited Kanmangafuchi Abyss and Futurasan Shrine before we headed back to Tokyo. For more information about Nikko's Sights, Photo Spots and where to be at which time to avoid the crowds read our blog entry on Nikko.
🚊 night bus from Toyama back to Tokyo, Train to Nikko (turned out difficult to catch a ticket because of the upcoming holidays)
Day 30 - Day 33: Tokyo
The last 3 days we explored some places in Tokyo we missed the first time. As mentioned before read more about Tokyo in our seperate blog post!
📌 Pin it on Pinterest: