Yosemite National Park - Best Photo Spots and Hikes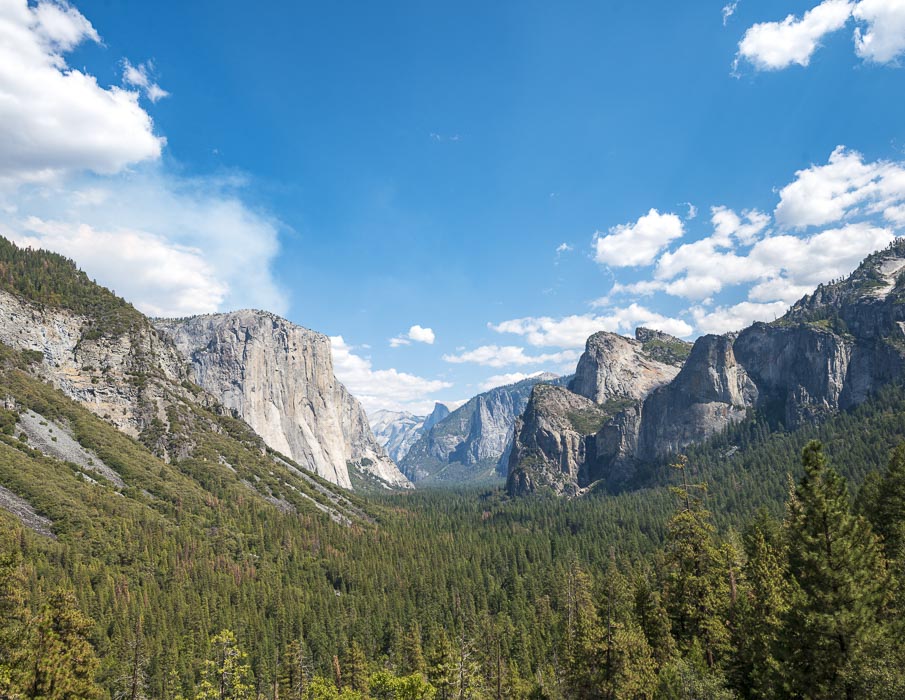 Yosemite is one of our favorite National Parks and it's hard to argue about that. There are so many things to do and so many incredible photo spots all around this park! It was the first stop on our road trip and one of the most beautiful places we saw. We want to share our experience to make your trip even better!
---
Tunnel View
This is one of Yosemite's most famous viewpoints. It is easy to access as it is just on the roadside of Wawona Road. You shouldn't miss this iconic view of Yosemite Valley. You can come here for sunrise or sunset and after rainy weather there are often some nice foggy clouds floating in the valley that makes for even better pictures.
Glacier Point
From up here you can see all over the valley and the park. Half Dome dominates the whole valley with its unique shaped peak and in spring you can see all the waterfalls from up here. You can access the Viewpoint by car from Glacier Point Road which is about an hour's drive from the valley. Or you can do it our way and hike the beautiful trail up to Glacier Point!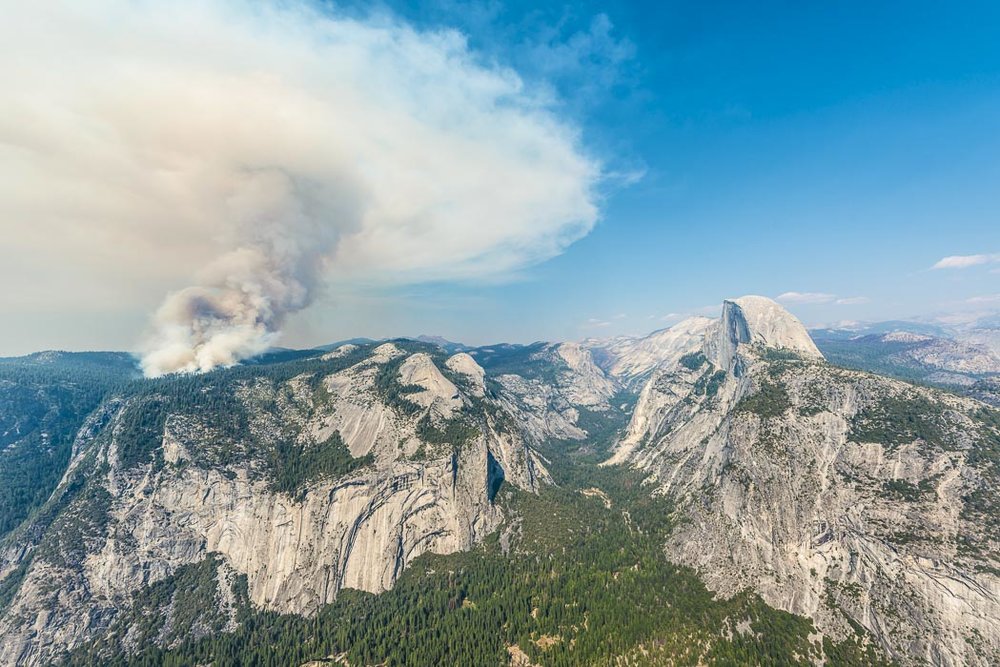 We started our trip early in the morning at Happy Isles Bus stop at the end of the Valley. From there the Mist Trail leads you along the river up to Vernal Falls. If you follow the trail further up you get to Nevada Falls (see the section Vernal Falls and Nevada Falls for more information about that part of the trail). On top of Nevada Falls, Mist Trail joins John Muir Trail which leads you further up to Glacier Point. There are more steep parts from there on but you get beautiful views of Half Dome, the Waterfalls, and Liberty Cap on the way. We arrived at Glacier Point at about 2 pm and had lunch with a magnificent view. For our way down we chose to take Four Mile Trail. It is shorter but steeper than the walk over Mist Trail and John Muir Trail. Along the way you get nice views up the valley. Although we had a great day on that cool trail we were happy when we arrived back at our tent in Camp 4.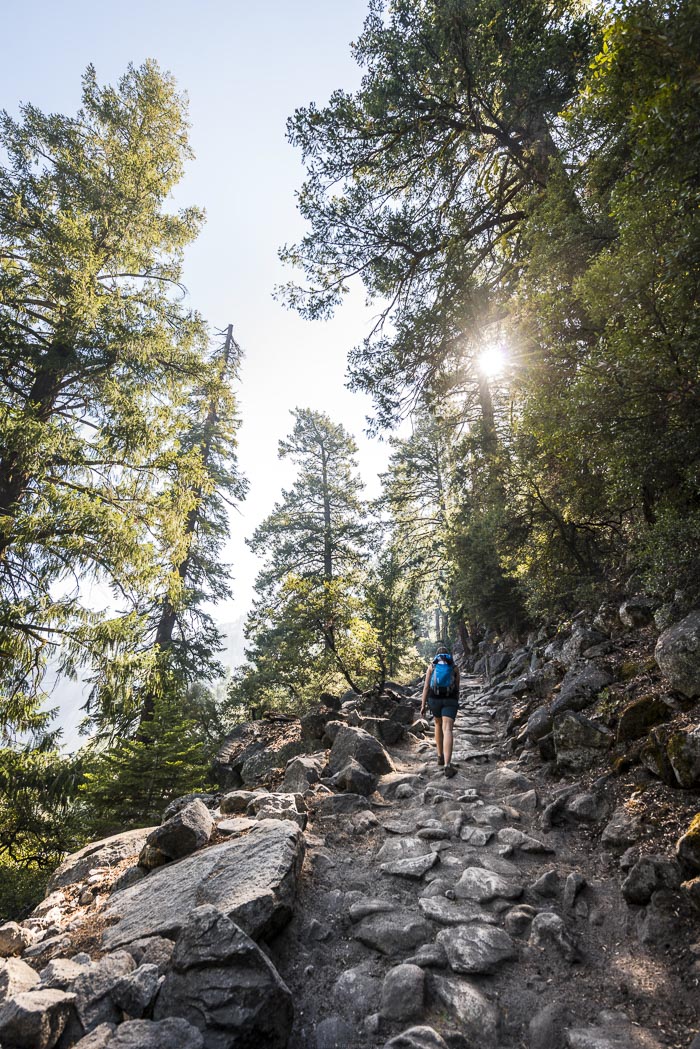 Yosemite Falls
Yosemite Valley is famous for its waterfalls. Especially for the Yosemite Falls. Some trails lead you to Lower and Upper Yosemite Fall. The Trail to Upper Yosemite Fall is a longer and steeper hike. It starts from Camp 4 area and leads you up on top of Upper Yosemite Fall. The Trail to Lower Yosemite Fall can be accessed from Lower Yosemite Falls bus station and is just a short walk. Be aware that there is often no water in the falls in summer (from July to October)! Unfortunately, we weren't able to see them either as we visited in September.
Vernal Falls and Nevada Falls
As mentioned before the Trail to these falls starts from Happy Isles bus station. You walk along Merced River up to Vernal Falls. In summer it often has not much water but it is nice though. From there you have to walk up some steep steps to the top of the waterfall. Then the trail leads you further up along the river to Nevada Falls.
We took some nice pictures in the late afternoon light of the river and the Falls.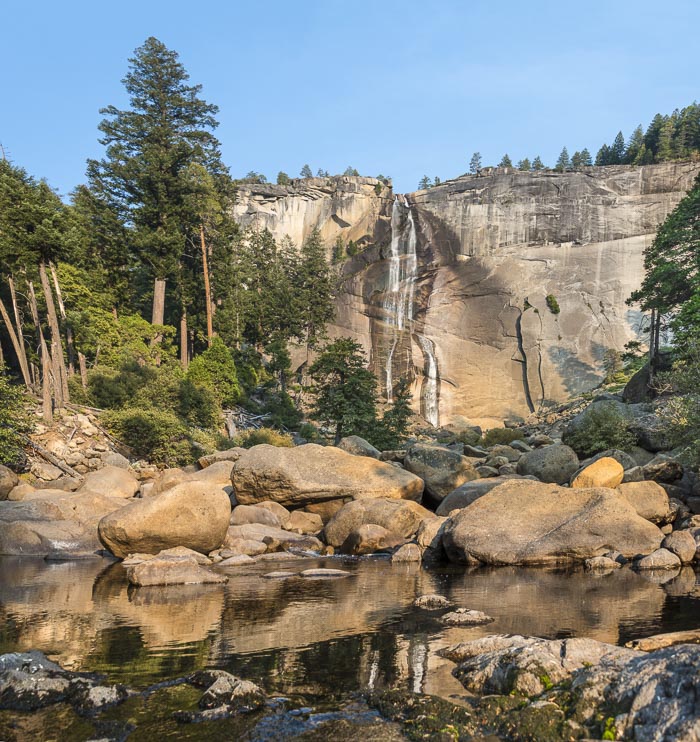 The Valley
If you're not the hiking type of person there are enough incredible views in the valley. When driving along the river you can discover some excellent photo spots. There you can also find mule deers resting in the shadows under the trees and if you're lucky see some bears.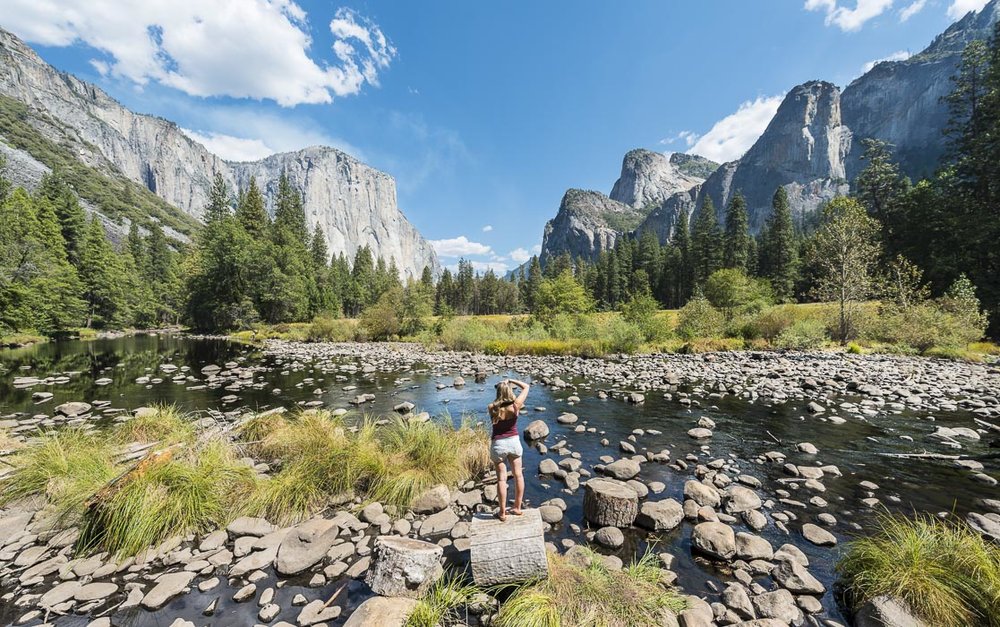 Sequoia Groves
Yosemite is the home of numerous giant Sequoias. If you take a hike in the National Park you might also see some. Another option is to take a walk to one of the groves. The two nearest to the Valley are Tuolumne Grove and Merced Grove. Tuolumne Grove makes a great stop over when you are heading up (or down) Tioga Road. On the trail you can marvel at some of the giants and take some cool shots.
Olmsted Point
When you drive Tioga Road you pass some beautiful photo spots. One of them is Olmsted point. From here you can get some different views of Yosemite's landscape which changes a little bit up here from the ruff cliffy valley into a wider landscape with stony mountains.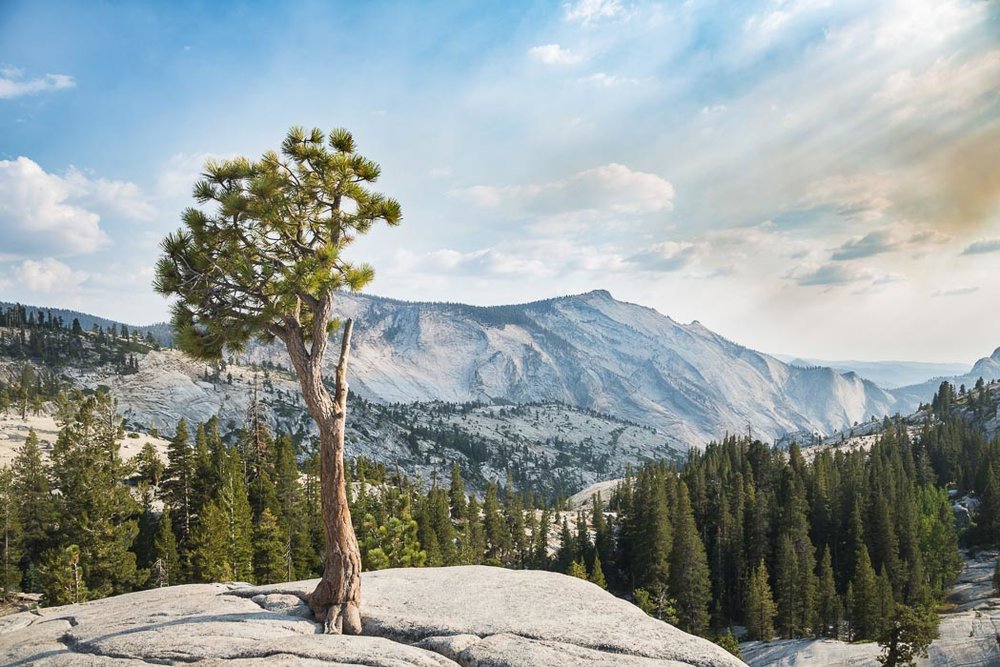 Tenaya Lake
Tenaya Lake is the next stop on Tioga Road after Olmsted Point. It is a nice spot to watch the sunset and on a nice day mirrors the surrounding mountains perfectly.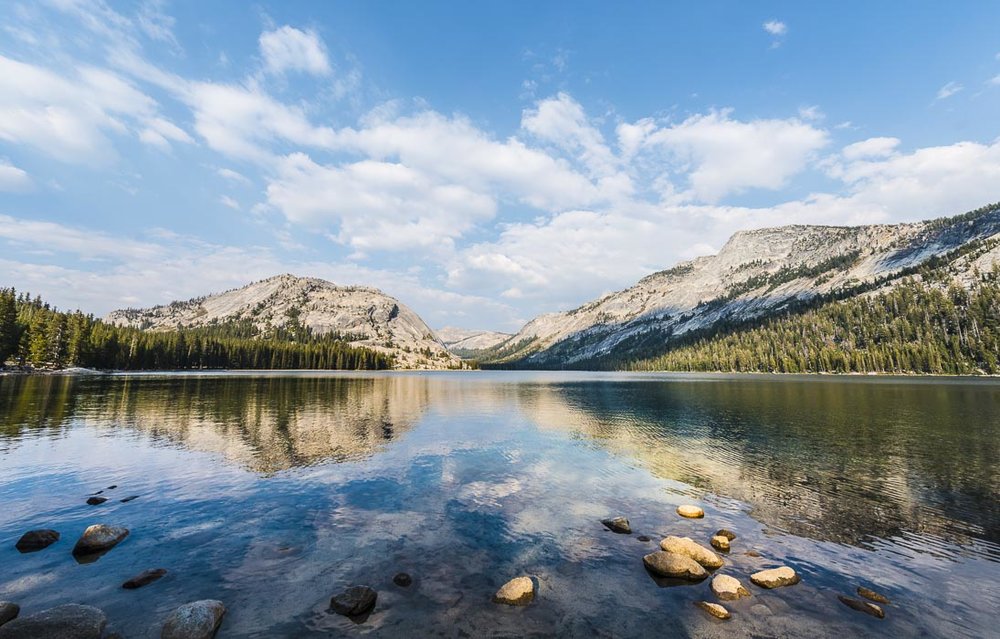 Lower and Upper Cathedral Lake
Another hike we did around Yosemite was the hike up to lower and upper Cathedral Lakes. If you like a shorter walk you can end the trip on lower cathedral lake (like we did). We decided to walk around the lake and got some nice mirroring of Cathedral Peak.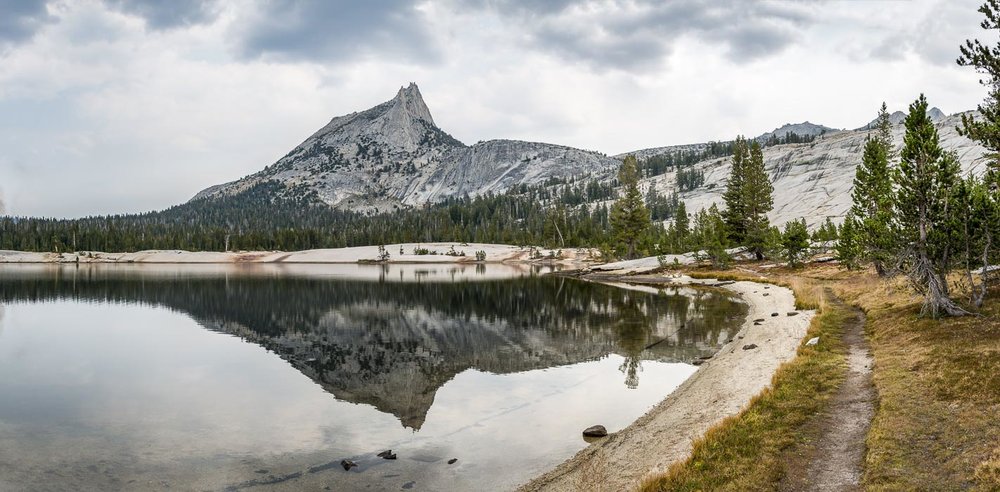 Tioga Lake and Ellery Lake
One of the most beautiful camping spots on our trip was the campground at Tioga Lake. even when you don't plan to sleep here the view over the lake is worth a stop. Further down Tioga Road also already out of the borders of Yosemite lie a few other lakes from which we found Ellery lake as the most beautiful as we got perfect mirroring when we stopped there.
📌 Pin it on Pinterest: