New Zealand - The Perfect Five Week Iternary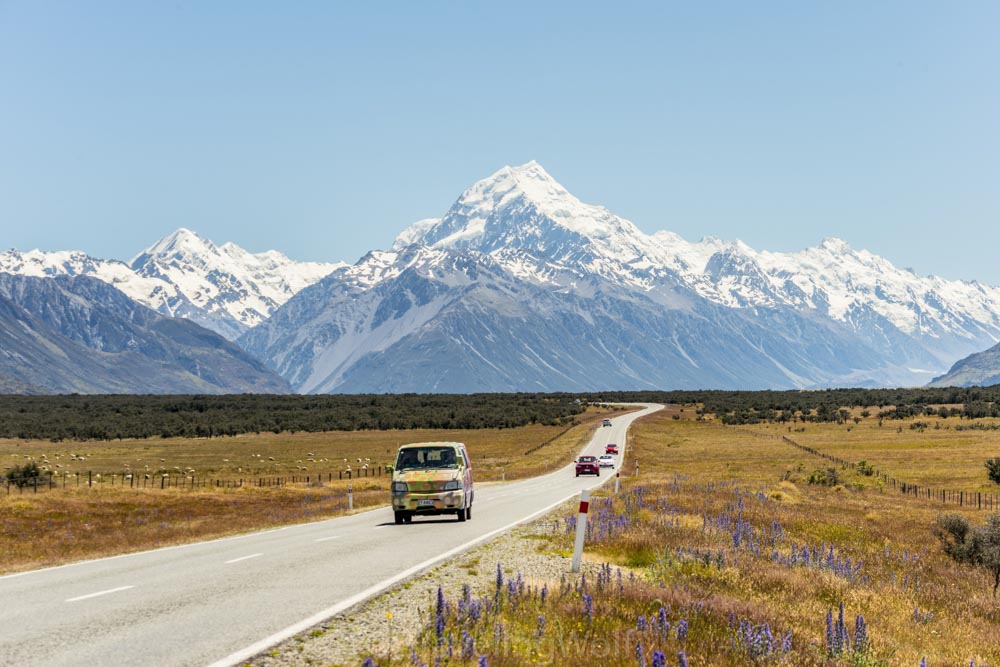 New Zealand, well known as Middle Earth from "Lord of the Rings", is a magical place on the other end of the world. We totally fell in love with New Zealand. To give you the opportunity to fall in love too, we wrote this blog entry for exactly you!
---
When to go ?
New Zealand can be visited year-round without major problems, although there might be some inconvenience during winter, which starts in April and ends in late October. In winter many hikes are not easily accessible or not accessible at all. Also the chance for rain is even higher, which can result in a week of rain. And sitting in your camper for a whole week because of rain can be quite depressing. The best time might be late spring from December until the end of January when the lupines are blooming all over the South Island. That was one of the most beautiful things I have seen with blooming meadows of lupines in all colors! In the spring and summer months, most of the hiking paths are open but are also more crowded. Especially if you plan to do some Great Walks you will have to book them about a year previous to your visit (especially the most popular ones like Milford Track or Routeburn Track). There might also be some restrictions for hikes for the protection of breeding animals (like for example on the track to Roys Peak in Queenstown!).
How to get around?
There are only about two train lines in the whole country and Bus service is also limited to the bigger cities. So if you want to see the country's rich nature and visit all the great sights we propose to get a car. If you like being flexible and you like to decide where you are going to sleep every day I would recommend to go camping! You can get yourself a camper car or just bring your tent!
For a five-week stay, it might be easier to just rent a car but if you're staying for longer we would suggest to buy a car. There is a car flea market every Saturday in Auckland and there are also some agencies buying and selling cars. Be careful with them and always check the car you like to buy in a garage of your choice!
If you're a bit low on money there's also the possibility for tramping. It is actually quite common and also relatively secure to tramp around the country in New Zealand. A friend of ours even got a ride with a Tesla.
Week 1 and 2: North Island
Day 1 to Day 3: Auckland
⛺️ AirBnB
📍 Kolonialhäuser (Highwic, Alberton), Aussichtspunkte (Mount Eden, Mount Victoria), Sky Tower
The first days we spent in Auckland looking for a car and also exploring the city. There are some colonial houses to visit which are pretty cute for example Highwic or Alberton. Also, the inner city has some interesting spots like the overlook from the Sky Tower which is incredible. Adding to that there are some nice lookouts like the one from Mount Eden or from Mount Victoria in Devonport, from where you can watch the sunset over the city skyline. But overall I wouldn't spend too much time here and rather head out for your adventure!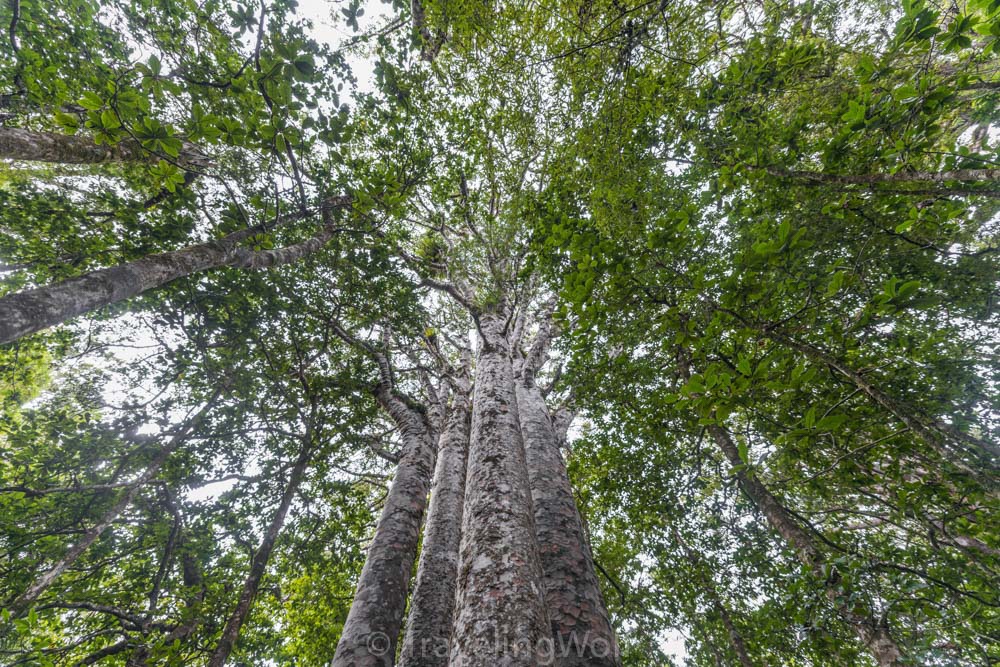 Day 4 to Day 6: Northlands
⛺️ Mangawhai Heads Holiday Park
📍 Strände (Manghawei Heads, Waipu Cove, Piha Beach), Wasserfälle (Rainbow Falls, Piroa Falls), Kauri Tree Forests
Especially in summer, the Northlands are definitely a place worth visiting. It is the warmest place in New Zealand and that's also where many New Zealanders spend some beach days away from the city. Still, it was very nice when we were there at the end of winter. Incredible beaches like the one at Manghawei Heads or at Waipu Cove as well as some magnificent waterfalls like Rainbow Falls or Piroa Falls and a dense rain forest have a lot to offer! The Kauri Trees, the oldest mammoth trees of New Zealand, that are also endemic to that part of the world can be found here, too.
Day 7 to Day 8: Rotorua
📍 Whakarewarewa Thermal Valley, Wai-O-Tapu Thermal Wonderland, Whakarewarewa Forest
Rotorua is the heart of New Zealand's volcanic activity. Here you will find hot springs, mud pots, and even geysers. In Wai-O-Tapu Thermal Wonderland you can see the very famous Champagner Pool, Whakarewarewa Thermal Valley offers some nice Mud Pots (they only look muddy after rainfalls!) and the Pohutu Geyser and Prince of Wales Feathers Geyser. If you want to dig into Maori culture you will get the opportunity to watch some Maori Dance here, too. Adding to that there is the beautiful Whakarewarewa Forest with redwoods to spend a walk away from all the sulfur smell.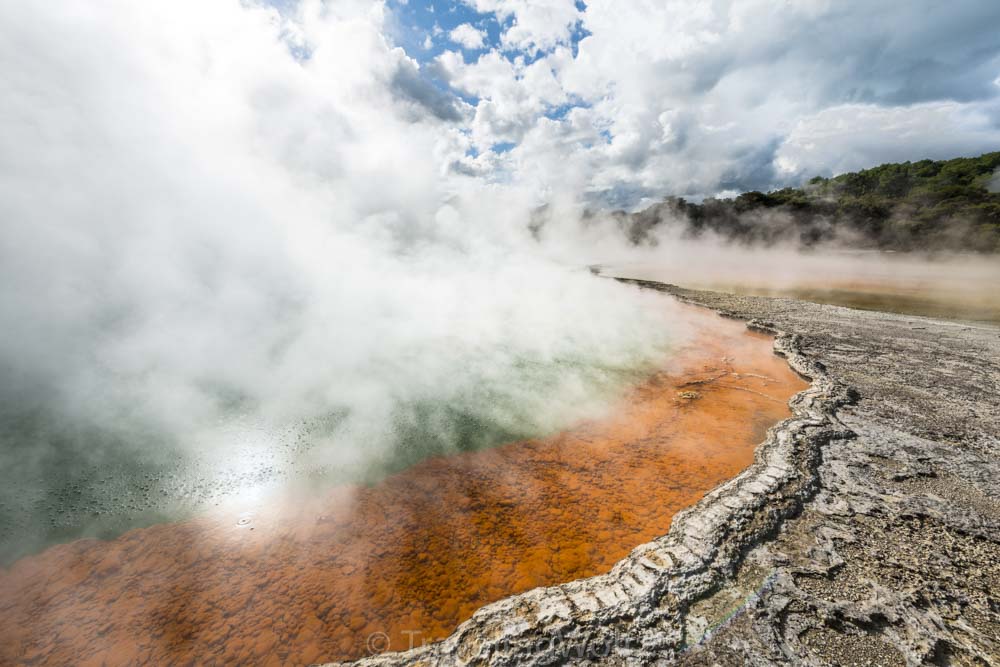 Day 9 to Day 11 : Tongariro Nationalpark
⛺️ Hütten am Tongariro Northern Circuit
📍 Mount Tongariro, Mount Ngaurhoe, Tongariro Northern Circuit, Tongariro Crossing, Red Crater, Emerald Lakes, Taranaki-Wasserfall
On your way to Tongariro Nationalpark you can take a stop at Lake Taupo for some Kayaking. On your drive to the National Park office you will already see the volcanic cone of Mount Ngauruhoe which is bigger than Tongariro and has also a more iconic volcanic cone. Tongariro offers the first opportunity to do a Great Walk. The Tongariro Northern Circuit will lead you over Mount Tongariro (if you like you can add the hike up to Mount Ngauruhoe to your trip!) passing the Red Crater and the famous Emerald Lakes and leading you back around the volcanic mountains to your starting point. On your way you will get some more nice views of the volcanoes and also pass the Taranaki waterfall. You can read about Tongariro Northern Circuit in detail here. An alternative is the Tongariro Crossing which is a one-day tour that gets you to the most spectacular views and crosses over Mount Tongariro and the Emerald Lakes. If you are doing that tour you will have to plan transportation back to your car (in summer month there is usually a transportation service available). I would not recommend to walk this trail in winter and even early spring because of the heaps of snow.
Day 12 to Day 13: Taranaki
⛺️ Pouakai Hut
📍 Pouakai Circuit, Pouakai Tarns, Cape Egmont Lighthouse, Dawson Falls
Taranaki is a must-visit on your way on the North Island. The best spot to get magnificent photos with Taranaki, are the little Pouakai Tarns near Pouakai hut. To get there you can take the short walk along the trail to Pouakai hut. If you like to do some more hiking, get some more great views of Taranaki and walk through some enchanted forest I would recommend doing the two-day loop walk called Pouakai Circuit starting from the Visitor Center with a one night sleep at Pouakai hut. There are also some nice waterfalls around Taranaki to explore.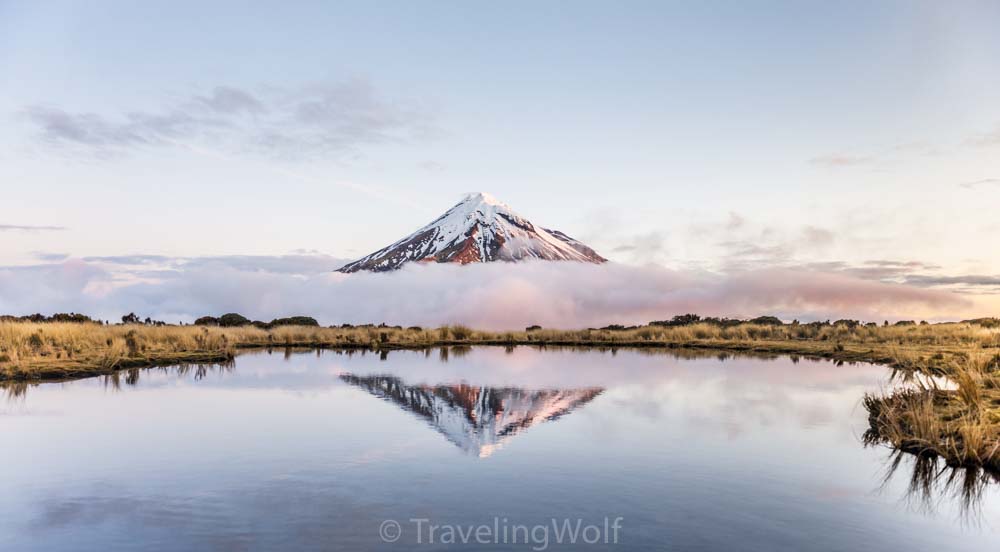 Day 14: Wellington
⛺️ Freedom Campground am Ende des Great Harbour Way
📍 Red Cable Car, Kelburn Station Aussichtspunkt, Te Papa Tongarewa Museum, Solace in the Wind (The Naked Man) Statue
Our last stop on the North Island and also the gateway to the South is Wellington. Wellington is a really nice city. A must do is a ride with the red Cable Car that brings you up to the viewpoint at Kelburn station. There you have a view over the whole city and bay area of Wellington. Up here you also find the Botanical Gardens and the Space Place at Carter Observatory, a space and astronomy museum. Besides that there is the Te Papa Tongarewa Museum which is free to visit (!) and has interesting expositions about volcanic background, Maori culture and flora and fauna of New Zealand as well as other changing exhibitions.
Week 3 To 5: South Island
Day 15 to Day 16: Abel Tasman Nationalpark
⛺️ Marahau Beach Camp
Abel Tasman Nationalpark is great place for kayaking and hiking. There you can make another Great Walk which consists of hiking and kayaking! We only did a one day hike driving out along the coast with a water taxi to Barks Bay in the early morning and walking back to Marahau along the Tasman Coastal track. There is also the possibility to book combined kayakaing water taxi and hiking trips. You should definitely not miss visiting Abel Tasman!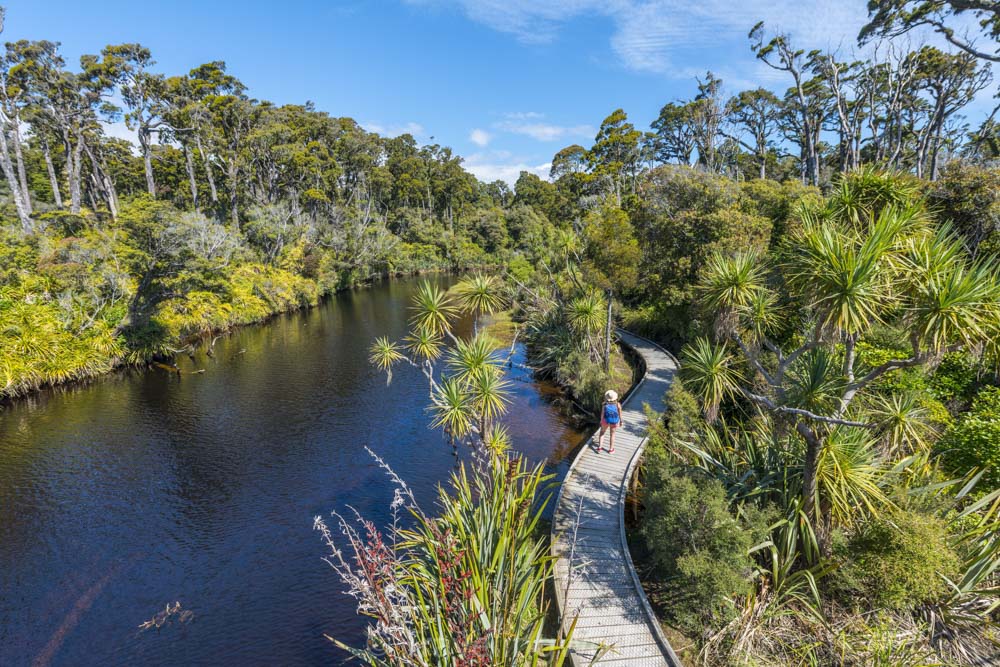 Day 17 to Day 19: Glaciers and along the West Coast
⛺️ Gillespies Beach Campsite, Campingplatz bei den Pancake Rocks
📍 Fox Glacier, Franz Josef Glacier, Lake Matheson, Pancake Rocks, Ship Creek Bay
A unique thing about New Zealand's West Coast is that just a few kilometers from the roaring coast you have magnificent glaciers and mountains. The main sights along the coast are the two glaciers Fox Glacier and Franz Josef Glacier and of course the very famous Mirror Lake that offers you a perfect mirroring of the mountain Range with Mount Tasman and Mount Cook. In addition there is some nice coastline with some special sites like the Pancake Rocks or the Ship Creek Bay.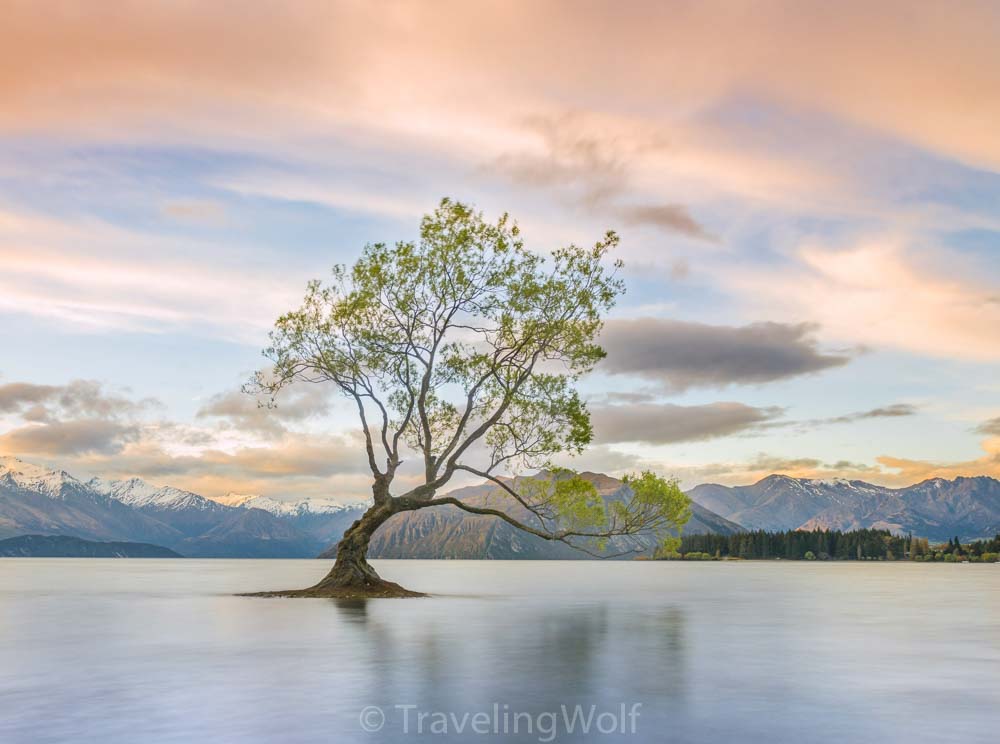 Day 20 to Day 22: Lake Wanaka
⛺️ Glendhu Bay Campground,
📍 Blue Pools, Thunder Creek Wasserfälle, Fantail Falls, Wanaka Tree, Roys Peak, Rocky Peak, Matukituki River Valley, Rob Roy Glacier, Isthmus Peak
On your drive from the Coast to Lake Wanaka there are some interesting spots to stop by. You will pass the Blue Pools (don't be disappointed when it has be raining they can be more grey then blue…) , the Thunder Creek Waterfalls and the Fantail Falls which are all definitely worth a stop! Eventually you will reach lake Wanaka and have a nice drive along the Lakes Coastline up to Wanaka. There you can see the famous Wanaka Tree which is a tree growing in the lake. The surrounding region has lots of great opportunities for hiking. A must do is the hike up to Roys Peak from where you get a fantastic view over Lake Wanaka. If you're up for a shorter walk Rocky Peak also offers some good views. Another must do is to drive the bumpy road along the valley of Matukituki River. The landscape here is incredible! At the end of the Road plenty of hikes and mountain bike trails start, for example the trail up to Rob Roy Glacier. The hike rewards you with stunning views of the thick Glacier ice and the glacial waterfalls. If you still got some time left you can do another hike to Isthmus Peak which leys inbetweeen Lake Wanaka and Lake Hawea. From there you get views over the two lakes.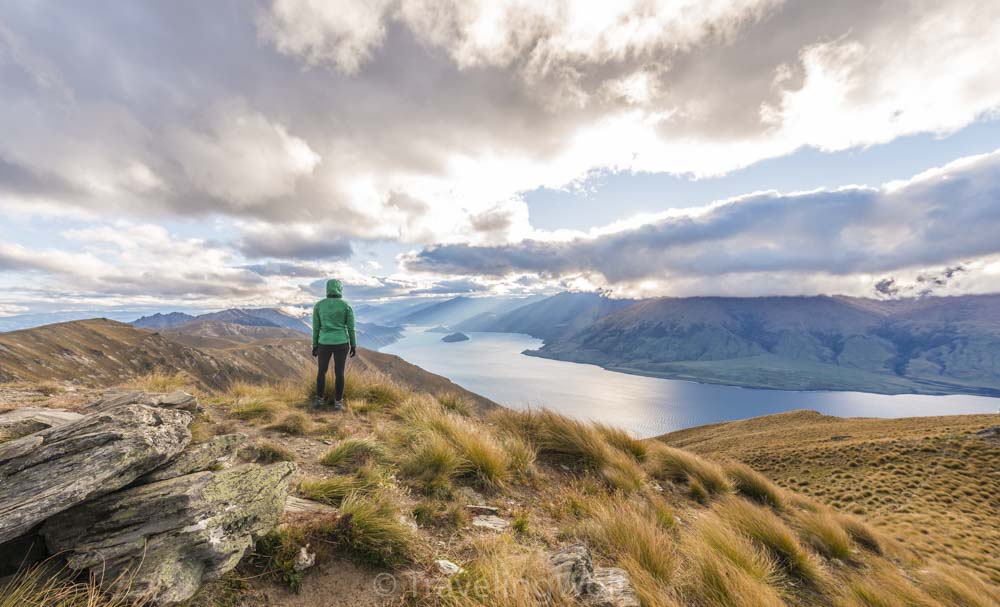 Day 23 to Day 25: Lake Pukaki and Mount Cook
⛺️ White Horse Hill Campsite
📍 Lindis Pass, Lake Pukaki, Lake Tasman, Hooker Lake, Sealy Tarns, Lake Tekapo, Church of the Good Shepherd, Lake Alexandrina
This is Moritz's favorite spot! When you are coming from Wanaka you will cross Lindis Pass and passing some salmon fish farms you will eventually arrive at Lake Pukaki, the bluest lake I have ever seen! It is gigantic and soo bluuueee! Besides that it is mainly the gateway to Mount Cook. On the way to Mount Cook Village there are beautiful photo spots to photograph Mount Cook with Lake Pukaki. From Mount Cook Village you can visit three glacial lakes. The first one is Lake Tasman which is fed by the Tasman glacier and is in our opinion the less spectacular one. The other two are Mueller Lake and Hooker Lake, the second one being the more famous. If you are lucky you will get the opportunity to see the Mountain Range with Mount Cook mirrored in Hooker Lake. The hike we liked the most around there was the one up to Sealy Tarns in which (with some effort) Mount Cook can be mirrored too!
Another Lake nearby is Lake Tekapo which is not as blue as Pukaki but a must visit in spring when lupines are blooming. This is the spot were you NEED to go for lupines! There are fields of them around here. Besides that there is a little really photogenic church there, the Church of the Good Shepherd. We also drove around to Lake Alexandrina where we found even more lupines.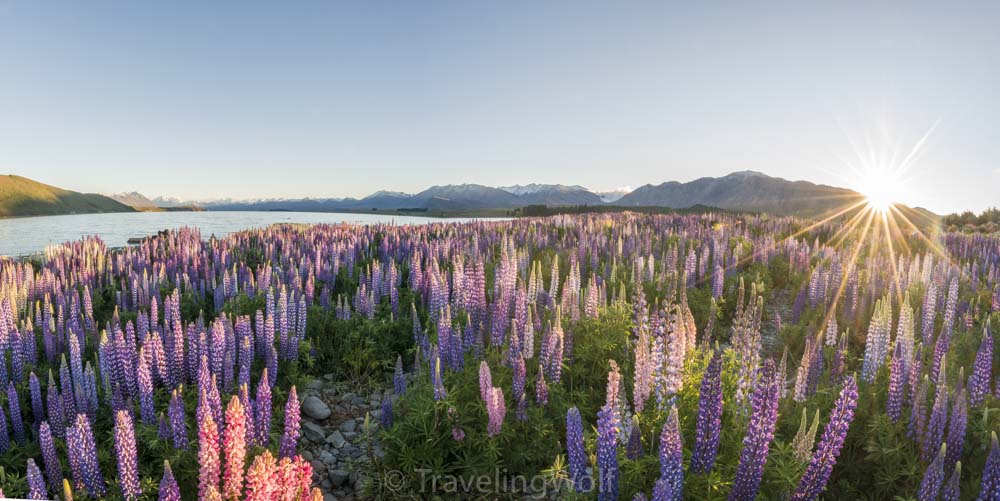 Day 26 to Day 28: Lake Wakatipu and Queenstown
⛺️ Moke Lake Campground
📍 The Remarkables, Queenstown Sky Gondola, Moke Lake, Ben Lomond Peak, SKy Diving, Glenorchy, Routeburn Track, Lake Harris, Harris Saddle, Mount Alfred
Like Lake Wanaka the area around Queenstown is full of tramping and hiking opportunities. If you want to take a break from hiking you can just take the Sky Gondola up to the viewpoint above the city with the Remarkables mountain range dominating the landscape. However in the case that you might feel like hiking you can walk up to Ben Lomond Peak from where the view is even better. Moke Lake is just a short drive from Queenstown and it is a beautiful short walk around the lake which normally mirrors the surrounding mountains (There is also a nice little campground there which is in our opinion the best and cheapest place to stay near Queenstown!). We also did some Sky Diving in Queenstown which is in my opinion an experience of a lifetime you shouldn't miss!
The little town of Glenorchy at the end of Lake Wakatipo is the second base for hiking in the area and also offers nice views over the Lake. Here starts another Great Walk the Routbourn Track. You can do some day walks along the track like walking up to Lake Harris or the Harris Saddle. For more details on Routeburn Track follow this link. The best view from this end of the lake offers Mount Alfred. The walk is quite strenuous and in most parts goes through the forest but the view from the top is unbelievable and you're nearly alone here.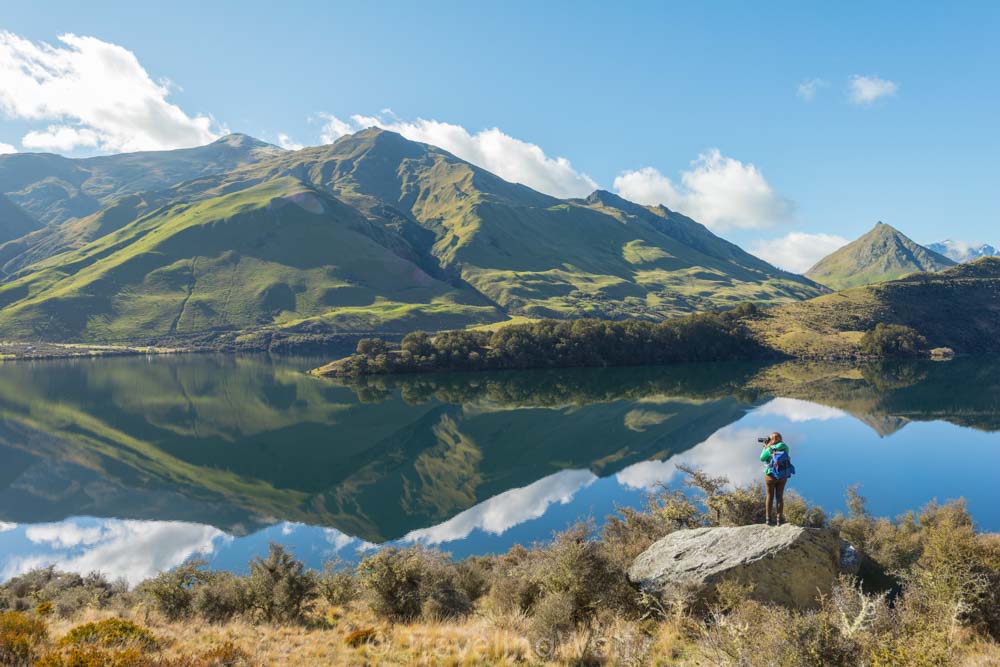 Day 29 to Day 31: Lake Te Anau and Kepler Track
⛺️ Te Anau Lakeview Kiwi Holiday Park
📍 Te Anau Glow Worm Caves, Kepler Track, Lake Manapouri
The Gateway to Milford Sound is Lake Te Anau. From here you can make a tour to the Te Anau Glow Worm Caves which are magical although there are tons of tourists and you're not allowed to take photos. Here you find another one of the Great Walks, Kepler Track. We did it as a 3 day tour where we met a lot of Keas and had some great views of the fjord-like lakes all around. For more detailes about the track read our entry New Zealand Great Walks - Kepler Track.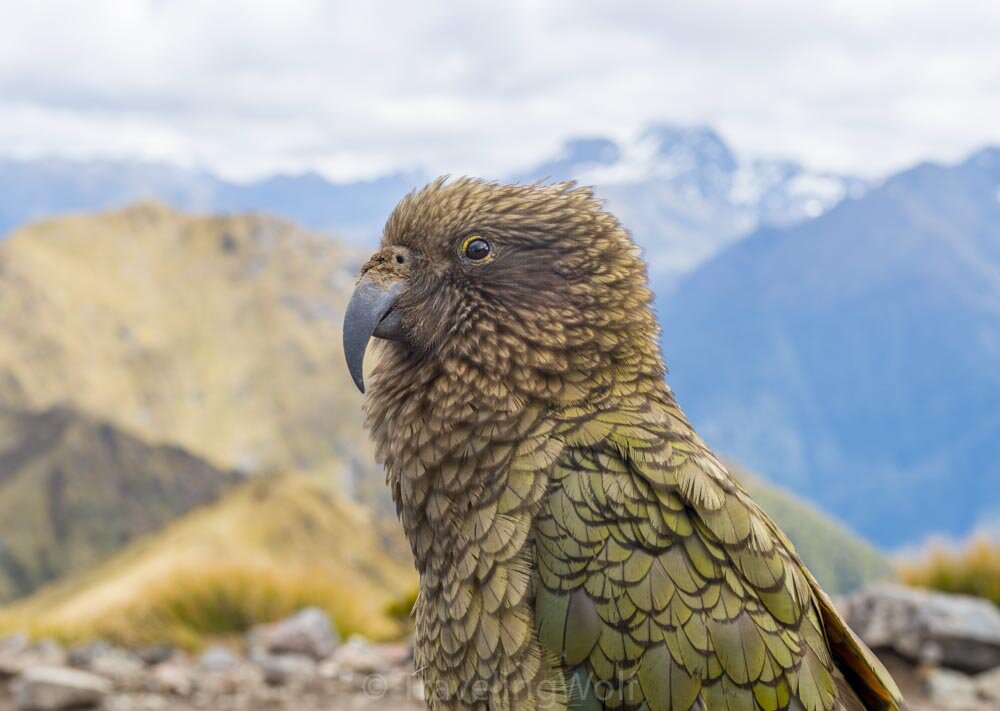 Day 32 to Day 33: Milford Sound
⛺️ Upper Eglinton Campsite, Gunns Camp im Hollyford Valley
📍 Eglinton River Valley, Key Summit, Lake Mariane, Kea-Aussichtspunkt, Gertrude Saddle, Milford Sound Aussichtspunkte, Cruise Boats, Milford Track
Along the Road to Milford Sound lots of beautiful spots can be discovered. The drive starts along the Eglinton River Valley passing Lake Gunn and Lake Ferris. The valley itself is already quite beautiful and there are plenty of lupines along the river in spring. A really beautiful hike leads you up to Key Summit from where you can oversee the surrounding peaks mirroring in the little ponds. The trail to Key Summit is also the opposite trailhead of Routeburn Track Great Walk! Another short hike leads you up to Lake Mariane which is quite beautiful in early spring when the mountain peaks are still covered in snow. From then on the road leads you deeper in between the colossal mountains. On the way there is a Kea Viewing point and also the opportunity for one last hike before Milford Sound, the walk up to Gertrude Saddle. After the tunnel the road winds it's way down between the mountains which can be even more impressive after some heavy rains, when the water is flowing down the cliffy mountains in big waterfalls. Down at Milford Sound there are some small paths that lead you to the best viewpoints where you will hopefully spend a sunset in the beauty of the Sound mirrored in its water. If you're up to more activity you can also get on one of the Cruise Boats that offer cruises through Milford Sound. And of course there is another Great Walk here! But you have to be a really early bird to get some reservations for the Milford Track, which is said to be one of the most beautiful ones.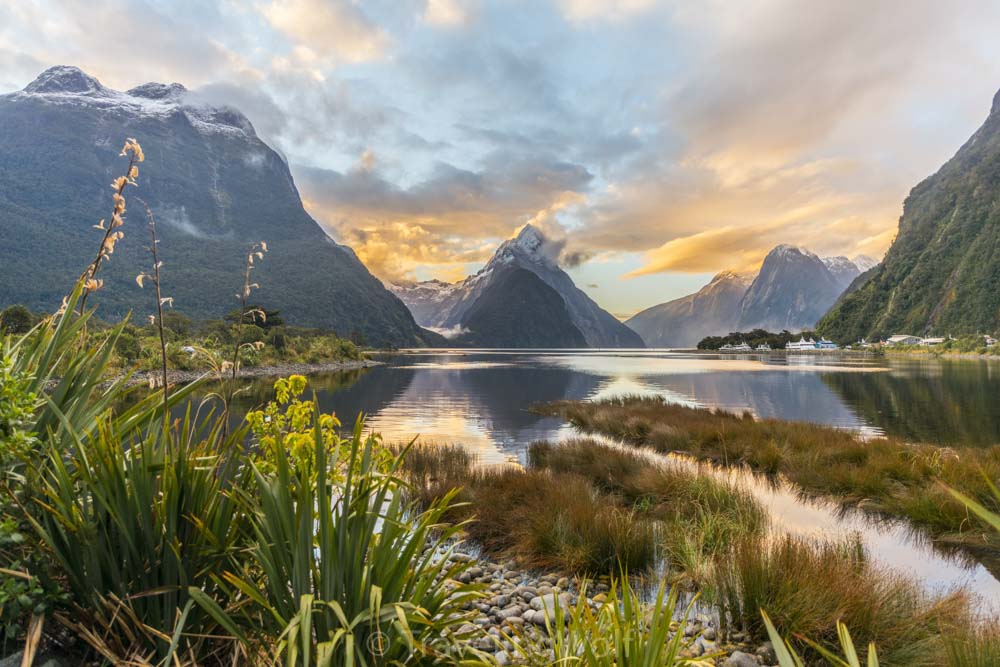 Day 34 to day 35: The Catlins
⛺️ Curio Bay Campground
📍 Slope Point, Pinguine und Seelöwen an der Curio Bay, Petrified Forest Curio Bay, Purakaunui Wasserfall, McLean Wasserfall, Cathedral Caves am Waipitu Beach, Nugget Point Lighthouse
If you still got some time left you should take the effort and make the drive down to the Catlins, a coastal scenery in the south of the island. One of the coolest things to see here are Penguins and Sea lions. The penguins are nesting in the dunes along the coast and come out every evening to feed there little ones. If you want to take good photos just bring a good tele lens as these little creatures need their space. If they are scared by too many people approaching them too close, they abandon their nests and the little babies will starve to death (These problems have recently increased with increasing number of tourists and the penguins are already endangered so please keep your distance!). Besides the wildlife there are some really cool waterfalls like the Purakaunui Waterfall and the McLean Waterfall. Beautiful beaches and interesting coastline like the Cathedral Caves at Waipitu Beach are common around the Catlins. Another famous spot around here is Nugget Point Lighthouse, where you can whatch the sunset.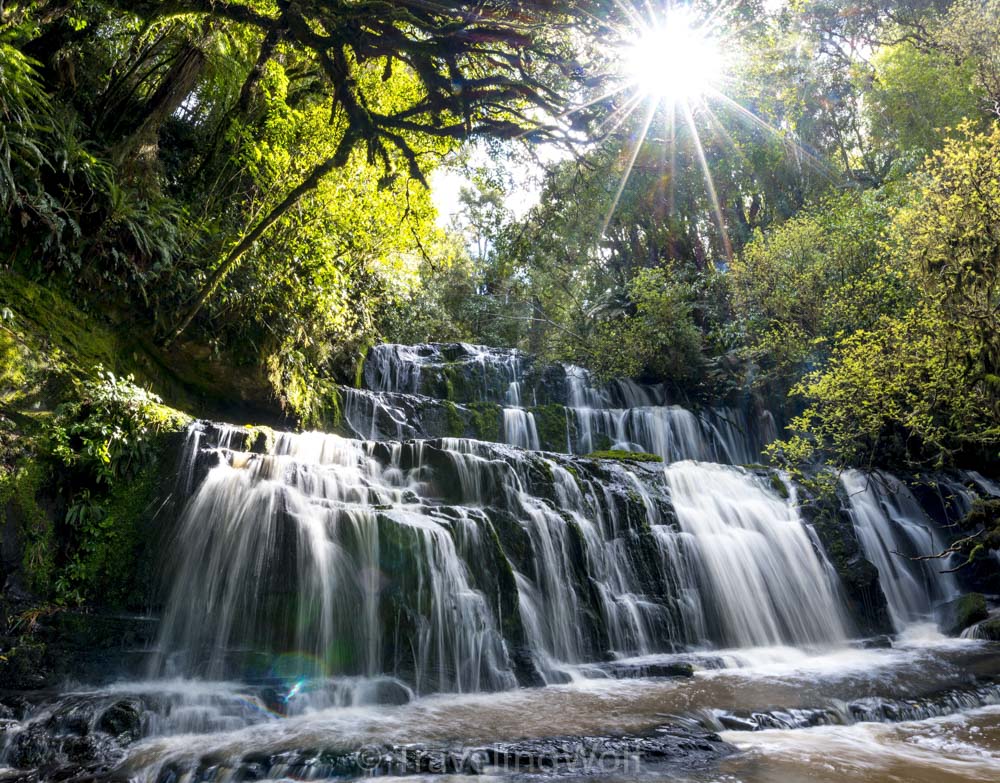 Day 36 to Day 37: Dunedin
⛺️ Dunedin Holiday Park
📍 Otago-Halbinsel, Royal Albatross Center, Sandfly Bay Beach, St. Claires Beach, Tunnel Beach, Railway Station, Universitätsgebäude, Larnach Castle, Baldwin Street
Dunedin is a town on the east coast in the south of the South Island. The city itself, the surrounding area and also the Otago Peninsula offer plenty of activities. On the peninsula you can see more penguins, sea lions and you can visit the Royal Albatross Center to see these gigantic birds in their natural breeding spots. One of the most beautiful beaches around the peninsula is Sandfly Bay Beach, which is a must to watch the sunset. Other beaches around and in Dunedin are St. Claires Beach and Tunnel Beach which are also nice. In Dunedin you have to visit the Railway Station and the University building in the Edwardian and Victorian architecture style. Another peculiarity in Dunedin is that near town you find the only castle in the whole of New Zealand, Larnach Castle which you can visit if you have some spare time. And of course Dunedin is famous to have the steepest road in the world the Baldwin Street.
📌 Pin it on Pinterest: