New Zealand Great Walks - Kepler Track
Kepler track is a 60km loop track that you can hike in 3 or 4 days. If you want to do it book it ASAP (Booking only needed from Dez-May)! We were lucky to get space in the huts. It is especially overbooked around Christmas (55$ per night).
You find more Information on the Official website and in the PDF - brochure and check hut availability here
Day 1 - Rainbow Springs Parking to Luxmore Hut:
We started our 3-day tramp from the Rainbow Springs parking lot. From there the trail leads you along the Manapouri river and through a beautiful forest to Lake Te Anau. It continues along the Lake through the forest. In summer you can take a break and have a refreshing swim in the lake before the trail heads further up the mountain through the forest. This part of the first day can get boring as the path gets steeper and you only walk through forest. But, the moment when you step out of the bush line and are rewarded for your climb by the wonderful view over Lake Te Anau and the surrounding landscape is pretty cool. From there it is not far to Luxmore Hut. We were so happy when we finally arrived as this day was quite strenuous.
From the hut, it's just a short walk to the Luxmore Caves which are limestone caves you can explore. When we stayed there it was really windy. Sometimes it felt as if the hut was going to fly away every moment. Happily it eased down the next morning although it was still raining.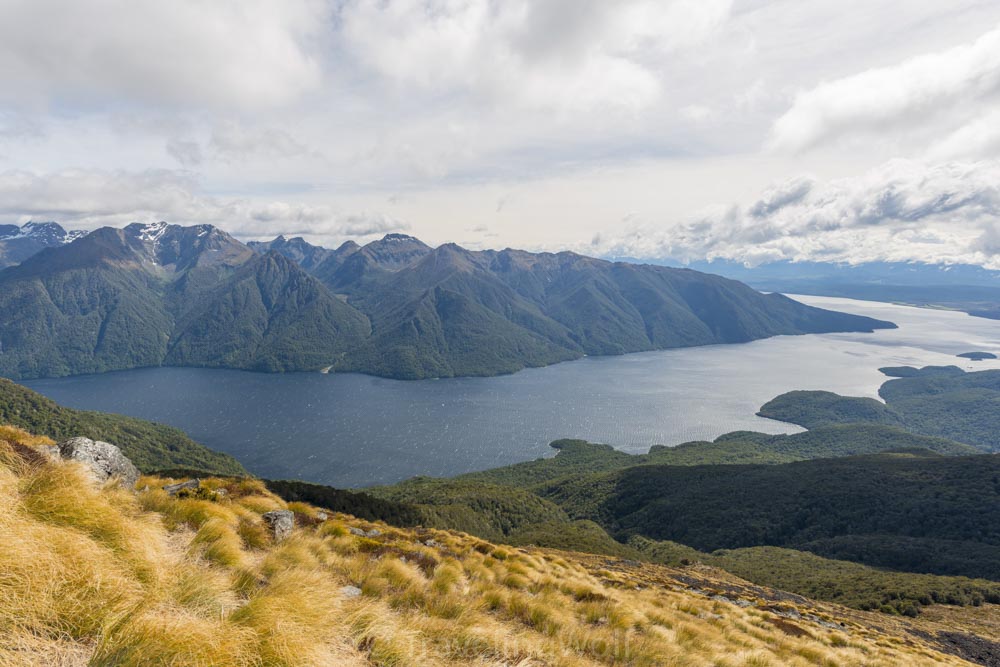 Day 2 - Luxmore Hut to Iris Burn Hut:
So we were having breakfast and hoped for the rain to stop (we thought this would be another Tongariro experience). Luckily the rain stopped an hour later and the Sun and blue sky came out. This part was said to be the most beautiful and we weren't disappointed. From Luxmore peak we had the first wonderful views. As we walked along ridges we had a panorama-view all day long and were able to take nice pictures. (Bring warm and windproof clothing as it was so windy that we had lunch inside the little hut although the sun was shining and the view was great for a good outdoor picnic.)  Shortly before you come to the Iris Burn hut the trail leads below the bushline into the forest. It was nice to see how the forest vegetation changes while you walk further down. At Iris Burn hut we made a short break to pick our bunks before we walked to the nearby waterfall. The waterfall is nice and so is the hike through the forest to the waterfall. But it was packed with millions of sandflies…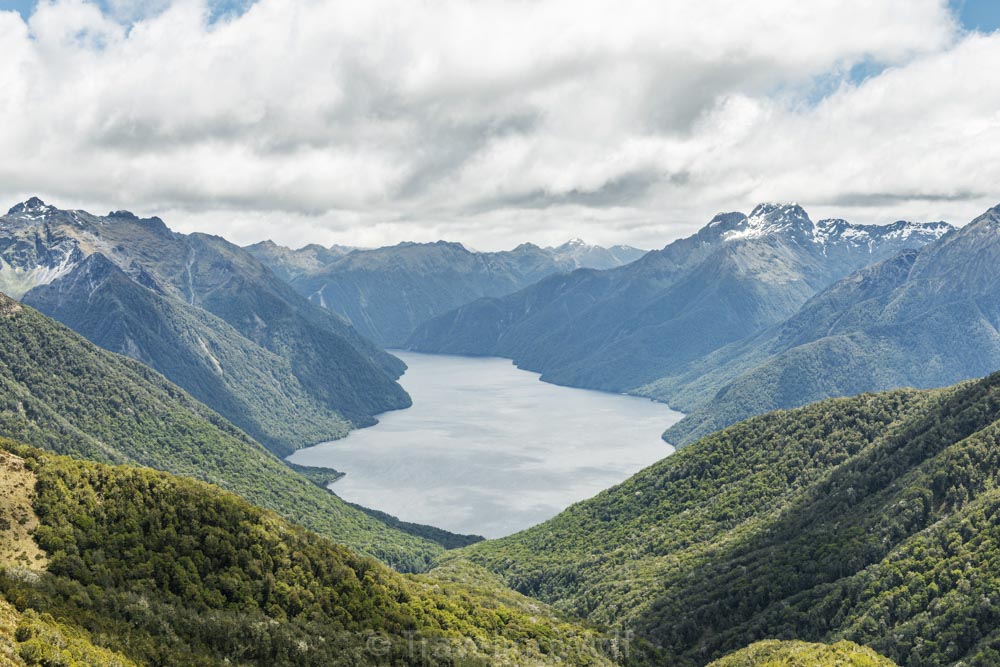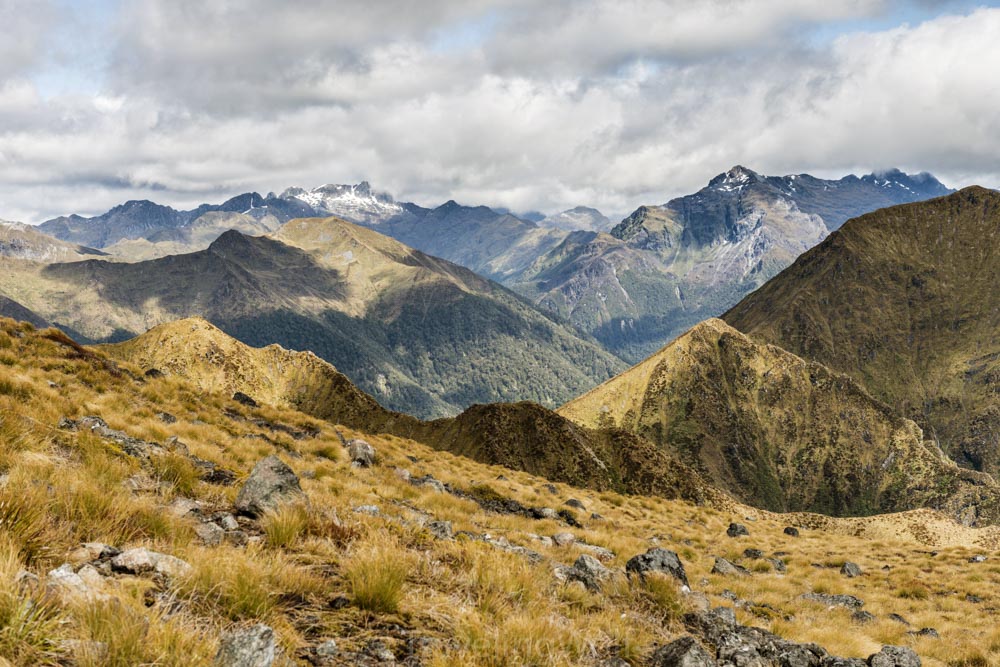 Day 3 - Iris-Burn Hut to Rainbow Springs Parking:
The third day was a long walk through the forest. We had lunch at Lake Manapouri which is also a good opportunity for a swim. From there we headed on along the Manapouri river back to the parking lot. All along the way, we motivated ourselves by thinking of all the chocolate that would await us in the car (we have forgotten to take it with us). Finally, we reached the swing bridge at the parking lot and ate the whole chocolate :)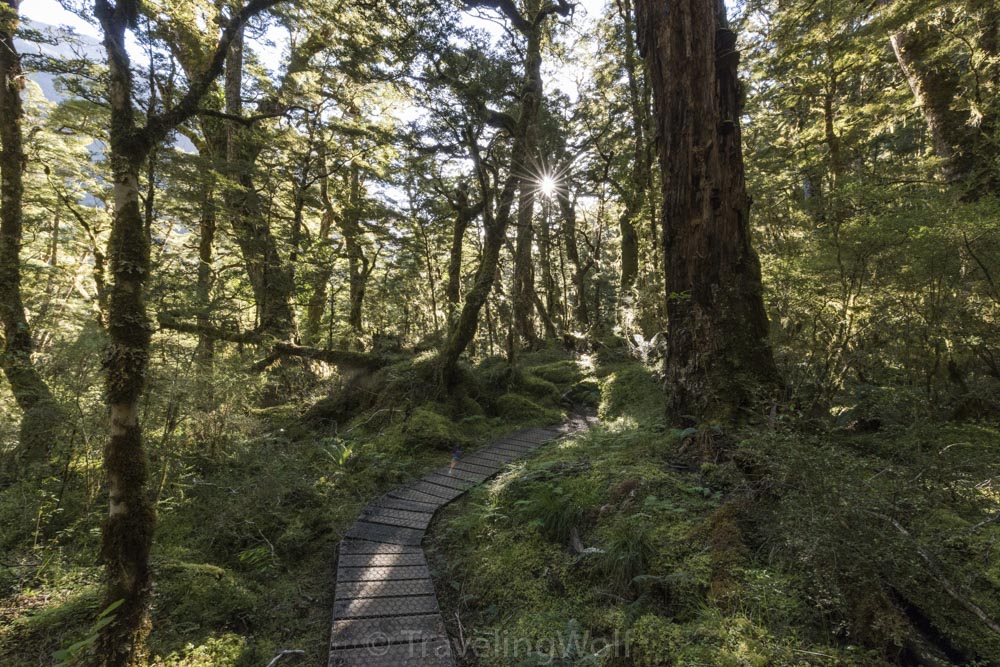 📌 Pin it on Pinterest: