Alps Scenic Hikes - Seekarspitz and Seebergspitz at Lake Achensee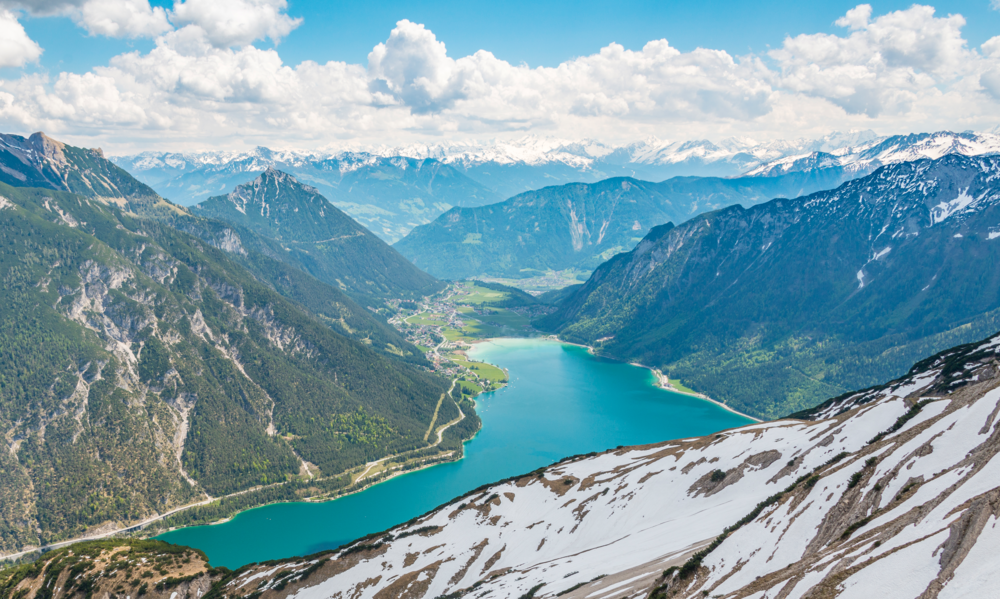 A great day tour with fantastic views of Achensee and the surrounding mountains. To Achenkirch (the starting point of our tour) it is just a 1 1/2 hours drive from Munich. When you're there you first walk up to Seekarspitz getting more and more views over Achensee. After your first pic-nic at Seekarspitz the trail leads you along the ridge to Seebergspitz with panorama all along the way. From Seebergspitz, the second peak on this tour, the trail leads you back down to the village Pertisau. From there you can either take the boat back to Achenkirch or walk the trail along the water.
We started from Scholastika (Point "A" on the map), but you can also do it the other way around.
The first part of the tour leads you along a gorge and through the forest up to the Seekaralm (Hut, open from the end of May to September). You can stop there for fresh milk and Apfelstrudel before you continue with the second part of the ascent.
You walk through mountain pines along a rocky part up to the first peak, the Seekarspitze. From there you get incredible views over Achensee and a great panorama of the surrounding mountains. When you finished your picnic the trail leads in little ups and downs along the ridge to our next peak of today's tour, the Seebergspitze.
The ridge trail offers you cool views which let you forget the upcoming 100 meters of elevation gain that you still have to hike up to the peak. After that last ascent you can be happy, you mastered all 1200 meters of elevation gain of this hike. From Seebergspitze you can again enjoy the view and have the last picnic. The rest of the trail leads you down through the forest to the village Pertisau. If you still think this hike was far to easy you can walk back along the lakes shore to the car park in Achenkirch. Otherwise you can buy a ticket for the next boat and eat ice cream. While cruising back with the boat you can look up to where you just walked.
Don't forget to check the timetable for the ferry here.
📌 Pin it on Pinterest: