Best of Dolomites - Via Ferrata Santner and around Rosengarten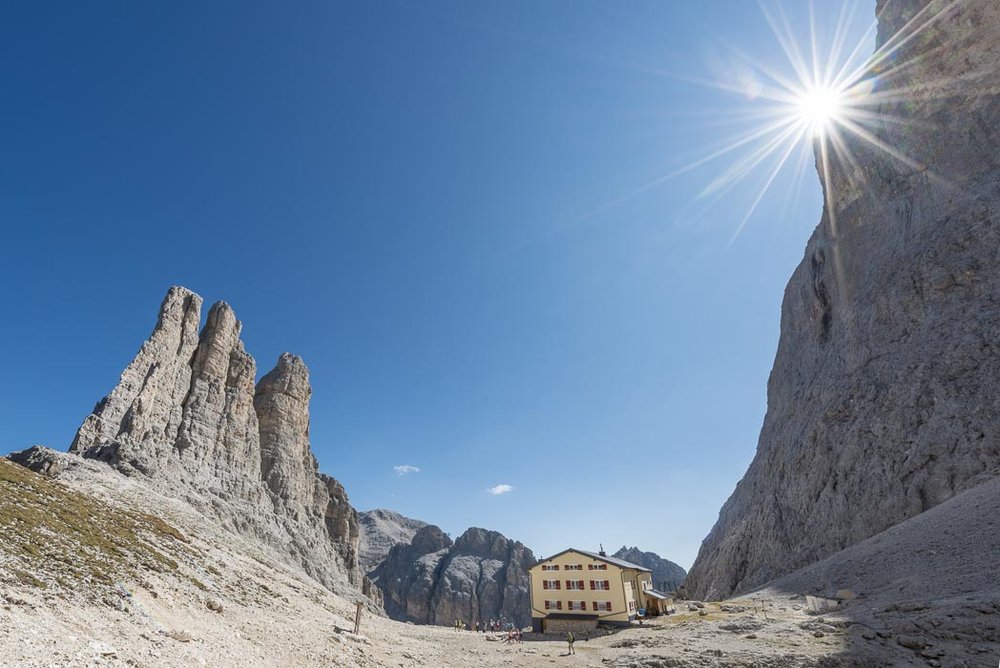 In this blog entry we are going to show you another hike and climb in the Dolomites. It is a day hike around the Rosengarten Mountain including Via Ferrata Santner. The Via Ferrata has a difficulty of B with some parts C, it is recommended to have previous experience in doing Via Ferratas.
---
Scale of Difficulty for Via Ferrata: B/C
the difficulty is given in the Schall-Skala more information on the Via Ferrata difficulty scales here
The following map shows the whole hiking tour. The first part from Kölnerhütte to Santnerpasshütte is the Via Ferrata Santner.
How to get there?
We started our Tour from Kölner Hütte, also called Rifugio Fronza alla Coronelle. You can get there by chairlift or along the hiking trail from Frommeralm or Obertierseeralm at Via Nigra.
The Hike
The first part of the trail requires already a little bit of climbing. Then you continue on an easy trail until you get to the start of the Via Ferrata Santner. Along the Ferrata you can take nice photos with some cool stone formations. On the top you get a beautiful view over Torri di Vajolet and Rifugio Re Alberto, also called Gartlhütte. The Gartlhütte is a good spot for a break before the trail leads back down.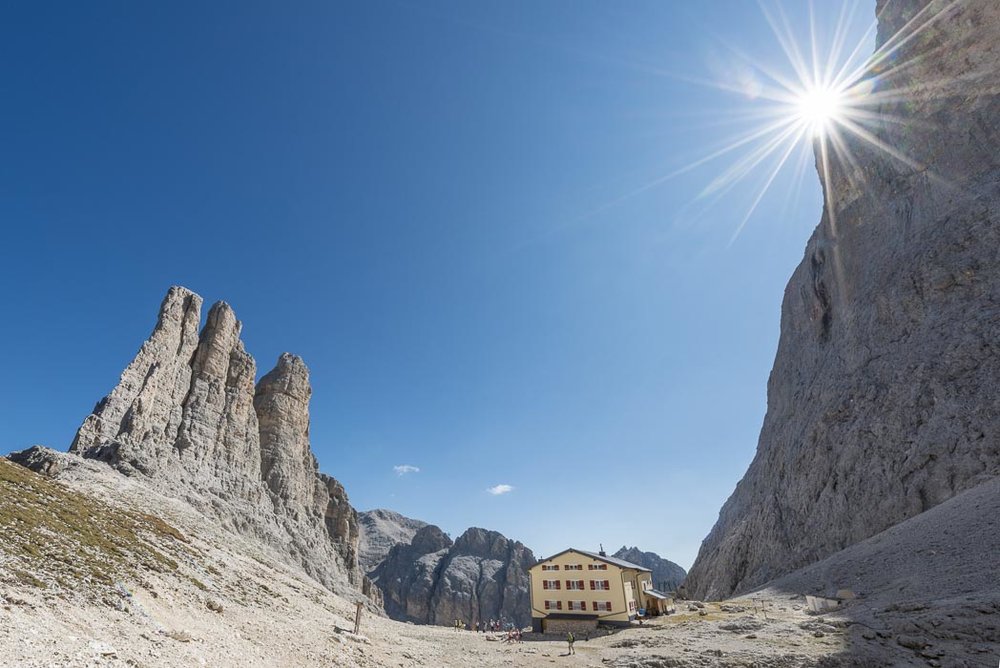 The next part of the trail leads down to Rifugio Vajolet and Rifugio Preuss and is steep. When you're walking down you will cross lots of people struggling on their way up the steep trail. If you don't want to have a break at Rifugio Vajolet you can take a junction to the right further up. From there the trail leads you around the other side of Rosengarten mountain. There you have nice views of Rifugio Vajolet and Preuss and of the valley below.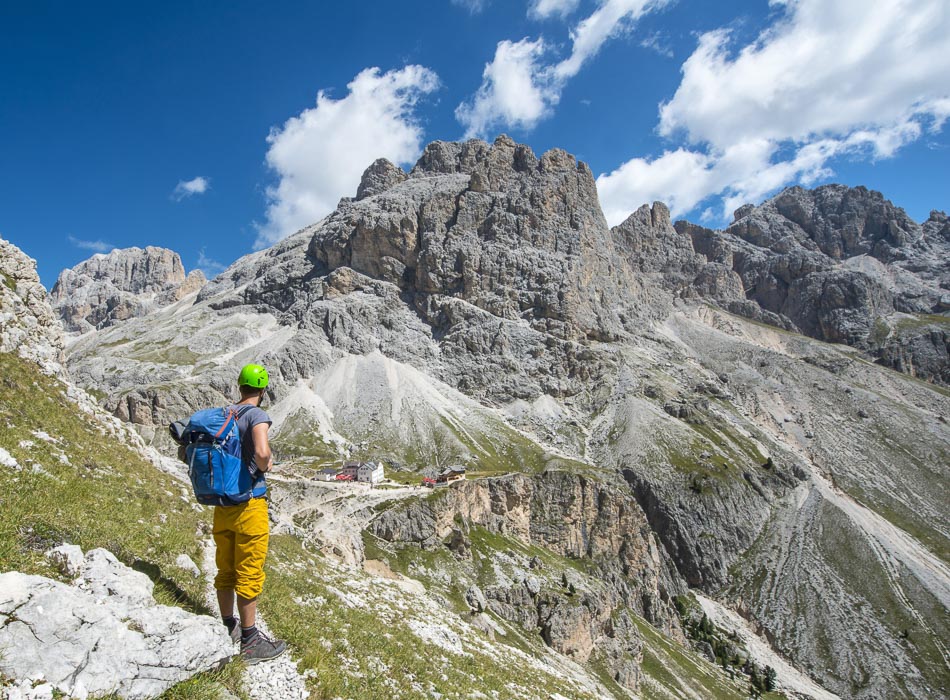 The last ascent of the hike leads you up to Pas de la Coronelle from where you have beautiful views to both sides of the mountain range.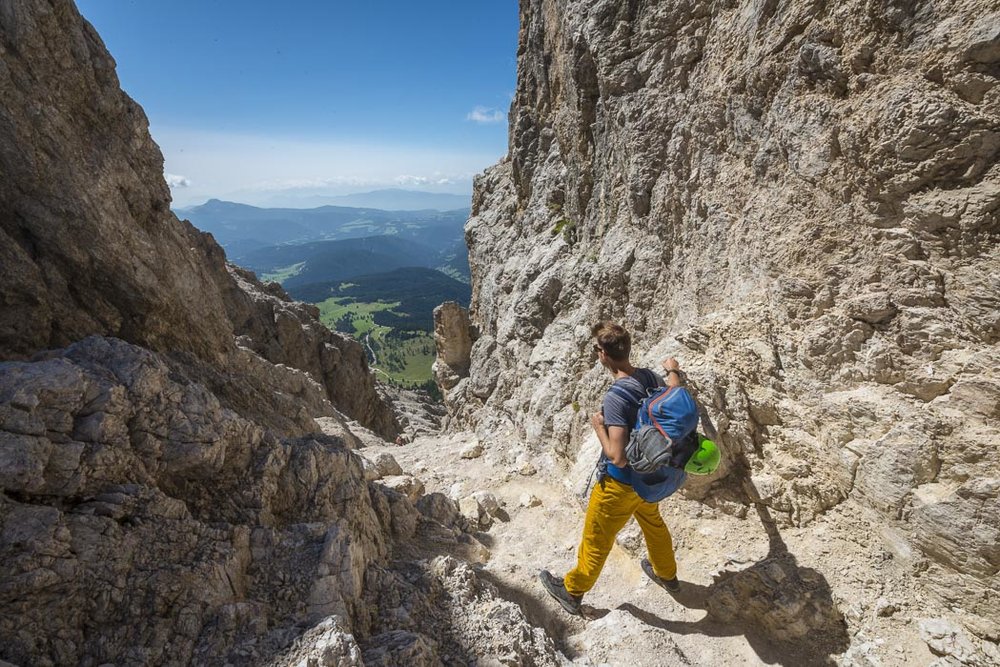 The descent from there is a bit steep and slippery but with the ropes along the way its no problem to get back down. From here it's only a few meters back to Kölnerhütte, where you can get yourself a really delicious Kaiserschmarrn!
What to bring?
If you're doing the Ferrata you shouldn't forget your:
ferrata set
helmet
climbing harness
climbing gloves
! If you haven't done any climbing or have no experience of climbing ferratas we recommend to get a guide or someone who is experienced to go with you !
📌 Pin it on Pinterest: